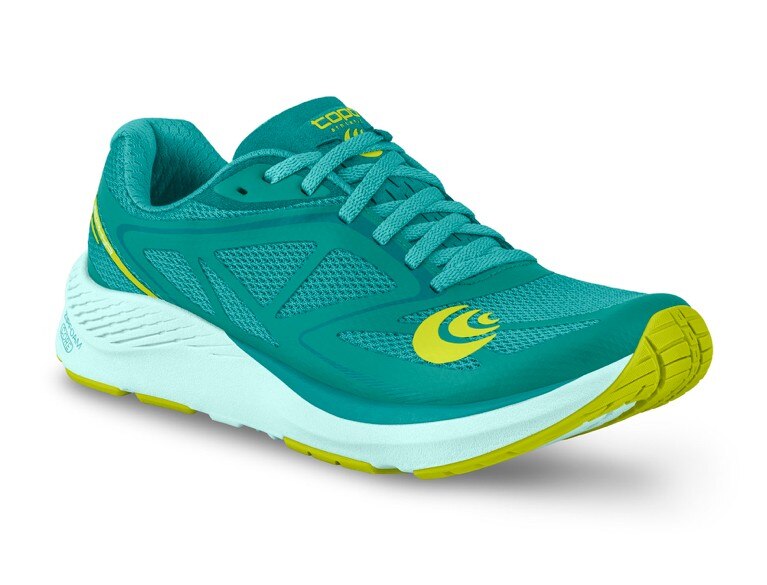 Zip Along In Comfort!
Jeff, Sam & Hope: "Upper is breathable, toe box is top notch, midsole is plush without being mushy, relatively lightweight for how much shoe there is."
Product Overview
Run like the wind with Zephyr. An elastomer stability plate runs inside the midsole of these long-distance road running shoes, helping stabilize the forefoot and aid propulsion during plantar flexion. The ZipFoam™ core offers more rebound and long-term resilience than traditional EVA. A lightweight, breathable mesh upper with printed overlays secures the foot over the platform. These stabilizing running shoes are ideal for speedwork, tempo runs and marathon racing.
Specs
Stack Height:

28mm (heel) // 23mm (forefoot)

Heel to Toe Drop:

5MM

Weight:

7.6 oz (W7)

Gaiter Compatible:

No
Cushion:

Support:

Pliability:
Why We Love It
More Cushioning and Resilience

Proprietary midsole compound which is springier than EVA and offers more rebound over the life of the shoe.

5MM Drop

Our highest available drop allows you to access natural running with more under-heel cushioning.

Ortholite Footbed

Comfortable, anti-compression footbed with anti-microbial properties.

Added Stability and Propulsion

Elastomer plate runs inside the midsole, stabilizing the forefoot and aiding in propulsion during plantar flexion.
4.6
Rated 4.56 out of 5 stars
Sizing
Feels full size too small
Feels full size too big
Great shoe
Rated 5 out of 5 stars
Comments about Zephyr
I've been training for a marathon so bought this shoe for some of the longer distances. Due to the plate, it definitely has a snap to it when running, but I thought it felt natural. I also have Morton's neuroma in one of my feet, and I love the fact that I can run in the Topo's without pain and without any special insoles.
I forgot I have shoes on! Feels like I'm walking on air!
Rated 5 out of 5 stars
Comments about Zephyr
Love these sneakers! Feels like I'm walking on air, I forget I have shoes on.
Love the fit
Rated 5 out of 5 stars
Comments about Zephyr
Great shoe so far. I really like the fit. I have a long very flat foot, so most shoes have to be cinched really tight on my foot. I also have a low arch and tend to need extra arch support. This shoe fits snug in the heel and midfoot but has plenty of room in the toe box. I don't have to cinch it super tight and I do not need any extra support inserts. It does run slightly big or maybe I just don't have to buy as big of a size because of the shape of the toe. I wear an 11.5 in Brooks, but I bought the 11 in the Topo and it has plenty of room. Its comfortable but you can still feel the ground. I actually expected more cushioning, but its still plenty comfortable. The shoe feels light and cool.
Love it!!!!!
Rated 5 out of 5 stars
Comments about Zephyr
Love this shoe. Feels light weight but very sturdy. Definitely feel the bounce back when I run
I really, really love these shoes.
Rated 5 out of 5 stars
I really, really love these shoes. So much so, that I had to write this review. I am like Goldilocks with shoes --- I always feel in-between sizes, I like "pop" in the midsole, and cushion. I can tell when a shoe affects my gait and contributes to hip or knee pain. I've worn so many different kinds of shoes in the last few years -- max cushion low drop, minimally cushioned low drop, zero drop, big brand max cushion high drop. The crazy thing about THIS shoe, is that I really feel that I'm running more efficiently. Sure, it doesn't have a pillow-y cushion, but I have found that I LOVE that about this shoe. I can feel the road (it is responsive), but my joints and hips don't hurt because I am running more naturally. My feet and ankles feel like they are gaining strength in this shoe. (I am a midfoot striker by nature). I cannot wait to wear this shoe for my next marathon training cycle (and subsequent marathon). The "rocker" and plate really help me complete my gait cycle, while the wide toe box help me with toe off (I can feel my toes land, rotate, and help me push off). I am so picky with shoes, even though I don't want to be. I can only hope that they do not change this shoe too much! This shoe feels great at 5k pace, marathon pace, and even on basic trails. If you are in-between sizes, I would size up.
Awesome support
Rated 5 out of 5 stars
These shoes are super supportive and comfortable. I've put on 200 miles with them over the past 6 months and have had less general aches and pains and I like to think it's because of these shoes! I really like how roomy the toe area is (especially if you have bunion/bunionette issues) and the salmon color is bright and fun too. I've been an asics person most of my life but I don't see the need to go back thanks to this shoe.
Super comfortable
Rated 5 out of 5 stars
Comments about Zephyr
Very glad to have these great shoes for walking every day
I cannot reccomend these enough!
Rated 5 out of 5 stars
These shoes are a total game changer. I bought them in both colors! I'd been looking for a new go to shoe since Brooks switched to the guide rails and threw off their fit for me. A friend of mine, who swears by Topos, let me try on a pair of her magnifly2's and I was impressed by the lightness, roomy toe box, and secure fit through the heel. I did some research and decided to give the Zephyrs a try. I liked the stability and all that I was hearing about the plate sounded really exciting. Who doesn't want to run like the wind?! I can't get over how they conform to my feet. They are so breathable and light. Superficially, the colors are so exciting! I honestly forget that I'm wearing shoes sometimes, which I think is probably the highest compliment I can give. I definitely look forward to trying other, more cushioned trainers for when half marathon time rolls around. The only minor note I have is the tongue is so minimal that it sometimes makes them a little bit of a pain to lace, especially since I use a runners loop. Other than that, I couldn't be more pleased. I absolutely love them!
My new to go sneakers!
Rated 5 out of 5 stars
Comments about Zephyr
I walk about 4 to 5 miles per day and have found the Zephyr supportive, light weight, and comfy!
Perfect Sneakers
Rated 5 out of 5 stars
This is my favorite sneaker. I love the 5mm heel to toe drop and the extra room in the toe box. The fit is perfect and I love the colors. The stabilization the sneaker provides makes it easy to run/walk. I highly recommend this sneaker.
Questions about your Topos? We're here to help!