Product Overview
The third edition of our best-selling Ultraventure series delivers its plushest and lightest ride yet, offering the most cushioned platform in our trail line up. We increased the stack height for more protection and even more comfort, while our updated ZipFoam™ compound provides a lighter, softer, and more responsive underfoot experience. With a new and improved aesthetic, Ultraventure 3 features a sustainable engineered mesh upper, recycling 3 plastic bottles per pair. The Vibram® XS Trek EVO outsole features a newly refined design, offering lightweight durability with increased flexibility. Hit the trails with our cushioned trail runner and hiker, built for mild to moderate terrain, featuring our distinctive fit and feel.
Specs
Best For:

Trail Running, Hiking

Stack Height:

35mm (heel) // 30mm (forefoot)

Heel to Toe Drop:

5MM

Weight:

8.3 OZ (W7)

Gaiter Compatible:

Yes

Rock Plate:

No
Cushion:

Support:

Pliability:
The APMA (American Podiatric Medical Association) Seal of Acceptance and Seal of Approval are granted to products found to promote good foot health. To earn the seal, each product is reviewed by a group of APMA podiatrists to ensure it promotes foot health.
Why We Love It
Recycled Materials

Keeping sustainability in mind to help keep waste out of landfills.

Roomy Toe Box

Anatomical toe box allows toes to spread naturally and comfortably.

Vibram Outsole

Unparalleled grip and traction and durability from the leaders in technical outsoles.

More Cushioning and Resilience

Proprietary midsole compound which is springier than EVA and offers more rebound over the life of the shoe.
The Topo Athletic Ultraventure 3 is easily one of the top high-stack trail shoes of 2022.
"This is a shoe that will take you through any distance, from massive miles to daily trail wear, and it should last. It served me very well as a race day shoe and will stay in my rotation for daily miles. Because of its high stack, durability, and low weight, this would also be an excellent option for thru-hikers tackling long-distance trails like the AT or PCT."
I use my Top shoes for lifestyle and trail walking, I love the versatility of this Ultraventure3. I had a previous pair of Topos and have added the Ultraventure3. The roomy toe box is so nice and comfy. The heels do not slip. My feet are very comfortable. Only wish is they would have retail stores.
Street to trail with support and grip
Comments about Ultraventure 3
I've been wearing Phantom 2 for a couple of years, they have saved my walking life, but I would only wear them in town. The Ultraventure 3 gives more support and better grip: I can walk in town and up onto hilly trails too. I'm 70 and have arthritis in my feet, so need a shoe with a firm sole, plus I need the wide toe box. These are perfect for me.
I wear the topos for outside walking in winter months, they feel great on my feet and have awesome grip. Also wore them on a winter escape to Florida and they are not too warm and have good air flow so looking forward to wearing them year round for trail walks as well.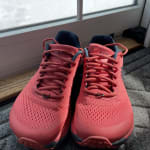 A plush ride with plenty of toe space
Comments about Ultraventure 3
Love the roomy toe box and dialed-in fit across the midfoot. The sole seems really sturdy with great traction. Really looking forward to using these for longer runs when the weather gets nicer, but they held up terrific in snowy and muddy conditions last week.
Mid foot wider than last edition-good
Comments about Ultraventure 3
Size up a half size in Topos. It's hard to find a trail shoe less than 8.3 Oz with a 5mm drop, so I am sold forever. The mid section of the shoe is wider than the UV2 and feels "softer". Compared to Hoka, these don't shed water as fast and not as flexible feeling, but they feel a lot higher quality and I don't develop new plantar injuries with use like the last few Hoka Challengers I had, which are comparable to this shoe. I have completed a 100k using the last edition of this shoe, and the UV 3 is even more comfortable. Topos UV3 provides more cushion than Hoka although a light shoe.
The transition from road to trail is seamless
This may be my favorite running shoe ever! I have been running in Topos for years, but have struggled to find the pair that transitions well between road and trail. The previous models have felt too stiff on the paved mile to get to the local trails. The extra cushioning and lightness of this shoe is a game changer. Several 15 mile trail runs have been easy in this shoe . With the same wide toe box, comfortable upper and slightly longer length than the previous model, the fit is perfect too!
Comments about Ultraventure 3
Last year we wore Topo shoes for our Camino de Norte walk/hike in Spain. It was our 5th Camino and LOVED these shoes! Many Pilgrims along the way stopped and asked my husband about the shoes (his shoes stood out because of the color). We walked over 300 miles and plan to finish this September. I have since ordered the ultraventure 3. I can't wait to try them out. Btw.. we both will be celebrating our 70th birthday this year! Nothing better than Topo shoes!
Comments about Ultraventure 3
I love the toe box. It is both roomie and angled to perfection for my personal stride..I also love the cushioning.
Love the room in the Toe box
Comments about Ultraventure 3
I love the fact that my toes are not pushed forward and together. The shoes are so comfortable that I can wear them all day!!!
Most comfortable shoe I can ever remember wearing
Comments about Ultraventure 3
I bought these just before a trip to Europe where I knew I would be walking for hours on cobblestones, up and down hills. The cushioning was tremendous and my feet never hurt, a first for me. This is my third pair of Topos.
Questions about your Topos? We're here to help!