Product Overview
Our slip-on recovery shoe delivers ultimate relief and comfort with every step. Designed to be worn without socks, the repeated ridges of the Ortholite® 3D Wave Sense footbed lightly stimulate and massage the nerves along the bottom of the foot. The antimicrobial blended wool upper naturally resists odor and provides a warm, comfortable fit. The Vibram® XS Trek EVO outsole offers multi-surface traction and durability for a variety of activities and daily wear year-round.
Specs
Stack Height:

23mm (heel) // 20mm (forefoot)

Heel to Toe Drop:

3MM

Weight:

6.5 oz (W7)
Cushion:

Support:

Pliability:
Why We Love It
High Traction Outsole

Combines multidirectional traction, heel braking lugs, and mud/snow release design features.

Vibram Outsole

Unparalleled grip and traction and durability from the leaders in technical outsoles.

Ortholite Footbed

Comfortable, anti-compression footbed with anti-microbial properties.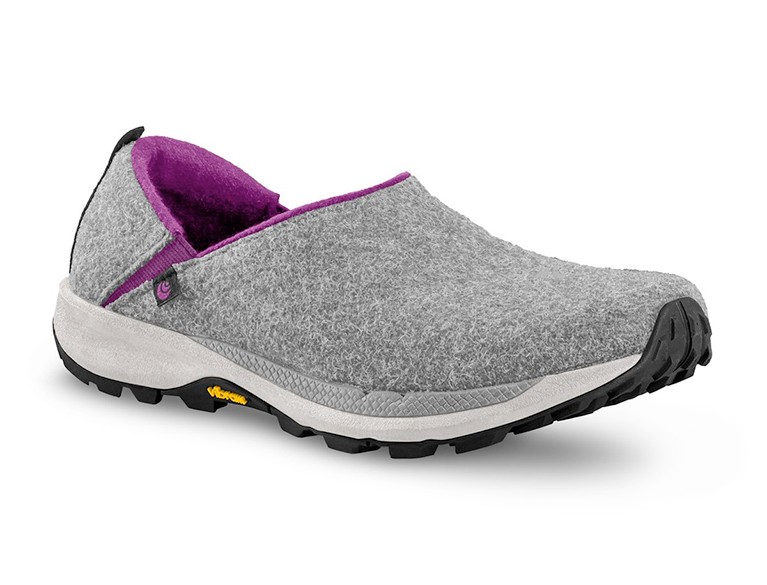 Rekovr 2 Named Best Recovery Shoe
"Everyone needs to feel good, especially after a hard trail run. Leave it to Topo Athletic, a brand that clearly cares about your feet, to make our favorite recovery shoe."
4.8
Rated 4.76 out of 5 stars
Most Liked Positive Review
These are simply the best
These are simply the best!!!! They are so comfortable you forget you are wearing shoes. I have taught aerobics and worked out for years. It can take a toll on your feet, but wearing these after a workout can't be beat. And, they are stylish. I wear them with jeans and casual pants. The woo...
Most Liked Negative Review
Stiff and uncomfortable shoe!
Shoe is not for people with a high instep. Also, the shoe feels stiff and is really not very comfortable. I would not recommend this shoe.
Love these shoes!
Rated 5 out of 5 stars
Love these recovery shoes! I wear them all the time in the fall and winter. Super comfortable for walking and days off - feel like my feet are getting a massage with every step.
These shoes are fantastic
Rated 5 out of 5 stars
Comments about Rekovr 2
I wear these shoes as my house shoes. Since I am home all day on my feet I needed a pair of comfortable and supportive shoes. These do everything that is advertised. I never wear socks and there is no bad smell at all. I purchased half a size down from my running shoe size and they fit perfectly. Since they arrived I've worn them every day all day. I would highly recommend them.
Love these
Rated 5 out of 5 stars
Comments about Rekovr 2
Getting ready for back surgery and wanted some shoes that I could easily slip on. I love the support in these shoes.
I'm wearing these shoes all day, every day
Rated 5 out of 5 stars
Comments about Rekovr 2
These shoes are so comfortable. I don't even need to change into my house slippers at the end of the day!
These are the perfect recovery shoes!
Rated 5 out of 5 stars
Comments about Rekovr 2
These are my recovery shoes after playing pickleball! They provide the comfort and recovery to play again the next day.
IN LOVE WITH REKOVR 2!!
Rated 5 out of 5 stars
I absolutely love these shoes! My husband gave them to me for Christmas! I have been having unexplained foot pain and these shoes relieve most of the pain most of the time. I have had several tests and nothing shows a reason. It is truly a relief to put them on. I do wear them with socks but it does give my foot a massage when wearing with no socks. I am a runner and personal trainer and have been wearing Topo shoes exclusively for the better part of 8 years. This just adds to my wonderful collection! Thank you for these!
Love these shoes
Rated 5 out of 5 stars
I bought these on a whim and am glad I did. Very lightweight, nicely wide in the toebox. Sole and insole are very comfortable. I'm a size 7 in length and between C and D in width, and the forefoot fits nicely. I ordered a 7.5 because my plan was to wear light socks with these, but they run a half size short, so they're a perfect fit barefoot.
So comfortable
Rated 5 out of 5 stars
Comments about Rekovr 2
These shoes are so comfortable for my wide feet. I wear them after runs and pretty much all the time, so I bought a pair for my mom who suffers from painful bunions and neuropathy. Mom LOVES the shoe. Fits true to my Topo running shoe size.
Perfect town and recovery shoe
Rated 5 out of 5 stars
Comments about Rekovr 2
Great for apres-run chilling and no laces to be bothered with for running errands or around camp.
Love at first wear!
Rated 5 out of 5 stars
Comments about Rekovr 2
These recovery shoes are my in-house shoes. They give me traction and support, and have never given me any complaints!
Questions about your Topos? We're here to help!