Our Story
Topo was founded in 2013 but the story really began over 30 years ago on a track in Tulsa, Oklahoma. Learn what got us from there to here and the lessons learned along the way.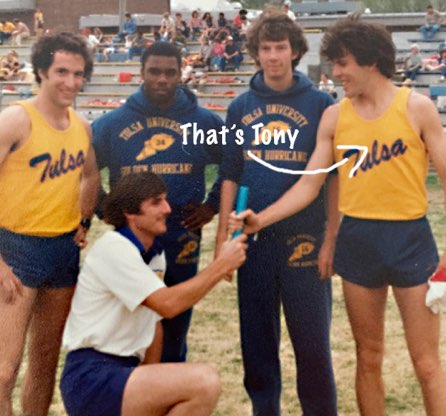 Meet Tony Post
AKA, the To and the Po of our namesake, Topo Athletic. With over 40 years of running and 30+ years of shoemaking on his resume, there is much to know about our founder and CEO. Born and raised in Colorado, Tony made a pit stop in Tulsa, Oklahoma to do the whole "college" thing. At Tulsa, he walked onto the D1 track and cross country teams becoming the team captain, eventually 'taking home some iron' in a few races. More importantly, Tony fell in love with running.
The beginning
With ambitions to train harder, get faster, and let's be honest, not live landlocked anymore, Tony moved to Massachusetts and started training with a few top runners on Boston's north shore.
Unfortunately, his racing and training goals were often thwarted by injury, over-training, or ill-fitting shoes (foreshadowing, perhaps?).
After a 2:25 marathon at Boston, Tony decided that a career in something other than running might be wise if he wants to, you know, eat and pay rent, so he takes a job at a small family-owned business called The Rockport Company. Inspired by running shoe technology, Rockport was the first shoe company to make comfortable lightweight casual and dress shoes.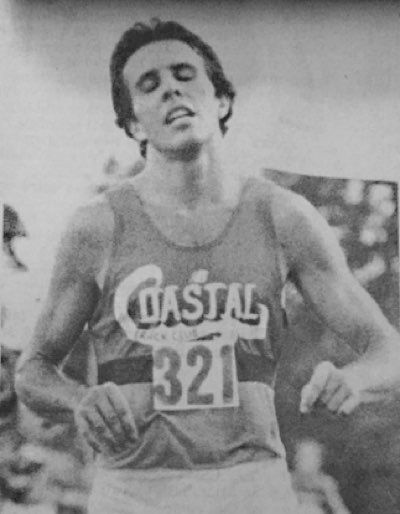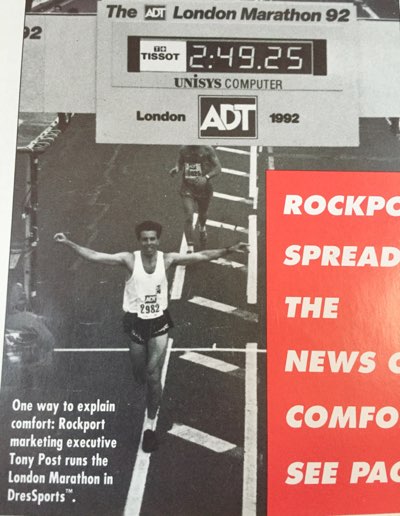 The art of shoemaking
It was while at Rockport that Tony learned the craftsmanship of shoemaking. With great mentors, he learned the intricacies of last shapes, how to combine materials and shoe construction so the foot and body could move and walk naturally, and he learned how to make each pattern with thoughtfulness, simplicity, and integrity.
Tony tested Rockport prototypes regularly on his lunchtime runs, which ultimately led him to run the 1990 NYC marathon and 1992 London marathon in Rockport DresSports, showcasing the performance and comfort of Rockport dress shoes.
Revolutionizing the shoe industry
After 15 years at Rockport, Tony moved on to another small, family-owned company famous for it's sole, Vibram. While CEO of Vibram USA for 11 years, Tony not only helped dozens of footwear companies build a better platform, he helped spark the natural running movement with Vibram FiveFingers, an innovative footwear design created by his Italian colleagues.
Tony soon discovered that less cushioning and a more level platform encouraged a midfoot strike. Among the first to try running in FiveFingers, he noticed he was landing lighter, with a shorter, quicker stride – and to his surprise his knees and back didn't hurt any more.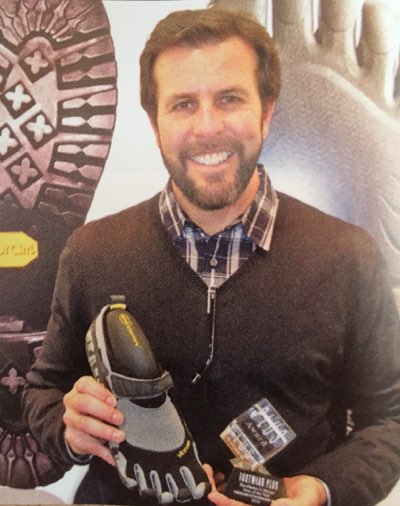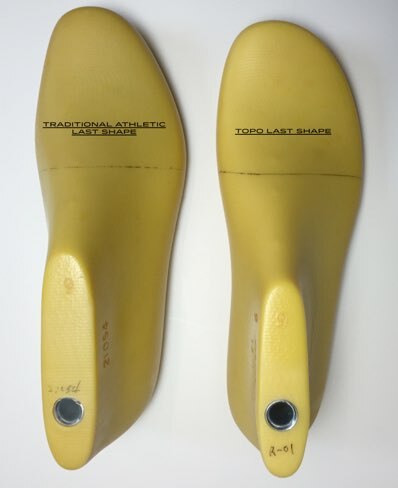 The quest for "better"
After Vibram, Tony knew there was still something missing from the market—a shoe that allowed runners to access the important benefits of natural running while maintaining some of their favorite features found in traditional running shoes.
Sure, other brands had tried to do this, but Tony literally felt their shortcomings: too narrow, too sloppy, too stiff, too soft, too thick, too heavy… not to mention, most of them didn't look that great either. Tony decided he had to create another footwear company so he could deliver the experience he himself craved so much.
A brand is born
In the late summer of 2013, Tony and a small team launched the brand, Topo Athletic, with a mission to develop footwear that helps amplify the body's natural and intuitive abilities. These would not be exclusively minimal shoes or shoes with toes, Topo would offer a range of athletic shoes designed to honor the shape of the foot and respect the body's mechanics. Only then could an athlete harness the increased efficiency and fluidity of uninhibited human movement.