Product Overview
The cushioned 25 mm platform features a 2-density midsole for a softer feel on the top layer and a more responsive ride against the ground, while the Ortholite® footbed provides even more comfort directly underfoot. A sweeping toe rocker aids in propulsion for a smooth transition through the gait cycle. The seamless mesh upper delivers a breathable, secure fit.
Specs
Stack Height:

25mm (0 drop)

Heel to Toe Drop:

0MM

Weight:

8.3 oz (W7)
Cushion:

Support:

Pliability:
Why We Love It
Multi-Density Midsole

Allows you to access two levels of cushioning: soft against the foot and firmer/more responsive against the ground.

0MM Drop

Completely neutral drop for the most natural running experience.

Ortholite Footbed

Comfortable, anti-compression footbed with anti-microbial properties.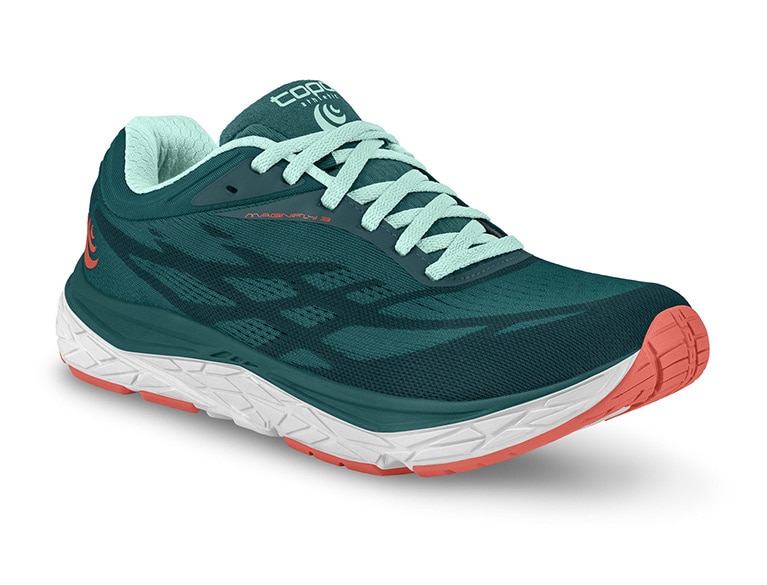 The King of Zero Drop Daily Trainers
"This brand is awesome. This shoe is awesome. Enough said."
Patrick Lister, Level 3 Expert, RunRepeat.com
4.6
Rated 4.61 out of 5 stars
Most Liked Positive Review
Race walking Topo Magnifly3 in Davie, FL
Ordered these as soon as the email promo arrived because the Magnifly2 is fantastic -long lasting, durable, comfortable, quality, well made, sporty, colorful and priced right. Have 2 pairs of Magnifly2, first at 225 miles and retired; 2nd now at 195 miles and still going strong. Wanted to see if thi...
Most Liked Negative Review
Not a fan of the toe kick feature
First, these are great-looking shoes. The teal green and slight retro styling make them very eye-catching. They seem well-made and quite durable. I also love that Topo choose a wide toe box and zero drop fit, and that there aren't a lot of unnecessary bells and whistles. I greatly prefer shoes that ...
I'm loving these shoes.
Rated 5 out of 5 stars
Comments about Magnifly 3
I wear these shoes to walk around my neighborhood or do easy trail hikes. I also wear them to do my grocery shopping and run my errands. I originally ordered a half size smaller, which was the size my last shoes were in a different brand, and the shoes felt half a size too small. This replacement pair feels great on my feet and I love the roomy toe boat.
I'm in love!
Rated 5 out of 5 stars
I've always worn Altras. I love the zero drop and side toe box. But tried the Magnafly 3s on a whim. And I LOVE them! I don't believe I will wear another shoe. The comfort was fantastic!
Liking these shoes!
Rated 5 out of 5 stars
Comments about Magnifly 3
I'm just starting to use these shoes for walking and running, and so far, so good. They are super comfortable (I did buy a half-size up just because I like my running shoes a little roomy). I was mainly interested in the low-drop aspect for postural reasons. I'd buy them again & I recommend them.
gonna buy more
Rated 5 out of 5 stars
Comments about Magnifly 3
Best athletic shoes I've ever owned, hands down.
I love these shoes!
Rated 5 out of 5 stars
Comments about Magnifly 3
I use these as my all-around workout shoes, from long-distance walking/running to elliptical to cross-training to weights, and they work great for everything I do! I have had such a hard time finding zero-drop, roomy toe-box shoes that work for me, and it seems like if I find anything I like they discontinue. These are the latest I've found, and I'll be sticking with them forever - they are absolutely fantastic!
I would buy these shoes again!
Rated 5 out of 5 stars
Comments about Magnifly 3
I have plenty of room from the ball of my foot and my toes and it is narrow at heal so my heal doesn't slide up and down.
Yes
Rated 5 out of 5 stars
Comments about Magnifly 3
Wide toe berth
I would buy this product again and again
Rated 5 out of 5 stars
Comments about Magnifly 3
Walk on concrete floors all day and they are truly wonderful. I have suffered with plantar faciitis until started wearing these shoes and it absolutely helped 100% (along with stretches)! So recommend and will be only shoe I wear from now on.
Great from the first run
Rated 5 out of 5 stars
Comments about Magnifly 3
Great road running shoe. I've been a runner for decades and this is the best-feeling shoe I've tried for it. I have a neck injury that put me off running for a while and needed to find a shoe with less drop, because the drop pitched me forward and put undue stress on my neck and back. That has not been a problem with these shoes. For the first time since my injury, I can run again without neck pack. The wide toe box and low drop make all the difference. Will definitely be back for more.
Fantastic road shoe, helps with plantar fasciitis
Rated 5 out of 5 stars
This shoe is fantastic. I've been a minimalist footwear trail/gravel runner for several years but a recent move to a big city and lots of pavement miles have re-kindled a years-long battle with plantar fasciitis. I needed something cushioned but not too cushioned, without much drop (I run with a midfoot strike). These shoes did the trick. Comfortable but not so padded that I can't feel the ground below me. LOVE the wide toe box. Do they look a little bulky? Yes. Do I care? Heck no. I'm buying another pair for when these wear out. Very grateful to be out there logging miles pain-free for the first time this fall.
Questions about your Topos? We're here to help!