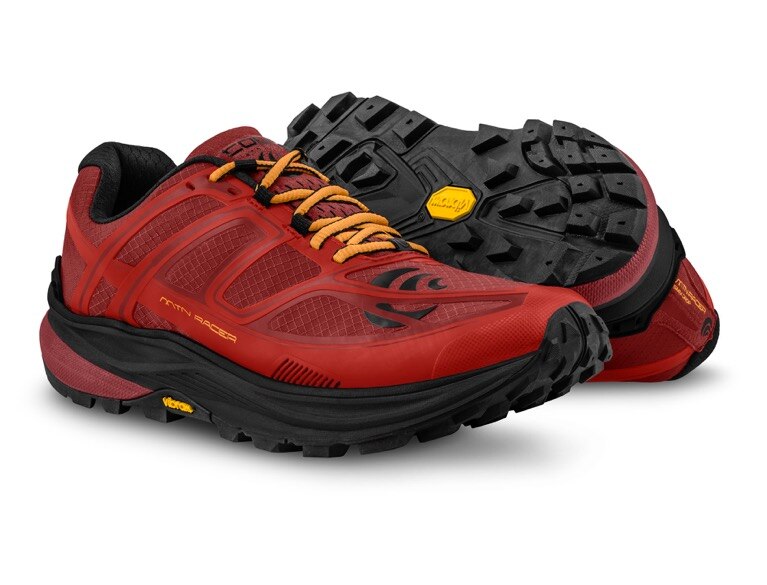 The Best Trail Shoe Ever?
Taylor: "I love it. Simply and whole-heartedly love it. It'll be a great go-to shoe for hours of adventure on technical terrain and may become my choice for my upcoming 100-miler in July. It has enough of everything to make me confident on just about any terrain (except maybe roads)."
Product Overview
These wide toe box trail running shoes are performance tuned for trail racing and speed-hiking. Vibram® Megagrip outsole delivers optimal traction on any surface. Our Vibram® trail running shoes feature a spacious lug design through the sole which offers excellent mud and snow release. Lateral drainage ports enhance water release and quick drying.
Specs
Stack Height:

30mm (heel) // 25mm (forefoot)

Heel to Toe Drop:

5MM

Weight:

9.8 oz (M9)

Gaiter Compatible:

Yes
Cushion:

Support:

Pliability:
Why We Love It
Roomy Toe Box

Anatomical toe box allows toes to spread naturally and comfortably.

5MM Drop

Our highest available drop allows you to access natural running with more under-heel cushioning.

Vibram Outsole

Unparalleled grip and traction and durability from the leaders in technical outsoles.

Ortholite Footbed

Comfortable, anti-compression footbed with anti-microbial properties.
4.2
Rated 4.19 out of 5 stars
Most Liked Positive Review
A great light, wide, secure, cushioned shoe that goes the di
I think Topo has just about nailed it with the MTN racer. It's well cushioned, roomy in the toe box, secure everywhere else, grippy, light, and fast. It covers the bases, and covers them well. I could nearly replace all my trail shoes with the MTN racer. Sizing was spot on for me ie same size for th...
Most Liked Negative Review
Disappointing
I was excited to try the Mtn Racer because the Terraventure 2 is one of my all-time favorites, and I needed something burlier for a long trip. The Mtn Racer was disappointing. Here's why: Pros: - Lightweight - Grippy sole - Nice stiffness/stability to reduce fatigue on longer ...
Great wet trail traction
Rated 5 out of 5 stars
Team Topo Great job on these shoes for Hiking... I was an Altra guy until I tried these out.. I found the Altra Timps.. my go to hiking shoe was not keeping me safe on wet rocks.. So I tried these.. I love them(GREAT ON WET ROCKS) and will not go back.. I've hiked a few hundred miles in these and they are holding up great.. I look forward to doing a Thru Hike of the AT in 2021 in these.. However in PA I may use the Ultraventure Pro's.. (ROCKPLATE) Keep up the great Job
The first and definitely not the last
Rated 5 out of 5 stars
I bought these for a 2 month camping trip with my fiancé. We love to hike and will easily do 7-10 miles/day. This was my first wide toe box shoe and I noticed an immense difference from non-wide toe shoes. So, I came into this trip, with these shoes, feeling very positive about them. I wore these on every single hike we did including Angels Landing at Zion. Flat rocks, dirt trails, loose rocky trails, dusty trails, concrete, and inclines and declines...I wore these on all kinds of terrain. Even got them wet, socks too, from a misstep into a puddle and they dried very quickly. They also stay very clean on the bottom, almost never having mud stuck on them. I would guesstimate I put 400-450 hard miles on these shoes and the last week of the trip I really noticed the treads worn down. They allowed me to push my feet with no negative pains or soreness afterwards that I have experienced with other brands. I would buy these again 100% and will probably try some other kinds. I also love the red!
Amazing shoe!
Rated 5 out of 5 stars
Comments about MTN Racer
I wear may different models of Topo Athletic and have been extremely satisfied with every shoe. Whether it be a trail shoe or road shoe, they've been perfect every time! It's terrific knowing I can have confidence in a shoe regardless of what model I buy. Thank you for a quality product!!!
Great trail shoe
Rated 5 out of 5 stars
Comments about MTN Racer
Great trail runner and hiker. Sturdy enough to handle rocky trails and very light compared to other trail shoes i have had
Very pleased.
Rated 5 out of 5 stars
Comments about MTN Racer
Awesome.
Best Trail Runner I've Had
Rated 5 out of 5 stars
Comments about MTN Racer
Had difficulty finding a good trail/road hybrid for my 13 EE feet. These were a little tight at the ball out of the box, but quickly loosened up, are comfortable and provide excellent support. Read a few reviews which made me nervous about road running much with these, but they have been great running 5 miles a day.
The best shoe I ever had
Rated 5 out of 5 stars
Mountain Racer are very light shoes. The Vibram holds on rocks and dirt very well and protects your feet when jumping on sharp rocks. The front of the shoe is wider than on Salomon, which I like. Performance gators also work very well. I am buying another pair and I will ship it to my friend in Europe who runs ultramarathons and I sponsor him.
Best in class
Rated 5 out of 5 stars
Comments about MTN Racer
Definitely an order of magnitude better than the last Topo I ordered. If you're looking at competitors to this shoe (Hoka torrent, Altra Lone Peak, Altra Timp, etc) try the Topo first. It has all the features the best competitors have plus some (super grippy vibram outsole, gusseted tongue, the right amount of cushion). I've run about 60 miles and they look like they will be very durable as well. Highly recommend!
As Advertised
Rated 5 out of 5 stars
Comments about MTN Racer
First impression was these were exactly what I expected. The sole was firm yet flexible and the fit was perfect. I have run in the Topo running shoes for years and I'm pleased to finally try the trail runners. I can't wait to put on some more miles.
Most comfortable shoe
Rated 5 out of 5 stars
Comments about MTN Racer
I own the phantom and the mountain racer and love both shoes. I would definitely buy them again
Questions about your Topos? We're here to help!