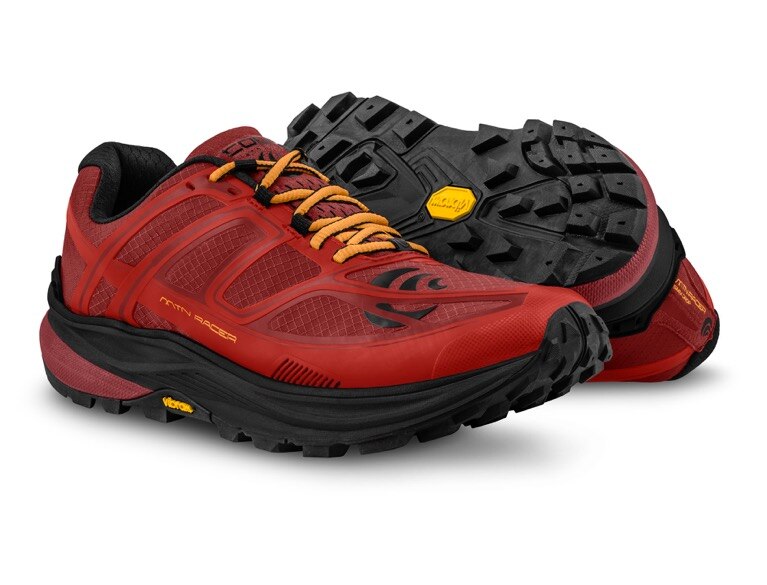 The Best Trail Shoe Ever?
Taylor: "I love it. Simply and whole-heartedly love it. It'll be a great go-to shoe for hours of adventure on technical terrain and may become my choice for my upcoming 100-miler in July. It has enough of everything to make me confident on just about any terrain (except maybe roads)."
Product Overview
Performance tuned for trail racing and speed-hiking. Vibram® Megagrip outsole delivers optimal traction on any surface. Medial and lateral drainage ports enhance water release and quick drying.
Specs
Stack Height:

30mm (heel) // 25mm (forefoot)

Heel to Toe Drop:

5MM

Weight:

9.3 oz (M9)

Cushion:

Support:

Pliability:
Why We Love It
Roomy Toe Box

Anatomical toe box allows toes to spread naturally and comfortably.

5MM Drop

Our highest available drop allows you to access natural running with more under-heel cushioning.

Vibram Outsole

Unparalleled grip and traction and durability from the leaders in technical outsoles.

Ortholite Footbed

Comfortable, anti-compression footbed with anti-microbial properties.
Almost returned them... SO Glad I didn't
by Jeff
The Topo fit with the wide toe box yet snug fit through the heal is perfect for me, so when I needed new shoes for a Spartan race I decided to pick up a pair of MTN Racers. Because of the rip stop upper, they did not initially feel as flexible or comfortable as other shoes and after wearing then around the house and on the treadmill a few times, I seriously considered exchanging them for something else.
Ultimately, I decided to keep them and they were rockstars during my race. After only one short training run to break them in I ran a 13 mile obstacle course race and I could not be happier. Very solid on the steep terrain, great traction in the mud, outstanding grip on obstacles, and very quick drying. And my initial concern about fit was completely unfounded. They are extremely comfortable, and the lack of flexibility that I felt in the upper actually made for a much more secure feeling fit over uneven terrain.
With Topo's 30-day risk free trial, these are a no-brainer.
Lots of great but one big negative
by T2
I now have 140mi in my MTN Racers and while I really like the shoes in many ways...fit, durability, grip and drainage the big drawback for me is the mid-sole. I was really hoping these would feel much like my awesome Ultraventures with just a little more rock protection but that is not the case. The mid-sole felt great initially but quickly broke down and flattened out, especially in the mid-foot area. The lack of a rock plate eliminated any sort of improvement in protection over the Ultraventure even though the mid-sole was supposed to be slightly more firm. The result was actually less rock protection once the mid-sole broke down.

In my mind a great combination would be the upper and out-sole of the MTN Racer with the mid-sole of the Ultraventure and for bonus points add a thin rock plate for the ultimate trail shoe.

Sadly after only 140mi my MTN Racers will now be retired due to the mid-sole.
Great fit. Smooth ride
by Matthew Wehrle
Topo shoes were recommended to me by a great running coach. I figured I'd give them a shot and I'm so happy I did!
My foot tends to swim around a bit in Altras so I was looking for something else with a wide toe box.
The mtn racer fits me perfectly! Just wide enough in the fore-foot combined with solid ankle support.
I'm not quite ready for a zero drop shoe so the 5mm is perfect for long runs too.
Used these right out of the box for the Rainier Ragnar in late August, followed by the Rut 50k the following weekend.
Near perfect!
by Mazalope
Over the past couple of running seasons I've had a lot of trouble finding a comfortable shoe that can hold up to the ruggedness of the Long Trail and the Adirondacks. The recent Lone Peak versions from Altra totally fall apart on these types of terrain, I had two pairs that didn't even last 100 miles! Salomons hold up, but definitely lack comfort when putting in 20-30 mile runs in the mountains.

But behold, the MTN RACER! The best of both worlds. Excellent fit, lightweight, great traction, comfortable and - most importantly - durable! I've put 120 miles on them so far and there's absolutely no sign of wear and tear, they still look brand new but feel even better. It's nice to finally be able to break in a pair of shoes without actually breaking the shoes.

Ran the great range traverse in the Adirondacks last week in these, and they performed like a dream.

My only gripe (and it's a minor one): not a fan of the flashy red and orange, I wish there were other color choices.
Colorblind designers
by PapaDom
Pros;
Generally a very comfortable shoe
I LOVE the flat tongue
Good gripy sole
Single seam upper feels quite durable

Cons:
The color
The toebox is bit narrow
The color
I replaced the atrocious Ronald McDonald yellow laces with black elastic laces (allowing for a little foot swell as the shoe has zero stretch, now it feels great other than the claustrophobic toebox)
The color

Classic black is a MUST in any model, come on Topo!
Awesome Shoe
by Josh
This shoe has made my training so much easier. Before these I had a pair of SpeedCross3 and I had to ice me feet after every run. Now with my MTN runners my feet feel as amazing as they are going to after hard runs. I am a little disappointed that I listen to the lady at the store and went a size up. They are a size to big and my foot slides on up and down hills which makes them a little unsteady. I will have to get the right size next time. Other than that this shoe is awesome.
Disappointing
by Justin
I was excited to try the Mtn Racer because the Terraventure 2 is one of my all-time favorites, and I needed something burlier for a long trip. The Mtn Racer was disappointing. Here's why:

Pros:
- Lightweight
- Grippy sole
- Nice stiffness/stability to reduce fatigue on longer days

Cons:
- The toebox is a lot narrower than my Terraventures, which eliminates one of Topo's big differentiators vs. traditional trail runners.
- My Terraventures are perfect in size 12. In the Mtn Racer, my big toe jams into the front of the toe box in size 12. My big toes were sore after just a couple miles of downhill. Even worse, Topo doesn't make a 12.5.
- This is a moderate cushion shoe..,so I was surprised that it feels almost too firm.

Overall, I love the concept behind this shoe. But the narrower toe box, higher drop and unfortunate sizing nearly eliminate Topo's advantage over other companies. I'd love a future version that stays truer to Topo's roots. I'll be returning these.
Great concept, could use a few refinements still....
by Phantom
Early impressions:
The good: Fabric of the upper. Keeps the fine dust of Cascadian trails out of the shoe and socks. Keeps splashes of water out, dries in 10 minutes if it does get soaked. Much prefer this to 'engineered mesh' Topo and others are using.

Mostly stitchless design of the upper is great. Lace guides on the tongue are very effective. Laminated tongue is nice, but could use a bit more padding.

Vibram soles have awesome traction and grip. Really appreciate the full sole, which shows no wear after 40 miles.

'Could-be-improved':
The midsole is too firm. After 10 miles the bottoms of my feet were feeling bruised. Better solution for the MTN Racer would be to use a slightly firmer Ultraventure midsole along with a rock plate.

While foot-shaped, the toe-box could still be wider. Topo really needs to offer a size 12.5, as many other trail shoe companies do.
A great light, wide, secure, cushioned shoe that goes the distance
by Charlie
I think Topo has just about nailed it with the MTN racer. It's well cushioned, roomy in the toe box, secure everywhere else, grippy, light, and fast. It covers the bases, and covers them well. I could nearly replace all my trail shoes with the MTN racer. Sizing was spot on for me ie same size for these shoes as with other Topos.

I have done trail runs ranging from 10 to 30 miles, and felt good, on these shoes and am overall very happy. The roomy toe and secure mid and heel ensures smooth going even over technical terrain with uneven footing. It didn't feel sloppy at all. The lugs and Megagrip made for great traction on mud and rocks. The stiffer cushioning provided good underfoot protection.

That all said, if the MTN racer could improve, at least for me, I would want stiffer, or different cushioning, for even more underfoot protection.
It's okay
by Top Gun
Fits okay but My kids told me that the color looks like Mc Donald's shoes.
I haven't returned these yet
by Gwatts
I haven't returned these yet, but I am after a single run. They seem to fit well. Narrower toe box than the Altra and wider than the Hoka Speedgoat. However, running in them was like running barefoot on concrete. For 25/30mm shoes they didn't feel like they have any cushion. And for that I am returning them. I wanted them to be good. Not sure I will try another shoe fro Topo.
Sets the Standard
by AzMtnMan
The name of this shoe is fitting for how it performs on the trail. Today I ran a 5.3 miles loop run in these shoes straight from the box. The area I run in is rocky, sandy with steep ups and downs over rough terrain. I regularly run these trails in my Ultraventure and Terraventure trail shoes. The Mtn Racer borrows the best from both of these shoes. It has the cushioning of the Ultra and the firmness of the Terra. That makes this a fast and efficient runner. The cushioning and firmness of this shoe eliminates the need for a rock plate. The fit of this shoe is a little different than the Ultra and Terra. The heel locks down very well and greatly adds to stability when running steep sections. The fit is a little tighter and feels a little shorter that the Ultra and Terra. I am hoping as I put more miles in the shoes it will stretch out a little. Overall, I'm not sure if there is a better trail runner on the market.