Product Overview
Tackle rugged terrain and pick up the pace with MTN Racer, made for trail racing and speed-hiking. The Vibram® Megagrip outsole delivers the ultimate traction on any terrain, including wet and slippery surfaces. The spacious lug design on the outsole offers excellent mud and snow release when needed.
Specs
Stack Height:

30mm (heel) // 25mm (forefoot)

Heel to Toe Drop:

5MM

Weight:

9.8 oz (M9)

Gaiter Compatible:

Yes

Rock Plate:

No
Cushion:

Support:

Pliability:
Why We Love It
Roomy Toe Box

Anatomical toe box allows toes to spread naturally and comfortably.

5MM Drop

Our highest available drop allows you to access natural running with more under-heel cushioning.

Vibram Outsole

Unparalleled grip and traction and durability from the leaders in technical outsoles.

Ortholite Footbed

Comfortable, anti-compression footbed with anti-microbial properties.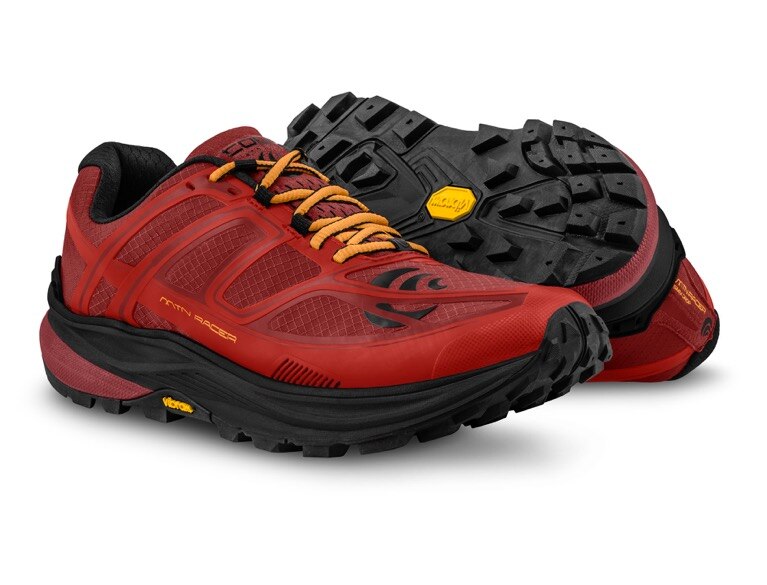 The Best Trail Shoe Ever?
Taylor: "I love it. Simply and whole-heartedly love it. It'll be a great go-to shoe for hours of adventure on technical terrain and may become my choice for my upcoming 100-miler in July. It has enough of everything to make me confident on just about any terrain (except maybe roads)."
4.3
Rated 4.28 out of 5 stars
Most Liked Positive Review
A great light, wide, secure, cushioned shoe that goes the di
I think Topo has just about nailed it with the MTN racer. It's well cushioned, roomy in the toe box, secure everywhere else, grippy, light, and fast. It covers the bases, and covers them well. I could nearly replace all my trail shoes with the MTN racer. Sizing was spot on for me ie same size for th...
Most Liked Negative Review
Disappointing
I was excited to try the Mtn Racer because the Terraventure 2 is one of my all-time favorites, and I needed something burlier for a long trip. The Mtn Racer was disappointing. Here's why: Pros: - Lightweight - Grippy sole - Nice stiffness/stability to reduce fatigue on longer ...
Great shoe for thru hiking!
Rated 5 out of 5 stars
These are awesome shoes for thruhiking. I used them last year for over 600 miles without then breaking down. They are crazy light, and very comfortable! I guess if I had to change anything I'd put in a different style tongue, and add a rock plate. But again I can't really complain about much.. these have stood the test of time, and are very comfortable! Awesome grip, and super lightweight..a great option for thruhiking in the spring, summer, or fall.
Second pair
Rated 5 out of 5 stars
Comments about MTN Racer
This is my second pair of MTN Racers, so safe to say I've been loving them. My first pair I wore on a 250 mile thru-hike and then some more. I am tall and heavy, but my feet were happy all day even carrying a pack! These have a well-built shank and are sturdy. To contrast, many I hikers I encountered in Altras complained about how quickly they broke down. I would definitely recommend these Topos to anyone.
Comfortable and great on the trails
Rated 5 out of 5 stars
Comments about MTN Racer
Just brilliant comfort. I've never written hiking shoes that I do*not* want to take off after a hike but here they are. I've even found them pretty good in wet conditions like snow/ice as long as we're not talking about deep pockets of 6+inches of snow. Don't think I'll ever go back to regular hiking boots or possibly any other brand.
Daily driver for 156 miles over 37 days in snow
Rated 5 out of 5 stars
Comments about MTN Racer
I walk at 4-8 miles every morning as a daily routine. I live in a northern state with plenty of snow. It's been snowing, icy or slushy everyday since these were delivered. I'm new to Topo and these shoes are the best I've owned. No lie from the other reviews, the drainage/drying is unreal. I can step too deep into slushy snow and think nothing about in minutes. I avoid submerging but life happens and these shoes take it. Awesome traction, fit, feel, construction, etc. Worth every penny!
Best trail running shoe
Rated 5 out of 5 stars
Comments about MTN Racer
Great shoes for trail running. Very durable. Upgrade those Altras to these!
Amazing for the PNW
Rated 5 out of 5 stars
Topo should have called this shoe the PNW (Pacific Northwest) Racer. It has proven to be perfect for the type of muddy, wet, rooty and slippy terrain I run on in WA. The grip is superb, with absolutely no slippage thus far. I feel completely confident tackling any terrain out here. Mud shedding is great. The fit is spot on (for my pear shaped feet), no heel slippage and roomy, but not too roomy in the toe box. Topo quality is some of the best in the industry. I really like the look, water resistance, and durability of the rip stop, I hope they keep it for future versions. I owned the Altra Lone Peak for a couple years and I personally feel the MTN is way better in every way especially in fit, stability, and durability. Reviewers have complained about the firmness of the foam, but this isn't an issue for me as I prefer more trail feel. Overall certainly one of the best running shoes I have ever owned especially for the PNW Fall - Spring seasons.
Great wet trail traction
Rated 5 out of 5 stars
Team Topo Great job on these shoes for Hiking... I was an Altra guy until I tried these out.. I found the Altra Timps.. my go to hiking shoe was not keeping me safe on wet rocks.. So I tried these.. I love them(GREAT ON WET ROCKS) and will not go back.. I've hiked a few hundred miles in these and they are holding up great.. I look forward to doing a Thru Hike of the AT in 2021 in these.. However in PA I may use the Ultraventure Pro's.. (ROCKPLATE) Keep up the great Job
The first and definitely not the last
Rated 5 out of 5 stars
I bought these for a 2 month camping trip with my fiancé. We love to hike and will easily do 7-10 miles/day. This was my first wide toe box shoe and I noticed an immense difference from non-wide toe shoes. So, I came into this trip, with these shoes, feeling very positive about them. I wore these on every single hike we did including Angels Landing at Zion. Flat rocks, dirt trails, loose rocky trails, dusty trails, concrete, and inclines and declines...I wore these on all kinds of terrain. Even got them wet, socks too, from a misstep into a puddle and they dried very quickly. They also stay very clean on the bottom, almost never having mud stuck on them. I would guesstimate I put 400-450 hard miles on these shoes and the last week of the trip I really noticed the treads worn down. They allowed me to push my feet with no negative pains or soreness afterwards that I have experienced with other brands. I would buy these again 100% and will probably try some other kinds. I also love the red!
Amazing shoe!
Rated 5 out of 5 stars
Comments about MTN Racer
I wear may different models of Topo Athletic and have been extremely satisfied with every shoe. Whether it be a trail shoe or road shoe, they've been perfect every time! It's terrific knowing I can have confidence in a shoe regardless of what model I buy. Thank you for a quality product!!!
Great trail shoe
Rated 5 out of 5 stars
Comments about MTN Racer
Great trail runner and hiker. Sturdy enough to handle rocky trails and very light compared to other trail shoes i have had
Questions about your Topos? We're here to help!