Product Overview
The third edition of our best-selling Ultraventure series delivers its plushest and lightest ride yet, offering the most cushioned platform in our trail line up. We increased the stack height for more protection and even more comfort, while our updated ZipFoam™ compound provides a lighter, softer, and more responsive underfoot experience. With a new and improved aesthetic, Ultraventure 3 features a sustainable engineered mesh upper, recycling 3 plastic bottles per pair. The Vibram® XS Trek EVO outsole features a newly refined design, offering lightweight durability with increased flexibility. Hit the trails with our cushioned trail runner and hiker, built for mild to moderate terrain, featuring our distinctive fit and feel.
Specs
Best For:

Trail Running, Hiking

Stack Height:

35mm (heel) // 30mm (forefoot)

Heel to Toe Drop:

5MM

Weight:

10.2 OZ (M9)

Gaiter Compatible:

Yes

Rock Plate:

No
Cushion:

Support:

Pliability:
The APMA (American Podiatric Medical Association) Seal of Acceptance and Seal of Approval are granted to products found to promote good foot health. To earn the seal, each product is reviewed by a group of APMA podiatrists to ensure it promotes foot health.
Why We Love It
Recycled Materials

Keeping sustainability in mind to help keep waste out of landfills.

Roomy Toe Box

Anatomical toe box allows toes to spread naturally and comfortably.

Vibram Outsole

Unparalleled grip and traction and durability from the leaders in technical outsoles.

More Cushioning and Resilience

Proprietary midsole compound which is springier than EVA and offers more rebound over the life of the shoe.
The Topo Athletic Ultraventure 3 is easily one of the top high-stack trail shoes of 2022.
"This is a shoe that will take you through any distance, from massive miles to daily trail wear, and it should last. It served me very well as a race day shoe and will stay in my rotation for daily miles. Because of its high stack, durability, and low weight, this would also be an excellent option for thru-hikers tackling long-distance trails like the AT or PCT."
Most Liked Positive Review
Ideal wide high/max cushion shoe for long runs and ultras
I average 30-60 miles per week and have completed 10+ trail 50K-100 mile races. I have 70 miles in my pair of Ultraventure 3s, mainly on dry packed and very rocky trails and including 20 mile long runs. Ordered in my usual Topo size and fit was spot on. Upper is breathable and not too stretchy, whic...h I like for better stability/control. Cushioning is soft and comfortable but doesn't feel sluggish when I pick up the pace or go uphill. Pleasantly flexible for a high/max shoe, which helps turnover and uphill running. I will note that due to some exposed foam on the underside of the UV3s that are not covered by the outsole, likely a tradeoff for higher flexibility and better uphill running/walking, I can occasionally feel rocks when running hard downhill and landing on objects in those areas. Outsole is grippy; no issues so far on rocky trails. I'd be comfortable running these for 50 miles and longer. Overall I recommend the UV3 as the optimal choice for anyone wanting a wide high/max cushion shoe. I'd also love to see a lighter faster MTN Racer version of this.
Most Liked Negative Review
Fit is ok, security is not as good as other topos.
Like the new midsole, but the upper is not secure. Had slip issues and didn't feel confident enough for trail use. I know it's intended for light trail, and for that the outsole would have been fine. Just needed a better hold from the upper. For reference I'm almost done with my second set of mounta...in racer 2's. Probably one of my favorite shoes.
Great for multiple trail surfaces.
Comments about Ultraventure 3
The Ultraventure 3 is my first trail shoe purchase, but my fourth Topo purchase in less than a year. I run on various trail surfaces, and the Ultraventure 3 ffeels great & didn't disappoint. The roomy toe box is perfect for me.
Roomy Toe Box, Secure Mid/Heel, Perfect Cushioning
Comments about Ultraventure 3
Best hiking shoe I've had after multiple versions of Altra LP, Topo Ultraventure Pro, and Topo Ultraventure 2. Will keep coming back as long as they don't screw it up.
I'm 78 and never wore a more comfortable shoe
Comments about Ultraventure 3
I enjoy the wide toe box and sole comfort
Brilliant evolution of the Ultraventure shoe
Having had the Ultraventure 1 & 2s, both were really comfortable and my feet loved them. Only issue was the cushioning died for me after about 100 miles which I resented. This 3rd version so far feels like that issue is fixed and I'm loving them!! Do wish the lugs were more aggressive like the first 2 versions
Comments about Ultraventure 3
I appreciate the wider toe box. Plenty of room for your toes to move around
Roomy toe box with cinched-in midfoot. Perfect!
Comments about Ultraventure 3
I use these for walking and hiking. First shoe I've ever had with a true roomy toe box side-to-side and not just in height. Only complaint (a small one): the laces are crazy sticky so you have to use a lace tightener to get them to move. I just switched to another lace. My toes have never been this happy.
Amazingly comfortable to run in
I tried these shoes on on a whim, I had never heard of this brand before and thought why not just try them out. You ever try on a pair of shoes and it's immediate love? I've only had it happen a couple times and this was one of them! Once I took them out on the trails my love affair continued, I am a convert and honestly can't wait to buy another pair of this brand.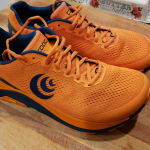 Put these shoes (and my feet) through the wringer at the coldwater rumble 100. Never changed shoes and I feel no shoe could have done better. Fit, cushion, and grip were all spot on. Best of all, there is no significant wear! On a rocky course I expected some damage but they still look great. I also took these on holiday trips as my only travel / run shoe and they do great on all surfaces. I like the disjointed sole vs. the typical one piece vibram. Happy to have found my favorite shoe after literally ripping through Altras off and on for years.
Improvements all as advertised!
As described, this version of the Ultraventure is indeed, lighter, more responsive, and more cushioned with the updated, springier Zipfoam. I could feel all of these improvements during my trail run. The extra cushioning is not mushy or spongy and doesn't weigh down the shoe. It felt light on my feet and responsive. A great update!
Light, springy and that great Topo fit!
Comments about Ultraventure 3
I bought these as a compliment to my Phantom 2's for added traction during wet or snowy conditions running in the city parks and lakefront. I test ran them this week and the heel and midfoot are very stable and the sole returns energy well. After a mile in, I forgot about them and just ran. Awesome.
Questions about your Topos? We're here to help!