Product Overview
Meet the Topo Specter - our first-ever high-cushion performance trainer, featuring Topo's distinctive fit and feel. The single-layer engineered mesh upper features recycled materials for a lightweight, secure, and sustainable fit. The 35 x 30 mm platform features a Pebax Powered® core wrapped in an EVA frame to deliver soft cushioning and high energy return with a stable and responsive ride. The aggressive heel and forefoot rocker design aids in a fast transition, propelling you forward with each stride, while the lightweight die cut rubber outsole provides traction and durability.
Specs
Stack Height:

35mm (heel) // 30mm (forefoot)

Heel to Toe Drop:

5MM

Weight:

8.1 OZ (M9)
Cushion:

Support:

Pliability:
Why We Love It
Lightweight Breathable Materials

For a '2nd Skin' fit and feel.

Performance Insoles

Comfortable insoles with long-term resilience and anti-microbial properties.

World Leading High Tech Polymers

Delivering lightweight high performance and superior energy return.

Roomy Toe Box

Anatomical toe box allows toes to spread naturally and comfortably.
Topo delivers a totally modern, lightweight, fun to run trainer long racer that is true to their heritage of lower drops and anatomical uppers.
"As of now, this is my highest scored running shoe. Light, fast, and smooth, the Specter is the do-it-all natural running companion you've been waiting for! I do not make such a statement lightly."
Most Liked Positive Review
Perfection, at least in my eyes
I have mostly used my Spectors on the road, up until today. I took them to the trails, and they did far better than I would have figured. Of course the ground was dryer than an old man's scalp. I can only guess my opinion would be different if the trail was damp. I have high arches and a narrow fo...ot until you get to my forefoot area. My feet become wide at that point. Typo's especially the Spectors fit my feet incredibly well. The new combination of foams is outstanding! I enjoy a firm but responsive ride, which is what this shoe delivers. When you want to step in the gas, it will launch you.
Most Liked Negative Review
Not Your Typical Topo
Let me start by saying I own 4 pairs of Topo's (MT's, Trailventure, Phantom, and Magnifly), so I love the brand. However, these were quite a departure, in my opinion, from what I expected. I used them for a few days before returning them. I had blisters on the heels and then ran narrow on my wide fe...et. I own a pair of Hoka for longer runs and was hoping these could replace those. Not so. The Spector ran narrower than other Topo and I felt as if my feet turned inward. Overall, disappointed so sent them back.
Comments about Specter
I love the wide toe box and cushion in the sole. I wore these to train for my fall marathon, on road and on the treadmill. They never disappointed me.
Comments about Specter
Have worn the Phantom for years but have now switched to the Specter. They are lighter and faster. You have to reach a little deeper into your wallet but I don't think I'm going back. If I ran a marathon tomorrow, this would be the shoe. Watch out Kipchoge!
Roomy toe box is exactly what I need.
Comments about Specter
Primarily I am using my shoes on the road. Great cushion feeling, and the wider toe box is exactly what I need. The additional lacing holes on the upper tongue are perfect. Shoes never come untied, and the tongue holds better to my foot.
Longtime Ultrafly fan impressed by the new Specter
Comments about Specter
As someone who has been buying Topo Ultraflys over and over again, I've been looking for a more supportive light weight runner that has the same wide toe box (because I have hobbit feet) and heel - toe drop. I was about to buy the new Ultrafly when I saw this new model. I have to say after about 30 miles, I'm loving these shoes as they're great for speed training and long runs, alongside feeling instantly familiar.
Great fit and huge toe box. Most comfortable shoes ever
Comments about Specter
I use these for road running. Great
Love the foot shape and cushioning
Comments about Specter
Love the roomy toe box, the arch support is great and so is the cushioning.
Great Toe Box and amazing cushioning
This is my vote for best road shoe. Better than all others at this price range. Nice fit right out of the box and smooth on the roads. Semi durable, definitely better than others. Looks great and has good air flow. Only complaint is the collar opens up while stepping and allows little rocks in.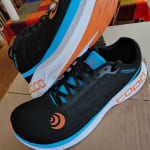 Love the wide toe box and secure mid-foot
Comments about Specter
This is my 2nd pair of Topo's. First pair were Mtn Racer 2. In both cases I love the wide toe box with the more secure mid foot. Feels very secure on the foot while give my toes room to do what they want to do. The specter felt squishy and unstable for the first few miles (this is my first high cushion shoe) but once I got used to it, I really like them.
Comments about Specter
Only shoe for me
Loved my other Topo's but needed something softer to recovery from hip injury. These are working great and feel super soft. Almost too soft if you need some support, but for me this is perfect. I will order a couple more pairs for day to day loafing around. I also like the softer upper for slipping in feet without retying shoestrings.
Questions about your Topos? We're here to help!