FINAL SALE SELECT COLORS: NO RETURNS OR EXCHANGES
Magnifly 3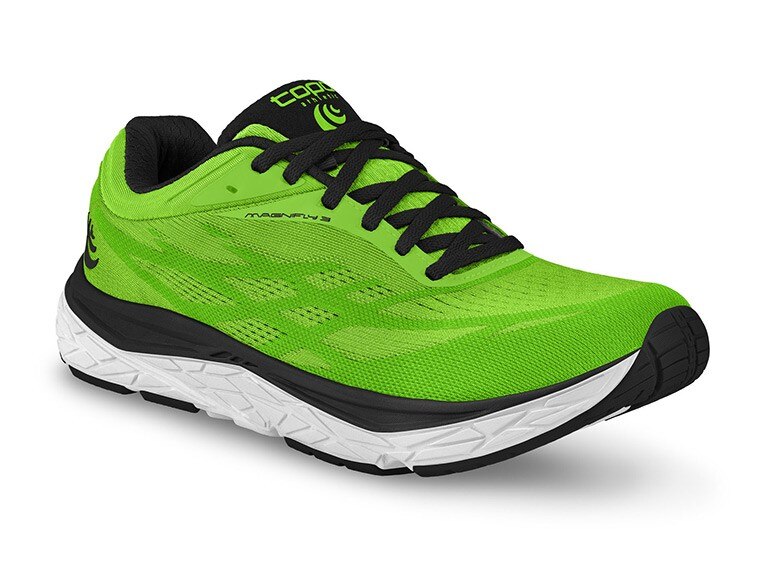 The King of Zero Drop Daily Trainers
"This brand is awesome. This shoe is awesome. Enough said."
Patrick Lister, Level 3 Expert, RunRepeat.com
Product Overview
The Magnifly 3 has been updated with an engineered mesh upper, molded foam collar, Ortholite® foam footbed, and sweeping toe rocker. The 2-density EVA midsole has a softer top for cushioning/comfort layered with a firmer bottom for response and propulsion. These men's cushioned running shoes offer a 0-drop road running platform.
Specs
Stack Height:

25mm (0 drop)

Heel to Toe Drop:

0MM

Weight:

10 oz (M9)

Gaiter Compatible:

No
Cushion:

Support:

Pliability:
Why We Love It
Multi-Density Midsole

Allows you to access two levels of cushioning: soft against the foot and firmer/more responsive against the ground.

0MM Drop

Completely neutral drop for the most natural running experience.

Ortholite Footbed

Comfortable, anti-compression footbed with anti-microbial properties.
4.5
Rated 4.53 out of 5 stars
Sizing
Feels full size too small
Feels full size too big
LOVE these shoes!!
Rated 5 out of 5 stars
Comments about Magnifly 3
I've struggled with finding comfortable running shoes for years. I stumbled upon Topo Athletic and will never buy a different brand. I'm trying to convince my husband to let me buy their recently released hiking boots too!!
Really liking my first zero drop shoes!
Rated 5 out of 5 stars
I had been using stability shoes based on a fitting that I did three years ago. On my last trip to replace them, my local shoe store suggested that I try these one and I was sold. I ordered the green ones (because they obviously go faster) and I've been running with them all week. So far I am really loving the transition to zero drop.
This could be my new "Go-To" shoe!!
Rated 5 out of 5 stars
Comments about Magnifly 3
This morning I had my first ride in these shoes...5 miles. I have been running in Altra Torin shoes and have been disappointed where they are taking that shoe. It is getting more narrow and also their gimmick features just don't make sense to me. They are a very comfortable shoe, but I am looking for more. I think this Topo Magnifly 3 may just be that shoe. The gripes I have with the Torin 4.0 are the less foot-shape/narrowing trend, the spandex "thing" with their new tongue, and the fact they squeak. The Magnifly feels a little wider, which I love! Not quite as wide as the Altra Torin 3.0 (best shoe ever!), but it is better IMO than the Torin 4.0. The simple tongue and no gimmick with the lacing and such give me ultimate flexibility to tailor it to my liking. Oh, and NO SQUEAK! The Magnifly 3 does have a slightly less cushion (firmer) feel than the Torin, but this inaugural run was fabulous and I have high hopes for this shoe as maybe my new go-to shoe. I have read a couple of reviews that was critical about the mileage potential of this shoe, so we'll see how the long-term wear pans out.
Perfect Daily Trainer
Rated 5 out of 5 stars
Comments about Magnifly 3
It's my first time trying the Topo brand after years of running and I'm glad I did. They provide the ideal fit for my feet: a wide forefoot and snug fit around the ankle. I love the Zipfoam midsole as it provides enough cushion while still being responsive. The midsole still feels like new after 100 miles of running.
WOW!
Rated 5 out of 5 stars
Let me first say I have been a Topo fan for a while. I also like and switch between Altra. I have been running in the Fli-Lyte and MT's but the version 3 of Fli-Lytes were just a bit off. Went back to Altra and they were OK could not get the typical Escalante Racer's. So came back to Topo and tried the 0 drop offering... These kicks are responsive, light enough for a solid trainer having just enough cush but road feel! I am also excited to finally see Topo put out better colors... I wish and hope they bring some of the trail colors to the road!
Definitely -Perfect fit for me
Rated 5 out of 5 stars
Comments about Magnifly 3
Running and walking
Great shoe
Rated 5 out of 5 stars
Can't feel the drop, toes are able to spread without falling over the edge of the sole. Great shoe
great fit
Rated 5 out of 5 stars
Comments about Magnifly 3
very comfortable, great fit, perfectly designed for my foot.
This is the perfect shoe for me!
Rated 5 out of 5 stars
After a couple hundred miles I have no complaints. Now I am curious to see how durable they are. 50 plus miles a week on trails and roads and they are holding up very well. Started out feeling slightly small but after a few runs they relaxed and now the fit is fine.
The only wide toebox left . . .
Rated 5 out of 5 stars
Comments about Magnifly 3
I previously wore and liked a brand known for their wide toebox shoes (that starts with an A), until they got bought out by megacorp and then the toebox began to shrink just like every other shoe brand . . . except Topo! Thanks, Topo, for understanding that many (if not most) people need shoes with a wide toe box. Topo shoes actually fit me better than the A----- brand did, so perhaps I should thank the other company for selling out to the big corp., because then I discovered Topo. In most other running shoe brands I had to buy my normal size in EE or EEEE width to fit my toes (forefoot), or else size up a full size. But with Topo it is the exact size as measured in the shoe store, but with a perfect width. I have so far owned 4 pairs of Topos(3 different models) and they all fit perfectly.
Questions about your Topos? We're here to help!