FINAL SALE SELECT COLORS: NO RETURNS OR EXCHANGES
Magnifly 3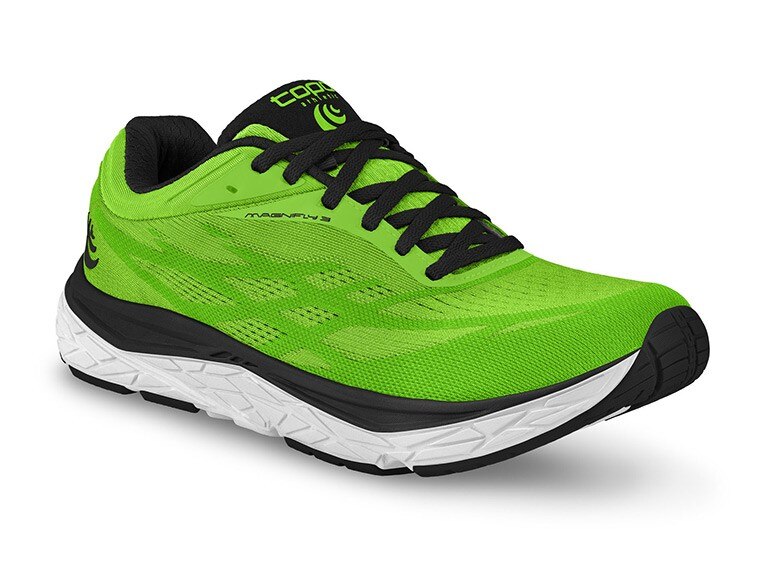 The King of Zero Drop Daily Trainers
"This brand is awesome. This shoe is awesome. Enough said."
Patrick Lister, Level 3 Expert, RunRepeat.com
Product Overview
The Magnifly 3 has been updated with an engineered mesh upper, molded foam collar, Ortholite® foam footbed, and sweeping toe rocker. The 2-density EVA midsole on these neutral heel running shoes has a softer top for cushioning/comfort layered with a firmer bottom for response and propulsion. These men's cushioned running shoes offer a 0-drop road running platform.
Specs
Stack Height:

25mm (0 drop)

Heel to Toe Drop:

0MM

Weight:

10 oz (M9)

Gaiter Compatible:

No
Cushion:

Support:

Pliability:
Why We Love It
Multi-Density Midsole

Allows you to access two levels of cushioning: soft against the foot and firmer/more responsive against the ground.

0MM Drop

Completely neutral drop for the most natural running experience.

Ortholite Footbed

Comfortable, anti-compression footbed with anti-microbial properties.
4.6
Rated 4.59 out of 5 stars
Most Liked Positive Review
Magnifly 2 verus Magnifly 3
I have used a few pairs of Magnifly 2 over the years and found them to be a good shoe, but a little stiff. When the Magnifly 3 came out, I decided to try them and found them to be the right shoe for me and a much improved shoe. Comfortable, light, flexible, but supportive. I use them to run, racew...
Most Liked Negative Review
Good for the first 100 miles b
Let me start with the positives. These shoes have excellent room in the toe box area and I love that they are zero drop. I have been running in zero drop shoes for over 2 years now but this is my first experience with Topo. The cushion is a bit firmer than I am use to however it allows me to hav...
Magna-Ultra Flys
Rated 5 out of 5 stars
I purchased a pair of Magniflys and a pair of Ultraflys to replace the same. I've trained and run my last two marathons in these shoes, as well as most of my everyday runs. As an older runner I appreciate the wider toe box and right amount of cushion and support these give. This makes for happier feet. I recently got my son a pair of Magniflys. He has always used the "other" wide toe shoes. He has now purchased his second pair bumping them to front of his zero drop shoes. He told his friend about them. He tried a pair and bought two additional pairs.
Best pair of sneakers I've ever had. Room for Toes!
Rated 5 out of 5 stars
I love that it fits the shape of my feet and that it's zero-drop. I especially love the wide toe-box. In the past I always wore shoes that crushed my toes together. Not anymore!
Magnifly
Rated 5 out of 5 stars
Comments about Magnifly 3
Excellent !
Definitely buybagain
Rated 5 out of 5 stars
Comments about Magnifly 3
Great fit and comfortable
4th pair
Rated 5 out of 5 stars
Comments about Magnifly 3
Weigh 245 and these shoes have been great for me. Big toe box is great
Great Everyday Runner
Rated 5 out of 5 stars
Comments about Magnifly 3
Was looking for an alternative to my other zero drop shoe with a roomy toebox. Glad I tried these! First impression was they were very light. The midsole is a little firm, but breaks in over the first few runs. I will be buying more Topo in the future and will try different models as well.
my second pair
Rated 5 out of 5 stars
Comments about Magnifly 3
Love these shoes….
Will purchase again
Rated 5 out of 5 stars
Comments about Magnifly 3
I wear these for daily walks. The roomy toe box and overall fit, feel, and cushioning are all excellent.
Goldilocks shoe
Rated 5 out of 5 stars
Comments about Magnifly 3
Topo continues to make quality products and this shoe is no exception.they really hit the sweet spot for me as far as cushioning goes.at first I did think that maybe they were too big,but it turned out they are just right. I have been using them for runs up to seven miles and I am certain that it will be no problem taking them longer.they are comfortable and smooth riding. I have a pair of Mt 3's that are my go to trail runners and I love them also. I hope that Topo will continue to make great shoes in the future.
Really great shoe.
Rated 5 out of 5 stars
Comments about Magnifly 3
Extremely light and comfortable. Makes me pay attention to my form whether walking or running.
Questions about your Topos? We're here to help!