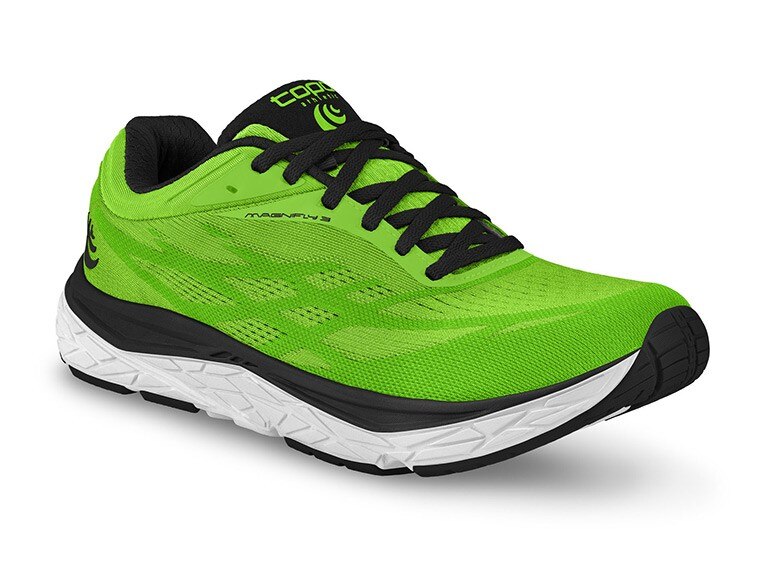 The King of Zero Drop Daily Trainers
"This brand is awesome. This shoe is awesome. Enough said."
Patrick Lister, Level 3 Expert, RunRepeat.com
Product Overview
The Magnifly 3 has been updated with an engineered mesh upper, molded foam collar, Ortholite® foam footbed, and sweeping toe rocker. The 2-density EVA midsole has a softer top for cushioning/comfort layered with a firmer bottom for response and propulsion. These men's cushioned running shoes offer a 0-drop road running platform.
Specs
Stack Height:

25mm (0 drop)

Heel to Toe Drop:

0MM

Weight:

10 oz (M9)

Cushion:

Support:

Pliability:
Why We Love It
Multi-Density Midsole

Allows you to access two levels of cushioning: soft against the foot and firmer/more responsive against the ground.

0MM Drop

Completely neutral drop for the most natural running experience.

Ortholite Footbed

Comfortable, anti-compression footbed with anti-microbial properties.
1st pair of Topo's but not the last
by Matt Willett
I've recently changed from heel striking stability shoe guy to a zero drop forefoot striker. My first pair were the Altra Torin 4 plush, which I love for long slow runs. I had been looking at Topo a little bit here and there. I decided to try out the Magnifly 3's and I'm so glad I did! They came in the mail today and I did a quick 5 miler, they felt fantastic! Fit is secure while feeling roomy. They do feel like a fast shoe at least for me they do. The laces are very secure and after getting the tension just right, off I went. There was no stopping to tie and untie searching for the right feel. The cushion felt great, not mushy at all, firm but forgiving. I'm looking forward to many more miles in them and will probably try out one of the trail shoes next.
Can they handle long distances
by Mo
Just to follow up my last comment. I ran a marathon in them a few days ago and was generally very pleased. I ran my fastest marathon time and had zero blisters and my leg and foot recovery post-race was pretty quick. I was concerned about the firmness of the shoe before the run, but my joints felt totally fine after the long run. One area where I felt a bit of pain was around the ankle collar on the outside of my foot. These shoes have a bit of a puffy heel and ankle collar which serve to hold the foot in better, but in the case of my long run, caused me some irritation on the side of my foot, below the ankle. Overall, the magnifly 3 performed great and despite the firmness I can answer my own question from before that they do handle long runs well!
Faster, firm, comfortable. Question for others if they are good for marathons
by Mo
I have only run in them for two weeks, but so far I really like them. This is my first pair of Topos, but compared to other zero drop shoes that I have tried, they feel much faster and more responsive and the toebox shape is spacious yet not duck-like or extra bulky. I have been running 5-10 runs in them and felt like I am flying, which is awesome. I am running a marathon in a week and am thinking to run in these even though I have not longed in long runs in them yet. Are they good for marathons?
The Magnifly 3 is a great shoe
by Pug
Originally, after reading an initial review, I was concerned that the Magnifly 3 would be sized too short as the experience I had with the Fli-Lyte 3 and MT 3. However, I was assured, by Topo Athletic, that the shoe would be true to size, which it is. Thank you Topo! The upper is great and the heel collar, it's not over padded. Thank you! The Magnifly 3's fit and heel collar should have been what the Fli-Lyte 3 was supposed to be. Please fix the FL3 or move on the FL4.

Also, please discontinue using the ortholite insoles, they are too thick and retain moisture. No need for these sponges. With the Fli-Lyte 3, Topo was kind enough to send me a pair of FL2 insoles, which help open up the volume of the shoe.

The Magnifly 3 is a great shoe. Keep up the good work Topo and thank you for listening to my feedback!
Best training shoe!
by Jesse
This is the best trainer on the market! The breathable mesh provides a perfect fit; I don't even notice the shoe is there, which nicely complements the other minimalist components of the shoe: a toe-box allowing for natural splay, zero-drop allowing the Achilles tendon and every joint up the chain to do its job on every run and grow stronger, the perfect flex which allows the foot to move naturally with just the right amount of cushion to log the miles and stride without second thought of under-foot protection, and light enough for even uptempo training. I use the Magnifly 3 from long runs to reps. I primarily race XC. For the varied terrain and subtleties underfoot on an XC course you need strong feet, and confidence that your feet can carry you not only the distance. The Magnifly 3 as my primary trainer this XC season left my feet feeling strong and allowed me to train the miles to build a solid aerobic base. This led to successful XC season with PR's and wins!
MagniFLY!
by John
My first zero-drop shoe an love it. This is my favorite out of all the Topo's so far very comfortable. I love the new breathable mesh and fly on my runs. Keep up the good work!
Magnifly 2 verus Magnifly 3
by John C.
I have used a few pairs of Magnifly 2 over the years and found them to be a good shoe, but a little stiff. When the Magnifly 3 came out, I decided to try them and found them to be the right shoe for me and a much improved shoe. Comfortable, light, flexible, but supportive. I use them to run, racewalk and sometimes an everyday shoe.
Not as good as Magnifly 2
by Marc
I'm very disappointed that Topo has redesigned the Magnifly and is discontinuing the previous model. I don't care for this new trend in sock like shoes. I don't like the sloppy feel of this style and much preferred the design of the Magnifly 2. I feared that durability would also be an issue so I returned the shoes. Why did you have to ruin a good thing?