Product Overview
Take it from the city to the summit with MT-4. These ladies trail shoes deliver a comfortable, flexible, and versatile ride so you can head straight from your doorstep to the trailhead. The redesigned secure and durable upper features a sustainable recycled mesh. Medial drainage ports allow for quick water release and drying. The dual-density midsole provides a soft feel directly underfoot, with firmer response against the ground. We upgraded the outsole with Vibram® XS Trek EVO for increased traction and durability across a variety of terrain, with generously spaced lugs for optimal mud and snow release. MT-4 is now compatible with our Performance Gaiter (sold separately) for additional protection from dirt and debris.
Specs
Stack Height:

25mm (heel) // 22mm (forefoot)

Heel to Toe Drop:

3MM

Weight:

8.6 oz (W7)

Gaiter Compatible:

Yes

Rock Plate:

No
Cushion:

Support:

Pliability:
Why We Love It
Gaiter Compatible

Offers additional protection from dirt, rocks, and twigs on the trails
(sold separately).

Multi-Density Midsole

Allows you to access two levels of cushioning: soft against the foot and firmer/more responsive against the ground.

Recycled Materials

Keeping sustainability in mind to help keep waste out of landfills.

Vibram Outsole

Unparalleled grip and traction and durability from the leaders in technical outsoles.
If You Were a Fan of This Model in the Past, You're Certain to Be Impressed With the New and Improved Version.
"The shoe has a minimalist feel that preserves natural biomechanics, with just enough protective elements and performance features to make it suitable for just about anything."
Most Liked Positive Review
I wont go back!
Training for an ultra and my 'regular' go to shoes finally gave me blisters and made me think their design had changed or my feet have changed and time to try something different. So i saw Topo advertise a 99 day risk free trial and i gave it a shot. First time i wore them was a 10 mile run and i ha...ve never gone back to my former brand. I was mostly amazed by the fact i didn't want to get out of the shoe when my run was finished. Most of the time i want and feel like getting out of my shoe as soon as my run is over. Not with these topos. My feet love them! 😊
Most Liked Negative Review
My feet need the drop
I love Topos. I decided to try the MT-4 but I have found that I need the toe drop! My back and knees hurt 😞. So I will have to switch back to the original Topos with the drop.
Replaced by Merrell trail runners.
Great sneaker. I wear these daily and I'm on my feet all day. Great at the gym, too. I love the wider toe box and sturdy sole. I feel snugged up and ready for anything. Bought both colors in a 7.5, which is my true size, and just right for me with my slightly wider medium-width feet.
Verified Buyer
Submitted as part of a sweepstakes entry
Comments about MT-4
These shoes are great for my wide foot. I like the secure feeling of the gripping from the textured bottoms. I plan to try them on the golf course this season as it is hard to find comfortable golf shoes.
The roomy toe box and low heel height feel great
Comments about MT-4
Wear them for work as a nurse and for every day life/walking. I've only had them a short time, but I love they way they fit and feel.
Update from May: Topo MT4 Trifecta
My MT4s and I completed the Spartan Trifecta in 3 very different terrains.. These are excellent OCR shoes. They shed mud and water, maintain traction, stay comfortable when wet, and are great for the rope climb., They wash and wear well. I've had zero blisters or hotspots. I love these shoes!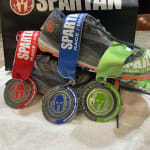 have been wearing Newtons for 12 years, think this is #1 now
Comments about MT-4
I wear them on street, in mountains, running, hiking, walking...
Lightweight and roomy toe box, no more feet problems
Comments about MT-4
Love the light weight, roomy toe box. After I found them 6 years ago, only show I wear. No more blisters and use nut butter on my feet before I run.
Toe box is roomy enough, Secure fit
Comments about MT-4
I now have 3 pairs of Topo Athletic Shoes and I love them all!! I've switched from another line that I wore for years, but have found Topo to fit my feet best. Love the roomy toe box and secure feel in the waist of my foot. I don't feel like my feet are floating in my shoes any more. I always size up 1.5 times from my street shoe and was easy to order Topo in my regular running shoe size.
Comments about MT-4
I took these, new out of the box, and wore them on a significant hike (more than 3 hours), scaling rocks, and tree limbs and they did AMAZING.
Great trail shoe, and golf footwear!
Comments about MT-4
Love the roomy toebox! But... where the sole meets the fabric, it's separating. I expected these to last at least 12mos. I will continue to buy Topo shoes. I have 10 pair!
The shoes fit like a dream, straight out of the box!
Comments about MT-4
I will start trail running but even everyday walking is joyful in these shoes. I use a Superfeet Green insole to ward off plantar fasciitis and these will be my new go-to shoes for off road activities. I love the color combination and the wide toe box is a must!
Questions about your Topos? We're here to help!