Back in Stock Soon!
Ultraventure Pro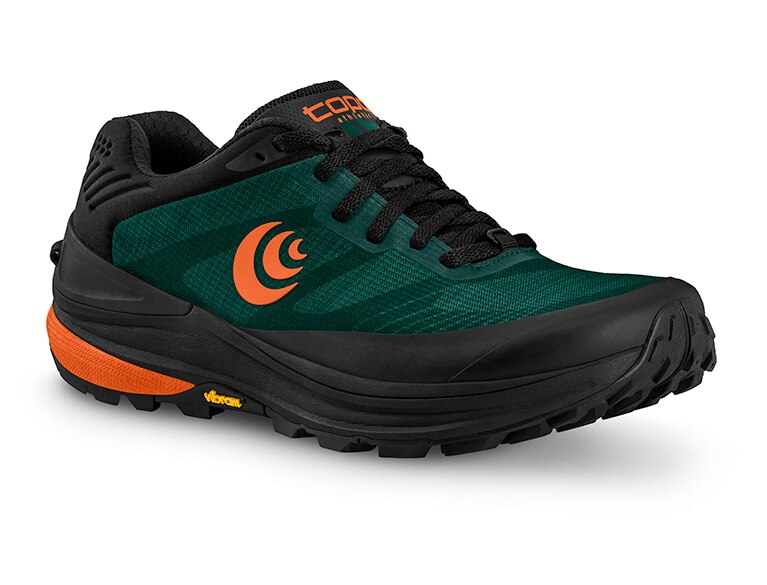 Topo Athletic Ultraventure Pro Performance Review
"Like every single pair of Topos that I've tested, the Ultraventure Pro is comfortable and durable."
Product Overview
Ultraventure Pro delivers the comfort of our best-selling Ultraventure and takes it to the next level to make it the ultimate performance hybrid, from thru-hiking to trail running. The 3-piece ZipFoam™ midsole is paired with an external TPU heel counter for light guidance through the gait cycle. The Vibram® Megagrip outsole provides the ultimate in traction and grip, especially on wet and slippery conditions. A forefoot ESS rock plate offers additional protection on technical terrain.
Specs
Stack Height:

30mm (heel) // 25mm (forefoot)

Heel to Toe Drop:

5MM

Weight:

10.4 oz (M9)

Gaiter Compatible:

Yes

Rock Plate:

Yes
Cushion:

Support:

Pliability:
Why We Love It
More Cushioning and Resilience

Proprietary midsole compound which is springier than EVA and offers more rebound over the life of the shoe.

Rock Protection Plate

Flexible ESS rock plate protects against stone bruising caused by sharp rocks and roots.

Vibram Outsole

Unparalleled grip and traction and durability from the leaders in technical outsoles.
4.7
Rated 4.67 out of 5 stars
Yes
Rated 5 out of 5 stars
Great right out of the box. Replaced the Ultraventure which I also loved. These have pretty much the same feel but a little more grip on the bottom which is nice. Use to be an Altra fan but Topo has won my loyalty. I just hope the don't sell out to China like Altra.
Awesome shoe!
Rated 5 out of 5 stars
Use this for trail running here in New Zealand. They have been great through mud, roots, dust and rocks. I got half a size large and they are fantastic. The heel felt a little loose in store but is great on the trail. Super light and they shed water amazingly! I have managed to wear a hole in the upper after 1.5months, this seems to be the only weak spot.
I would buy this shoe again
Rated 5 out of 5 stars
Comments about Ultraventure Pro
Topo athletic shoes are a great fit for my feet. I have wider feet and benefit from the shape of the toe box design. This particular shoe has Vibram soles that are sturdy and durable. I live in the South West. I run trails in the Mojave region. The trails are rocky and prickly yet I felt fine and stable. They feel, in my opinion, light weight. Again, I only go out 2-3 times most weeks. Then, I use them for long hikes in desert conditions. These are the second pair of Topo athletic shoes. The other pair are still used but I reserve them for roads and paved trails.
I would definitely buy these again!
Rated 5 out of 5 stars
Comments about Ultraventure Pro
I wear TOPO and bought these for my husband who has been really impressed with the comfort and I love the style. Thank you TOPO!
Love em
Rated 5 out of 5 stars
Comments about Ultraventure Pro
I wear size 10.5 with most shoes but 11 with Topo. Love the shoes.
Beast of a shoe!
Rated 5 out of 5 stars
Shoes fit great! I have a wide foot and the toolbox has plenty of room. Felt like the heel was a little loose in the store but on the trails its magic. Nice and light with great grip and amazing ability to breathe and shed water! Wore them running and climbing for 16 hrs yesterday and feet still felt great!
Great shoes
Rated 5 out of 5 stars
Just got these 11-28-20. My first ever trail shoe, have always worn boots, and I love them. Straight out of the box to the trail & a brisk paced 6 miles in Southern Indiana hills & my feet felt great. Great grip on the trail, rock plate works well, & my toes never hurt like they have in a few of my boots. Heel & mid foot felt secure & toes felt like they had plenty of room. Looking forward to putting many more miles on these bad boys.
Possibly the perfect walking shoe
Rated 5 out of 5 stars
This is the shoe I've been waiting for! Thank you Topo!
Should have listened to the reviews and not purchased
Rated 2 out of 5 stars
I trail run 100 KM (62 miles) a week on average and climb (while running) an average of 4000m (13,123 feet) a week. This shoe is sadly a complete waste of money for trail running. It's as if they designed it to not fit people that fit in their best reviewed trail shoe, the original Ultraventure. It is sloppy and I'll fitting in the mid-foot and heel; this is pretty much in line with what reviewers are saying about the shoe. The 'Believe in the Run' quote was selectively chosen. I love Topo, but this shoe not worth the money, even if it were half the price it would still be flawed. If I wanted an Altra fit, I'd buy Altra, cheaper, less blowouts, and more widely available. In just the last year I have bought 11 pairs of Topo shoes, I go through two pairs every 2.5 months on average. The Phantom, Ultraventure, Ultrafly 3, and MTN Racer (objectively shorter than others), all in size 12, fit nearly identical in the mid foot and heel; the Runventure 3 (objectively longer than others in the same size 12) fits snug in the heel in-line with the others although it fits a but sloppy in the mid foot (another case of why not just buy Altra since this is not the 'Topo Fit'), however, it still is a far superior fit than the Ultraventure Pro. It may be that this shoe is good for through hiking, but it should not be marketed as a trail running shoe. Some people may like it, maybe those that like shoes that strike firm with little to no ground feel. However, I find it difficult to believe that anyone that fits perfectly into the Ultrafly 3, Phantom, Ultraventure, MTN Racer, and Runventure 3 could possibly find this shoe to fit well. This is a step backwards in so many ways from the original Ultraventure, to which Topo might argue is because it isn't an Ultraventure, to which I would ask, why call it an Ultraventure 'Pro' when nothing about it is very similar to the original, and even less about it is 'pro'. If this shoe sells as many pairs as the original Ultraventure, I can only guess it to be the result of some magical marketing. Just don't buy.
Q&A
Showing 2 out of 2 Questions
Q

Do I need to size up for this shoe?

Asked by Jeff

Verified Reply

-

Melanie

Currently we recommend going true-to-size for this model

Q

Will you be making any more ultraventure pros. The size range shown as available is quite limited. 😳

Asked by Gina

Verified Reply

-

Melanie

Ultraventure Pro is scheduled to be restocked in late February 2021