Product Overview
Pursuit delivers our first cushioned, zero drop trail runner, built to inspire confidence on the trails with a comfortable, durable, and grippy ride. The tightly woven mesh upper provides excellent breathability and durability, with strategically placed overlays in high-abrasion areas. The 0-drop, 28 mm platform offers a completely neutral alignment from your heel to your toes, promoting a midfoot strike and natural stride with ample cushioning. The OrthoLite® Performance Insole and ZipFoam™ midsole provide a seriously comfortable ride with long-term resilience. The outsole features Vibram® Megagrip for unparalleled grip and traction on all terrain, while optimally spaced lugs ensure quick mud and snow release.
Specs
Stack Height:

28mm (0-drop)

Heel to Toe Drop:

0MM

Weight:

10.8 oz (M9)

Gaiter Compatible:

Yes

Rock Plate:

No
Cushion:

Support:

Pliability:
Why We Love It
0MM Drop

Completely neutral drop for the most natural running experience.

Recycled Materials

Keeping sustainability in mind to help keep waste out of landfills.

Roomy Toe Box

Anatomical toe box allows toes to spread naturally and comfortably.

Vibram Outsole

Unparalleled grip and traction and durability from the leaders in technical outsoles.
If we had a zero drop category for our end-of-year awards, the Topo Athletic Pursuit would likely find itself at the top.
"One thing that will stick out to runners is the step-in feel. The foot-shaped toe box is dialed in all the way around. Whether you have a wide foot or not, this shoe should please your feet. The rounded toe box feels roomy, yet I had zero issues with movement in the forefoot because of the security in the back two-thirds."
Most Liked Positive Review
Almost perfect, with a super high arch that makes them not
I've been running in minimalist shoes for over a decade. I used to run in minimalist shoes like Merrell's trail gloves until I started getting foot pain from the lack of cushioning. Turns out lots of running in minimalist shoes can lead to petatarsal stress and impact fractures. Who knew? Several ye...ars ago I switched to more padding from that other zero-drop, wide toe box brand, but their quality has been dropping off for years, and their soles aren't exactly known for traction. This time around I tried a literal portfolio of shoes. Speedgoats? Way too narrow in the toe box. Both lateral toes were smashed. That was an instant no. Timps? Uncomfortable upper with weird creases and a that shoe company's proprietary terrible traction sole. Mafates? More room than the Speedgoats, but still not quite enough, and the insole/midsole weren't particularly comfortable. Mont Blanc? Terrible heel hold with lots of slop. Stinsons? platform clown shoes. Olympus 5? Almost there, but the worst durability ever makes them not a cost effective option. Then I found these Topo Pursuits, and I really wanted to love them. You have no idea. Everything I wanted: zero-drop, wide toe-box, locked-in heel, MegaGrip sole. There was even an unexpected super bonus: one of the best toe-offs I've ever had in a running shoe. Unfortunately, there is one deal breaker for me: a really high "supportive" arch. It's really uncomfortable. When I first put the shoes on, they feel great! Love 'em! After a minute or so, I start to notice all the pressure on my arch. If I wear them for more than a few minutes, my arches start hurting. I'm writing this while standing at a standing desk and wearing them, and my arches are very uncomfortable. I want to like them so bad that I'm going to try swapping the insoles out for some other older insoles I've got to see if I can find some insoles that take the pressure off the arches. I really want them to work. But I'm not really holding out much hope. To anyone else, I would say absolutely try these on and stand and walk around for at least 5 minutes. If they work with your feet, buy them. But sadly, they likely won't work for mine. I'm just hoping the rest of Topo's shoe line doesn't have the same super-high arch. I've got my eye on a pair of Specter's for road running!
Most Liked Negative Review
No the topo fit I'm used to.
I always loved the minimalist feel to the Topo line and I've waited for a trail runner with some more cushion because as I get older I want more protection from the rough trails in New England. This is not it. Sadly. I was optimistic but this just feels like my foot is being smothered and it doe...sn't breathe like a Topo The Vibram tread it great though you can't go wrong with Vibram.
Comments about Pursuit
Great on the trails and the road.A great lightweight all purpose shoe.
LOVE these comfy and roomy shoes.
When other shoes don't fit my wide feet, these Topos are exceptionally comfortable and breathe. I hiked a technical route with snow, ice, mud, rock, dirt, and rock hopping, and under all conditions, these Pursuits out-performed hiking shoes costing 2x as much. I am *very* happy with these and will be looking forward to pushing my limits with them on my feet!
Anointed. Fully-indoctrinated, cult member approved
Like many others here, I had been exclusively using Altra shoes for the last 7 years (mainly their Superiors for trail, and Torins for road). They had a good thing going… zero-drop and a wide-toe box were really a game-changer for me, and allowed me to pursue (pun) running as a hobby and advance my performance. Long story short, recent Altra models didn't fit me right. They got way more narrow (for some reason my left big toe would get pinched), and I was wearing them out more and more quickly. I randomly found Topo, these Pursuits being my first dive in. Sometimes you gamble and win! These really are exactly what I've been looking for. Everything's just right… plenty of room for my toes (and yes, I'm Paul Bunioned out), the right amount of cushion, comfortable heel lock, and they have great grip -from dry-loose gravel, rocky ankle-breakers, to muddy swamp steppin slip n slide. They aren't too heavy, do a good job of thermo-regulating, and dry out pretty quickly. They've also endured more than 200 miles of mixed terrain so far and are really holding up well. Impressive. These checked all the boxes for me. Only minor issue is there's a bit of excess material on the sides of the tongues that can fold over and not feel right on the top of my foot when putting them on sometimes… it's pretty easy to use my finger to lay it flat/flush, no biggie. I'm tempted to experiment with the Runventures as well, but for now I'm all about the Pursuit. Thanks Topo!
Absolutely love these shoes. Plenty of cushion without being squishy. Pretty indestructible too.
Comments about Pursuit
When someone said "Oh I bought 2-3 pairs because they were so good" I thought it couldn't be true. Well my friends, this Pursuit model might be it. It fits perfectly, extremely comfortable in the midfoot, and the zero-drop makes it fantastic to run. In addition, the entire purchase journey is well done: packaging, delivery updates, and the online stuff. Their sponsored athletes are happy with the product, their customer experience is top notch, and the shoes fit right in.
My feet are no longer fatigued at the end of the day!
I have peripheral neuropathy, I've had problems with my feet for years. Decided to give these a try and man am I glad I did! I stand all day on concrete, my feet take a beating. These shoes are like walking on air! At the end of the day my feet are no longer fatigued and no more nightly cramps! I highly recommend them!
Comments about Pursuit
Very comfortable. I mostly use them for work, mixed surface walking, and a little trail jogging.
The best fitting, most comfortable trail running shoes!
By far my favorite trail running shoe to date; please don't change this design and platform!
Refreshing to put on a truly comfortable trail shoe.
Comments about Pursuit
Other companies have staked their claim in the zero drop, wide toebox world, achieved success and the promptly moved to a conventional narrow toebox. THANKFULLY Topo remains true to the spirit of their prior shoes. This has just the right amount of cushion without feeling like a marshmellow on stilts. Keep up the good work!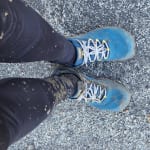 Questions about your Topos? We're here to help!