Product Overview
With a slip-on fit, Vibe is the perfect shoe for active recovery or casual everyday wear. The Ortholite® 3D Wave Sense footbed aids in the recovery process as the repeated ridges lightly stimulate and massage the nerves along the bottom of the foot. The antimicrobial engineered knit mesh upper delivers a breathable and comfortable fit, making these women's recovery shoes perfect for your active recovery activities, such as walking and heading to yoga. Like all Topo shoes, our women's wide toe box walking shoes feature a snug fit in the heel and a roomy toe box.
Specs
Stack Height:

25mm(heel) // 20mm (forefoot)

Heel to Toe Drop:

5MM

Weight:

6.4 oz (W7)
Cushion:

Support:

Pliability:
Why We Love It
Roomy Toe Box

Anatomical toe box allows toes to spread naturally and comfortably.

5MM Drop

Our highest available drop allows you to access natural running with more under-heel cushioning.

Vibram Outsole

Unparalleled grip and traction and durability from the leaders in technical outsoles.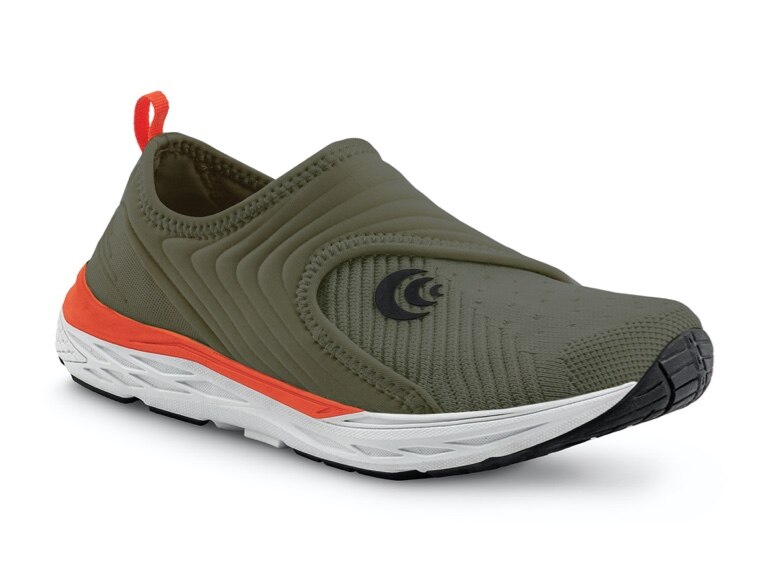 Best 2020 Kicks for Run Recovery, Travel, and Lounging Around!
"Maximize your active recovery days with the Ortholite® 3D Wave Sense insole."
4.6
Rated 4.64 out of 5 stars
Most Liked Positive Review
A close to perfect recovery shoe
Great fit on these shoes, the toe box is especially roomy and the arch support is quite good. After pounding out miles and miles they are a welcome respite. I only wish that the shoes had a bit more cushioning to them as I fit them firm (almost too firm) underfoot. As a slip on shoe they really h...
Most Liked Negative Review
They hurt my feet.
I usually love your product. However, this time I find the design very unforgiving (they are the right size lengthwise) and way too tight on the top of my feet.
Love these!!
Rated 5 out of 5 stars
Comments about Vibe
These are the shoes I wear when I'm off work. They are so comfortable!
Great shoes
Rated 5 out of 5 stars
Comments about Vibe
I bought these for my mom who is 79. She has knee issues and needed shoes that she could slip on and not have to tie. These are designed for exactly what she needs and they do not slip on her narrow heels.
Awesome comfort
Rated 5 out of 5 stars
Comments about Vibe
I bought these for work and wear them even after work. I love them so much I bought my mother and step mother a pair.
So comfortable
Rated 5 out of 5 stars
Comments about Vibe
These shoes are so comfortable. I need a wide toe box and these do the trick. I love the nubs on the inside too. I run and wear these as recovery shoes and mostly wear them with bare feet. Does the vain part of me which is they looked a little less clunky? yes, but with wide leg jeans I think they look almost cute. I'd buy these again.
I would buy this shoe again.
Rated 5 out of 5 stars
I wear them as everyday shoes. Sooooo comfortable with a wide toe box and decent arch, cushy yet supportive. I usually use custom orthotics but these insoles are sufficient. The olive color is fantastic and so versatile and this is coming from someone who wears predominantly black. I did try all 3 colors and for whatever reason the black and white ones felt a tad bit smaller (8.5). The olive are perfection. I'll definitely buy again so please don't discontinue them...they're that good!
I am going to buy these again
Rated 5 out of 5 stars
Comments about Vibe
I use them for work. I'm a Amazon worker on my feet 12hrs a day. These have healed the tired, aching & toe hurting. I love them.
Definitely recommend this shoe. Extremely comfortable.
Rated 5 out of 5 stars
Comments about Vibe
I have always worn Topos and this shoe is awesome and very light and comfortable. I highly recommend this shoe.
A Topo convert
Rated 5 out of 5 stars
Comments about Vibe
I found out about Topo Athletics earlier this year and might be a little obsessed. I first bought a trail running pair which I love. Followed by a low profile running pair which I use for HIT workouts and rowing. Followed by two pairs of recovery shoes which I use at work and are super comfy. Love the wide toe box.
Here for my second pair
Rated 5 out of 5 stars
I love these shoes! I was born with both ankles fused together and finding good, supportive walking shoes has been a journey. I also have tendon damage from too long of a hike so pain comes easily without the right shoe and these are honestly the best shoes if you work on your feet all day and they are stylish as well. I get compliments on them all the time! Cannot recommend this shoe and company enough!
More comfortable
Rated 5 out of 5 stars
Comments about Vibe
The longer I wear them the more comfortable they become. They massage my feet at the end of a long day. Will buy again.
Q&A
Showing 1 out of 1 Questions
Q

I wear a 8 in Topo running shoes. Should I get a size 8 in the recovery shoes, too, or go down to my normal shoe size of 7.5?

Asked by Patty

Verified Reply

-

Melanie

We recommend wearing your usual Topo size in this model.