Product Overview
Ultrafly 3 delivers a smooth and comfortable ride with light guidance for daily training. The moderately cushioned platform features a 2-density midsole with ZipFoam™ for more long-term resilience and a higher rebound than traditional EVA. The external TPU heel counter and EVA medial post offer rear-foot stability and light pronation resistance. The engineered mesh upper provides a seamless and breathable fit, while the molded foam collar and Ortholite® footbed offer additional comfort.
Specs
Stack Height:

28mm (heel) // 23mm (forefoot)

Heel to Toe Drop:

5MM

Weight:

7.7 oz (W7)
Cushion:

Support:

Pliability:
Why We Love It
More Cushioning and Resilience

Proprietary midsole compound which is springier than EVA and offers more rebound over the life of the shoe.

Multi-Density Midsole

Allows you to access two levels of cushioning: soft against the foot and firmer/more responsive against the ground.

Lightweight Breathable Materials

For a '2nd Skin' fit and feel.

5MM Drop

Our highest available drop allows you to access natural running with more under-heel cushioning.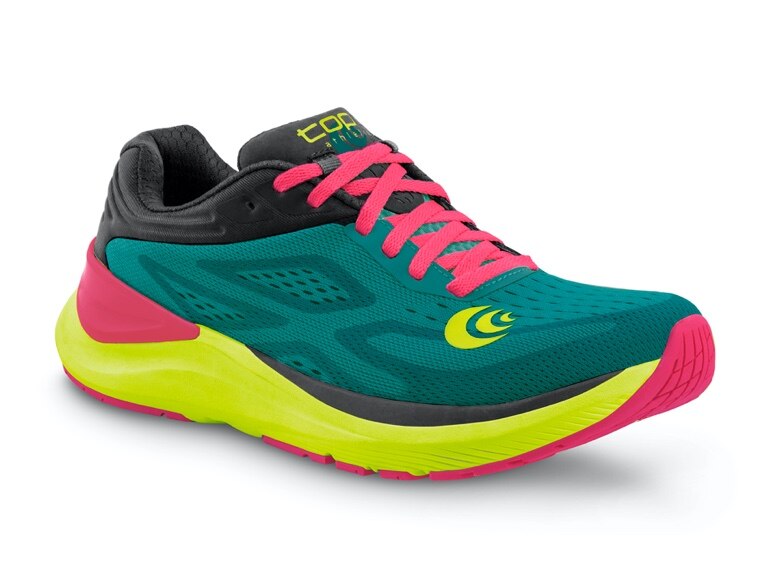 An All New Softer ZipFoam™ With a Slightly Denser Medial Insert
"Feels substantially more cushioned, with an upper that might be the best in the business."
4.6
Rated 4.56 out of 5 stars
Most Liked Positive Review
Try it- you will love it!
A dream come true for my semi-wide size 11 feet. Just right cushioning for moderate and slower paced runs which made me feel like my feet were turning over easier and quicker. If you have finicky feet or toes that like to breathe, medium ground feel and a fabulously comfortable upper, this is your s...
Most Liked Negative Review
One Last Time
I have had the first pair now a month. At first I thought they were perfect and I just raved about them. As time has gone on(and I don't wear them all day every day) I began to notice my foot slipping around in them and then the front part of the shoe under toe box seemed to just get mushy. I was sl...
I just love these shoes so much
Rated 5 out of 5 stars
Comments about Ultrafly 3
I am literally on my feet all day long. I work at a doctors office as a nurse and then do massages on the weekend. Nothing compares to these shoes. I naturally have wide feet and these shoes allow my toes to relax and be themselves. My feet never hurt. I will forever be a topo fan! I talk to all my clients about these shoes to them that deal with chronic pain.
I will buy this product again and again
Rated 5 out of 5 stars
Comments about Ultrafly 3
I wear them at work! They are fantastic! I wish that I did not wear them out as often as I do!
I have already purchased another pair!
Rated 5 out of 5 stars
Comments about Ultrafly 3
Love the wide toe box! Used to wear Altras but they changed and not for the better. Topos fit the bill. My only issue is that I wear a size 5 shoe so even the 6's are very roomy. An extra insert and 2 pairs of socks do the trick.
So comfortable!
Rated 5 out of 5 stars
Such an upgrade from previous model. So comfortable! Slips on my foot like butter. Lightweight. Amazing shoe. Highly recommend!!!
The best shoe ever !!!
Rated 5 out of 5 stars
Comments about Ultrafly 3
My feet have never felt so good the box toe is amazing, I have arthritis really bad in my feet and on them all day at work they are the best !!!!
I love the Ultrafly.
Rated 5 out of 5 stars
Comments about Ultrafly 3
I run marathons and Topo Ultrafly is the most comfortable shoe I have found. The 5mm drop is perfect for me with the right amount of cushion. My feet never feel tired or get that burning feeling like I have had in other shoes. I have been running in them since the first generation of Ultrafly.
Comfortable
Rated 5 out of 5 stars
Comments about Ultrafly 3
Put on and wore them out of the box for 14 hours and they were so comfortable
Best running shoes
Rated 5 out of 5 stars
I have been running for along time. At the age of 68 I,m still running. These are the best shoes I've ever had, and I have ran in many running shoes. What I like about the Ultrafly 3 are the toe box, plenty of room, the uppers are soft and the ride is smooth. I have custom orthotic and they work great with these shoes. I also use them around the house, because they are so comfortable. The fit is perfect, the heel does not slip and I like the 5 mm. drop. I have put a lot of miles on them and the soles are showing no signs of wear. I bought these shoes from running warehouse. Thanks Topo for a great shoe!
I will buy this product again.
Rated 5 out of 5 stars
Comments about Ultrafly 3
I like the toe box width. I have an ankle issue and always looking for stability and cushion. These are light weight. My next pair will be the max cushion road runner. I would like to see companies offer deals for repeat customers. A nice added incentive.
I love my shoes. They are so comfortable!
Rated 5 out of 5 stars
Comments about Ultrafly 3
I love my new shoes! I have wide flat feet and now with these shoes I can walk without pain. I plan on getting another pair.
Q&A
Showing 3 out of 3 Questions
Q

Please offer all colors in a 10.5 Definitely not an extended size. I wear a 9-9.5 in every other running and trail shoe. I need a 10.5 in this one and all of your others. If yours run small (and Topo acknowledges this), you should offer bigger sizes.

Asked by Amanda

Verified Reply

-

Jessica

Hi Amanda, Thank you for your feedback! Keep a lookout in the next couple months - we have several more options in the W10.5 becoming available soon.

Q

Do they come in slip resistant

Asked by Inez

Verified Reply

-

Melanie

Hi Inez! We do not currently make shoes that are split-resistant. We've passed along your suggestion to our product development team!

Q

Does the new Ultrafly 3, Emerald/Fuchsia come in size 10.5? If so, when will you have it available?

Asked by Lucy

Verified Reply

-

Melanie

Hi Lucy, we only offer the 10.5 in the Wine/Black color right now. We don't do extended sizes in the Emerald/Fuchsia colorway but I will definitely pass along your suggestion to our product development team!