Product Overview
Our lightweight women's hiking boot features the aggressive Vibram® XS Trek EVO outsole offer superior durability and multi-surface traction on all terrain. A rear foot rock plate and hard rubber toe cap offer protection while hiking on technical and rugged terrain. The mid-height fit offers ankle support and feature a molded foam collar for additional comfort. The rip-stop mesh upper is light, durable and secure, featuring medial drainage ports to enhance quick water release. a unique lace lock system offers two lacing tensions to provide a customized and more secure fit through the midfoot on our Vibram® sole hiking boots.
Specs
Stack Height:

30mm (heel) // 25mm (forefoot)

Heel to Toe Drop:

5MM

Weight:

10.6 oz (W7)

Gaiter Compatible:

No

Rock Plate:

Yes
Cushion:

Support:

Pliability:
The APMA (American Podiatric Medical Association) Seal of Acceptance and Seal of Approval are granted to products found to promote good foot health. To earn the seal, each product is reviewed by a group of APMA podiatrists to ensure it promotes foot health.
Why We Love It
Rock Protection Plate

Flexible ESS rock plate protects against stone bruising caused by sharp rocks and roots.

5MM Drop

Our highest available drop allows you to access natural running with more under-heel cushioning.

Vibram Outsole

Unparalleled grip and traction and durability from the leaders in technical outsoles.

Ortholite Footbed

Comfortable, anti-compression footbed with anti-microbial properties.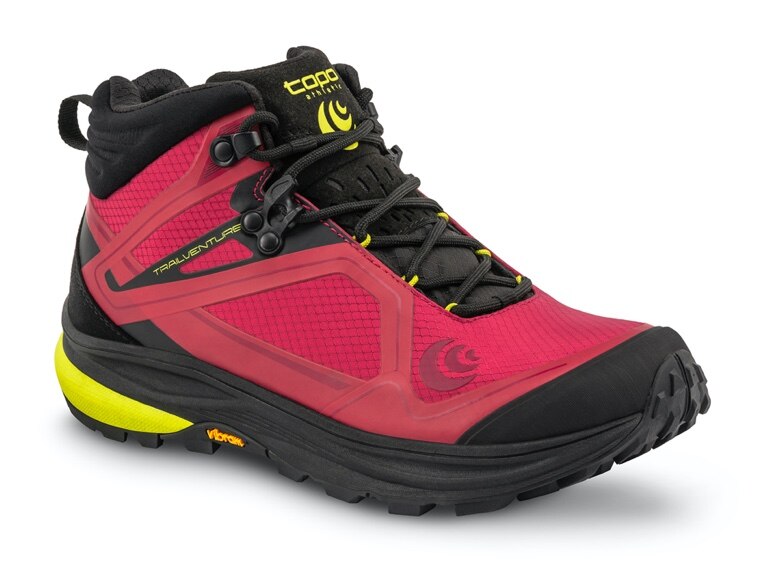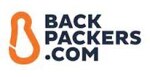 Meet Topo Athletic Trailventure: A Hiking Boot You Can Run In
"The Topo Athletic Trailventure is one of the most rugged minimalist hiking boots you'll find."
Most Liked Positive Review
Topo has done it again on a whole different level!
These boots are the bomb! I wore them for the first time during an overnight backpacking trip, totaling about 24 miles over 2 days, and my feet were SO comfortable! First, I ordered a whole shoe size up because my feet have a tendency to swell up real bad, I like to wear thick socks hiking, plus I... have wide feet, so the wide toe box was clutch and my feet were definitely able to breath. I typically hike in trail running shoes but having some ankle stability was really nice, especially on certain terrain I encountered (lots of rocks and downhill). The amount of cushion was just enough to absorb some shock when it was necessary but it was also was firm enough to not feel like your stepping on clouds for miles at a time (I personally don't like super cushioned shoes). I also accidentally stepped in a river two separate times while trying to cross but my socks and feet stayed totally dry! The vibram sole and lugs on the bottom were excellent the entire time, never thought I would fall or slip on any difficult terrain. Oh and they were incredibly light, which was a pleasant surprise! No blisters, hot spots, nothing! If I had to pick ONE thing that I did not like is that I had some debris (small sticks and leaves) enter into my shoes from the back, but that wasn't a huge deal at all. These are legit the BEST hiking shoes I have ever worn and I'm an avid hiker. Honestly, Topo sneakers have been a life saver for me (I own 7 different pairs) and I'm a really picky shoe girl. Definitely a keeper, nice job Topo!
Most Liked Negative Review
Women's Size 12 Seemingly Haphazardly Extended
The toe box size is phenomenal (I need a wider toe box, and it's a perfect width for a narrow heel/ wide toe with women's sizing). I previously purchased a size 11, which were a tad too small, so I decided to size up to a 12. I didn't make it to the trailhead before turning around to switch out my b...oots. It feels as though Topo simply "extended" a size 11 with 2 additional seams that IMMEDIATELY began rubbing on the tops of my toes. So disappointed as fit and comfort is amazing in 11, just didn't translate well into a size 12.
Feet feeling good 👍👍
Rated 5 out of 5 stars
Comments about Trailventure
Very sturdy, supportive, also helping with newly diagnosed PF.
I LOVE these boots! Need more color options!
Rated 5 out of 5 stars
I love everything about these boots, wish there were more color options… like black…!
I love how my forefoot has room to move in these!
Rated 5 out of 5 stars
Comments about Trailventure
These shoes are THE MOST comfortable shoes I have worn in years. They support my feet and allow all the working parts in my foot to do their thing, which makes them very comfortable to wear. My first choice in shoes!
The Only Shoe I Wear
Rated 5 out of 5 stars
I LOVE these shoes. I bought these shoes about a year ago and they are the only shoes I wear now. The only time I've worn different shoes is flip flops at the pool/beach. That's how awesome these shoes are. With the roomy toe box and low heel to toe drop, they are really comfortable. I keep thinking about how when these wear out, I'm definitely buying another pair, but since they still look great I don't know when that will be! Super durable.
These hiking shoes are magical
Rated 5 out of 5 stars
I've been doing a bit more heavy-hiking/backpacking this spring, and finally needed to level-up from using my daily walker/runner shoes to something a bit more supportive. I hemmed and hawed over which shoe to get for days - I have wide feet and need a roomy toe box and many hiking boots run too narrow for me. I finally pulled the trigger on the Topos because I have a pair of Topo runners that I love. Despite what you might hear, my experience was that this hiking shoe DOES need some breaking in. The first time I wore them, I had the dreaded "toe pinch" thing that other reviews talk about and I was worried that even these wide-toe-box shoes would be too narrow or not fit right. But I was feeling too lazy to start a return, so I wore them again. And again. And by the 4th outing they fit like a charm. I just got back from a backpacking overnight and my feet were comfortable all day, over rough terrain, carrying a full pack. I ordered a half-size up and they are a tiny bit big on me, even with my bulky hiking socks. But I love them nonetheless and I think they will be my go-to for rough terrain for quite a while! TLDR: These felt pinchy at first, but after a few wears are fantastic. They are light and sturdy, and stay comfortable all day. If you order, give them a chance to break in! It made a huge difference for me.
Love these shoes
Rated 5 out of 5 stars
Comments about Trailventure
These shoes are the perfect blend of cushion and support. They appear to be really well made. I need the wide toe box. Shoes that are simply size wide are too loose in the heel. I've Vern doing all of my marathon training in these and am very pleased
Love these!!
Rated 5 out of 5 stars
First time i wore them was to summit mt st helens. I know It was a huge risk. Im very prone to heal blisters but am soooo happy to report no blisters. No hot spots. No heal slidding inside my shoes!! No toe squeezing. These shoes are awsome. I did get half size smaller than my regular shoe size because my reg size created the awful crease cutting in on top of my foot issue.
Now hiking and backpacking with less foot pain
Rated 5 out of 5 stars
I bought these to take on a 25 mile beach backpacking trip. I wanted a boot that would dry faster than the leather boots I own should I get caught in a wave. I have not been happy with footwear in a long time till I used these. After my great experience with them on the beach, I've been using them as my primary footwear for hiking and backpacking. I love that they have a grippy sole, I have confidence with every step. The uppers aren't the best for the desert I hike in, I ripped a small hole in them when I was bush wacking and kicked a barrel cactus, I still love them.
Absolutely love these!!
Rated 5 out of 5 stars
Comments about Trailventure
I have severe metatarsalgia and after having both knees replaced, it was severely impacting my ability to do things (standing for any length of time, etc.). Got introduced to Topos and this is my 2nd of 3 pairs! Got the waterproof and nonwaterproof version of these plus some trail/tennis style as well. LOVE THEM!
The best hiking shoe I've ever had
Rated 5 out of 5 stars
I have worn this shoe now on a number of hikes and thus far, it is absolutely the best hiking boot I've ever had. My toes have room to spread out, and yet the form of the shoe holds my foot in place on the downhills, so my toes never bump the front. I also have not experienced any shifting or rubbing with the wider toe box, and the shoe provides stability and firmness, while remaining light and flexible as well. My feet feel much better than I am used to them feeling after hikes. Honestly, this shoe is a game changer for me. I have thin, small heels and a wider toe box, and my feet are small, so finding shoes that work for me has historically been difficult. While I have not worn it for a full hiking season yet, what I've experienced so far has been great. I would highly recommend this shoe.
Q&A
Showing 1 out of 1 Questions
Q

Is the trail venture waterproof?

Asked by Anne

Verified Reply

-

Jessica

Hi Anne! This model of Trailventure is not waterproof, however the Trailventure WP is the waterproof model.

Was this answer helpful to you