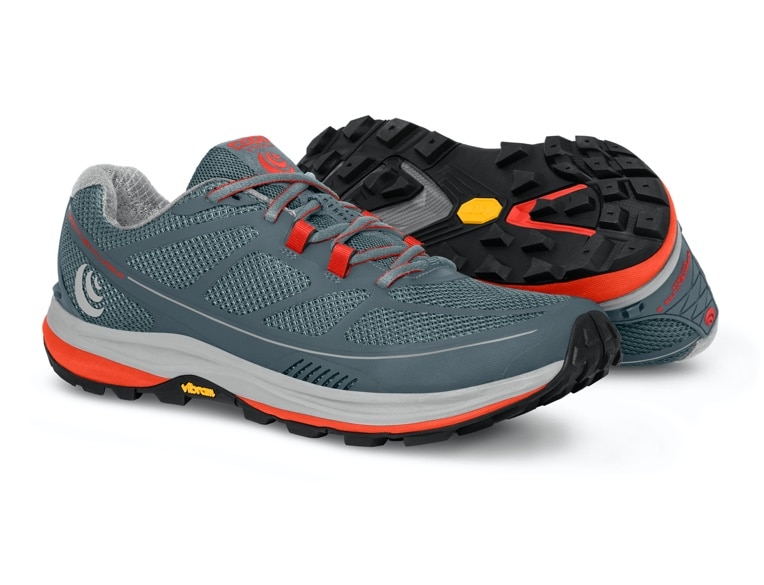 Take a Bite into the Muddiest of Trails
"2nd edition Features newly added lugs and a grippy XS Trek Vibram outsole."
Product Overview
Combining the lightness of a running shoe with the rugged durability of a trail shoe, the Terraventure 2 features a 2-density injected EVA midsole on a rugged Vibram® XS Trek outsole. Deeper, more generously spaced lugs improve underfoot traction in mud and slush and a flexible forefoot rock plate adds protection against rocks and roots. With a fully gusseted tongue, the durable mesh and PU printed upper now features drainage ports for water release and quicker drying. A 5mm anti-microbial Ortholite® footbed resists compression set and odor and our uniquely fitted gaiter attachment makes it compatible with our stretch nylon Topo gaiter (optional and sold separately).

Be sure to also check out our new Trailventure boots designed for speed-hiking.
Specs
Stack Height:

25mm (heel) // 22mm (forefoot)

Heel to Toe Drop:

3MM

Weight:

8.5 oz (W7)

Gaiter Compatible:

Yes
Cushion:

Support:

Pliability:
Why We Love It
Roomy Toe Box

Anatomical toe box allows toes to spread naturally and comfortably.

Lightweight Breathable Materials

For a '2nd Skin' fit and feel.

Rock Protection Plate

Flexible ESS rock plate protects against stone bruising caused by sharp rocks and roots.

Vibram Outsole

Unparalleled grip and traction and durability from the leaders in technical outsoles.

Ortholite Footbed

Comfortable, anti-compression footbed with anti-microbial properties.
3.3
Rated 3.32 out of 5 stars
Love it!
Rated 5 out of 5 stars
Comments about Terraventure 2
I love this shoe for hiking! The 10 1/2 fits perfectly and I would gladly buy this again !
These shoes are awesome!
Rated 5 out of 5 stars
They are the most comfortable running shoe I've ever own and I've tried almost every running shoe brand on the market.
My Faves
Rated 5 out of 5 stars
These were my first Topo purchase and I don't think I'll look at other brands anytime soon for my running shoes! I ran a half marathon in these right after getting them and did not get any blisters and my feet felt great. I especially appreciated the wide toe box and snug middle because my feet didn't slide around, but didn't feel cramped. The grippy bottom makes these shoes perfect for trails and I can run in confidence, knowing I won't be slipping and sliding. They're super lightweight, durable, and comfortable. Definitely my favorite running shoes of all time. So glad I found these!
Second Pair
Rated 5 out of 5 stars
Comments about Terraventure 2
Love these shoes for trail running and hiking. Nice wide toe box.
Warning: will encourage running downhill at ridiculous speed
Rated 5 out of 5 stars
These shoes make me feel like a mountain goat! The upper hugs the foot just right so that there's no slip and the soles stick like gecko-feet! My area features very rocky and steep trails but in these shoes I feel confident that my foot will stay where I put it even when tearing down a steep rocky descents. In constructive criticism: I was a little disappointed by how quickly I started to tear a hole in the side of the uppers (less than 300 miles) but they did get some hard use. I could also use maybe an extra couple of mm off the end of my toes. Maybe I should have gone up .5 size but I didn't want to increase the width. Finally, in my dream world these would be zero drop. Still my favorite shoe though.
Light, Comfortable and Versatile
Rated 5 out of 5 stars
This is my new favorite go to shoe! I have worn it in a half marathon and 20k trail race recently - both with several creek crossings and A LOT of mud. These shoes seemed to shed the water well and held up in the slick mud and slippery roots. I felt sure footed and confident on all types of terrain. I highly recommend this shoe.
My New Favorite Pair of Shoes
Rated 5 out of 5 stars
I ABSOLUTELY LOVE THESE!! TOPOS ARE INCREDIBLE! I HAVE TRULY FALLEN IN LOVE WITH THIS BRAND! THE TERRAVENTURES ARE SOO COMFORTABLE TO WALK IN! I AM SO HAPPY I GAVE THEM A TRY!
Super comfortable
Rated 4 out of 5 stars
Comments about Terraventure 2
Although I'm in love with these shoes, they may not be the correct show for my foot. I tend to pronate when I hike and run, and I need a little extra support. I will try them with some new insoles to see if that helps!!
Wide toe box and dry feet
Rated 4 out of 5 stars
I bought these shoes- looking for a low to zero drop. I love the wide toe box. I am not a runner, but I work on my feet all day and my tailors bunions require wide toe boxes. I tried to wear them without an orthotic, but ended up having to use them. My orthotic raises my heel in my shoe making my heel have a little movement, Luckily my heel does not fully slip out of the shoe. I used these for a 5K walk in the wet grass and I was the only one there with dry feet!
Great Shoe
Rated 4 out of 5 stars
This is my second pair of Terraventures, as I also ordered and loved the first model. Just like my first pair, these have great traction, and have done a nice job on a variety of trails, from dirt to rocky. The upper in these also seems a little more durable than my first pair of terraventures- although they held up pretty well. I probably would have given my first pair five stars, because the fit seemed a little more locked in. Both versions have a great toe-box, but the newest model seems to run a tad bit big for me in the heel area. And while it doesn't affect performance, I also preferred the colors of the original terraventures. I didn't like any of the color choices of the new model, but still ordered because I really like these shoes! In most athletic shoes, I wear an 8 1/2, but in these, the hydroventure, and the runventure, I size up to a 9.
Questions about your Topos? We're here to help!