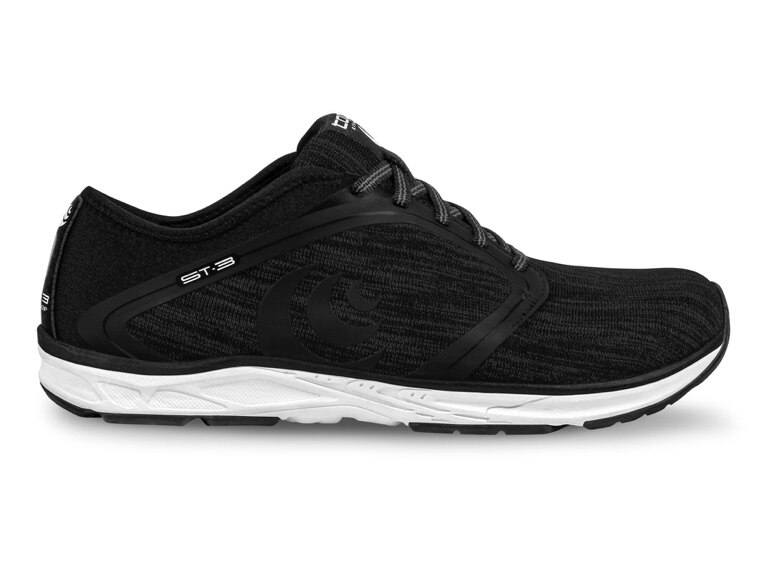 Topo Athletic's minimalist shoe is lightweight and ultra-flex
"All others who love that barefoot feel without having pebbles embedded into your foot will appreciate how the ST-3 mimics shoeless freedom."
Product Overview
ST-3 features a new knit upper mesh pattern with fewer printed overlays. The new blucher style upper offers a snug and secure fit through the midfoot. A 16mm, 0-drop platform is perfect for speedwork, tempo runs, and gym work. The rubber outsole pods are strategically placed to enhance traction and durability where it matters. The ST-3's collapsible heel allows the shoe to pack flat, making these women's minimalist road running shoes a versatile option for travel.
Specs
Stack Height:

16mm (0 drop)

Heel to Toe Drop:

0MM

Weight:

6.1 oz (W7)

Cushion:

Support:

Pliability:
Why We Love It
Roomy Toe Box

Anatomical toe box allows toes to spread naturally and comfortably.

Lightweight Breathable Materials

For a '2nd Skin' fit and feel.

0MM Drop

Completely neutral drop for the most natural running experience.
Not As Comfortable as the ST-2's
by Meg
I loved the ST-2s for my nursing job- 12 hours on my feet. They didn't hold up very well, but they felt so good I didn't mind if i had to buy a few pair a year. This new model immediately struck me as being better quality than the second generation. Very good construction, however, they are not nearly as comfortable. The footbed is less soft, and there are uncomfortable, poorly positioned seems. They aren't unwearable, and I'm hoping that after being broken in they will last a long time, but they aren't at the same level of comfort as their predecessors are. I noticed a lot of people feel the same way, so I look forward to the next generation, which will hopefully combine the comfort of the 2s with the durability of the 3s
Love these light and comfortable ST-3's
by Ann
Thank you Topo. I've been looking to replace the Topo shoes I bought a number of years ago and wore out. My foot is bony (I'm on the slender side) and while I've wanted to buy a Topo again (LOVE giving my toes room) every style I've tried were too much shoe -- wider, thicker and heavier than I wanted. These ST-3's are slimmer and much lighter. I love them. They are just what I dreamed of. And I appreciate the subtle black color, my shoes are not the focal point of my outfit (I wear them all day long).
Love this shoe!
by Jennifer
I have trained for and ran 3 half marathons in this shoe! I love it because it accommodates to my wide, flat feet. I backpack and everyday-wear barefoot shoes, so this Topo running shoe was a great addition to my minimalist shoe fleet! Topo has a customer in me for life.
Good, but get ride of the "leather"
by Sara
I loved the fit of the shoe and it was exactly what I was looking for except the seam at the outer forefoot has the "leather" strip that hits right at the widest part of my foot so I had to return and ended up with the FlyLight 3

*Topo note: the blucher seam that this review is referring to has a man-made TPU overlay.
My new favorite!
by Beth
I love the minimal nature of the ST-3 and it has just enough cushion for my longer runs (10M +). The toe box feeling is great – I love being able to spread the toes a bit – I've always run in minimal shoes (I prefer it) but after running in these I prefer this shoe for road runs specifically. Super light and packable too – good for travel. I wouldn't mind a few more colors!
Too much room in front of the toes
by Sue O
I am not quite sure about these sneakers yet. I'll preface this by saying I am not a runner. But love topo is because of the wide toebox which has helped my feet tremendously during gym workouts. They are lightweight and very comfortable.. They seem to be OK, supportive light weight and flexible. I normally wear a seven or 7 1/2. I bought the size 7 as that is what my other Topo sneakers have all been, and always fit well. But there's so much extra room in front of my toes with this design, which makes me feel like I am going to trip over them.. I do not want to go down a size because they will be too snug everywhere else. I don't have particularly long toes. So I guess if you do these might be a perfect fit.
Super lightweight and comfortable,
by Susie
So comfortable and lightweight! I wear them for walking and hiking.
a painful experience
by sarah
I am extremely disappointed in the ST-3 and am returning my shoes. The ST-2 was my favorite shoe of all time! Mine are worn out and there were none left in my size for the last 5 months, so I was eagerly waiting for this new version to come out. The redesign is all wrong with seams placed directly over the bony protuberance on the top of our feet. It was immediately very painful to wear. I tried to "get used" to it by walking around the house, stretching the shoe. It was so intensely painful I couldn't keep it on after a few minutes.
Still my favorite shoes
by Debbie H
I have been running in Topo shoes for five years and they just keep getting better. I love these new shoes and would recommend them.
Great, comfortable running shoes
by Rohdrunr
I love these shoes! I love the lack of heel padding so they sit smooth and don't force my foot forward. They are like wearing slippers and yet they are running shoes. Perfect for me.
I never thought I would replace my ST-2s
by Tracy
I never thought I would find a replacement for my ST-2s, but this is it. The outside did take a few days to stretch and break in, but now that it has, they are just as comfortable as I expected. They seem much sturdier than the ST-2s, I had an issue with the upper peeling off the bottom part but I haven't noticed that yet in my ST-3s after ~25 miles. I also think the embossed logo is a classy touch. I am a Topo Ambassador, but it's because I love the shoes so much.
Disappointed!
by Christine Lehner
LOVE the ST2s, wore them at my hospital job, on my feet for 8 hours and looked forward to my new 3s. BUT...they are slightly narrower across the last lace and that one overlay hits the outside of my foot in a really bad place...even with relacing and skipping the last hole, they hurt after only an hour. Had to return :(