Product Overview
Topo recovery shoes deliver soothing comfort and relief with every step. Designed to be worn without socks, the repeated ridges of our 3D Wave Sense footbed powered by Ortholite® lightly stimulates and massages the nerves along the bottom of the foot. The antimicrobial blended wool upper naturally resists odor and provides a warm, comfortable fit. The Vibram® XS Trek EVO outsole offers multi-surface traction and durability for a variety of activities and daily wear year-round.
Specs
Stack Height:

23mm (heel) // 20mm (forefoot)

Heel to Toe Drop:

3MM

Weight:

6.5 oz (W7)
Cushion:

Support:

Pliability:
The APMA (American Podiatric Medical Association) Seal of Acceptance and Seal of Approval are granted to products found to promote good foot health. To earn the seal, each product is reviewed by a group of APMA podiatrists to ensure it promotes foot health.
Why We Love It
3D Wave Sense Insoles

Repeated foam ridges gently stimulate the nerves along the bottom of the foot to aid in active recovery.

3MM Drop

Our mid-level drop provides a near neutral platform for a more natural running experience.

Roomy Toe Box

Anatomical toe box allows toes to spread naturally and comfortably.

Vibram Outsole

Unparalleled grip and traction and durability from the leaders in technical outsoles.
Rekovr 2 Named Best Recovery Shoe
"Everyone needs to feel good, especially after a hard trail run. Leave it to Topo Athletic, a brand that clearly cares about your feet, to make our favorite recovery shoe."
Most Liked Positive Review
Nice recovery!
Started with the Phantom shoe......loved it. TerraVenture2 ....... good one. So I figured why not try the Rekovr2. Good move on my part. They have become my sort-of-slipper at home but one I can wear outside if I'd like to. They are definitely easy on the foot and I am pleased pleased pleased. ... I don't run but that doesn't mean I don't need a good shoe for support and toe room. Topo fills that order completely. Recovering from 3 joint replacements in 3 years and I deal with some foot problems and I hate saying it but I've spent a small fortune trying to find The Shoe.....The Brand. And I've found it. My only criticism of the Rekovr is it's not as moderate in pliability as I'd like for arthritis......It bends pretty easily. But, that said, it is my go-to house shoe, slipper, easy wear, feel good shoe so I'll cut you some slack. Thank you, Topo.
Most Liked Negative Review
Bad for
This shoe i got for after long hikes and everyday wear. The shoes doesn't fit well on the top of foot if you put high arch orthotics. I really want to like these as they were so cushioned. I will keep looking
Roomy toe box & good traction
Verified Buyer
Submitted as part of a sweepstakes entry
Comments about Rekovr 2
Great for walking my dog, doing TaiChi, doing errand. It is my go to shoes on daily basis. Wish there were more color options, however.
Love the shoe but having problem with heel padding
I wear my shoes in the house only because of plantars fasciitis and was to not to go bare foot inside. Love the shoe but , the padding around the top of the heel broke and is now a knot in the heel. Can't find a way to fix it. What should I do. Purchased 12/31/22.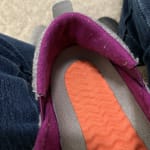 Comments about Rekovr 2
Hard to go barefoot after wearing these!
I love these shoes for walking!
Comments about Rekovr 2
I love these shoes! This is my 4th pair. The fit is perfect! I am 82 years old and walk 3 or 4 miles every day.
They do what they advertise!!!
Comments about Rekovr 2
I use the Rekovr 2 at work and around the house. They're better than anything I've tried for just about 0 drop and comfortable toe box. I loved the first pair so much I got another. Waiting for a cycling shoe!!!
So comfortable I wish they came in an all weather material.
Comments about Rekovr 2
Daily wear. If they came in an all weather material I would buy another pair. I already have them in grey and black.
Comments about Rekovr 2
they are warm and waterresistant.good for cold weather
These feel great on my troubled feet
I have multiple issues with my feet including plantar fasciitis and nerve issues. These feel better on my feet than any other shoes I own. I wish they would also come in a backless version like the Revive, but without the fuzzy slipper look.
Comments about Rekovr 2
Everyday wear.
Comments about Rekovr 2
I put these on after each session (I am a Nordic walker). They definitely quiet sore feet and toes. I have even worn them as an everyday shoe. I love the color (charcoal) and the fit. Highly recommend.
Questions about your Topos? We're here to help!