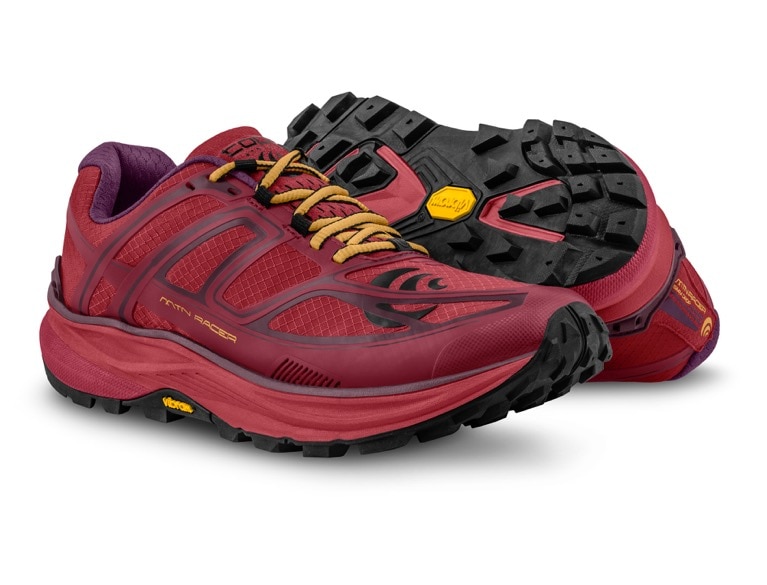 The Best Trail Shoe Ever?
Taylor: "I love it. Simply and whole-heartedly love it. It'll be a great go-to shoe for hours of adventure on technical terrain and may become my choice for my upcoming 100-miler in July. It has enough of everything to make me confident on just about any terrain (except maybe roads)."
Product Overview
These wide toe box trail running shoes are performance tuned for trail racing and speed-hiking. Vibram® Megagrip outsole delivers optimal traction on any surface. Medial and lateral drainage ports enhance water release and quick drying.
Specs
Stack Height:

30mm (heel) // 25mm (forefoot)

Heel to Toe Drop:

5MM

Weight:

7.7 oz (W7)

Cushion:

Support:

Pliability:
Why We Love It
Roomy Toe Box

Anatomical toe box allows toes to spread naturally and comfortably.

5MM Drop

Our highest available drop allows you to access natural running with more under-heel cushioning.

Vibram Outsole

Unparalleled grip and traction and durability from the leaders in technical outsoles.

Ortholite Footbed

Comfortable, anti-compression footbed with anti-microbial properties.
Pleasantly surprised!
by Leslie
Wow! Amazing traction, good cushion, perfect support .... and the best part: when you wear these shoes, you never think about them! They're just like extensions of your feet. I was a little worried they would feel too flat compared to the 10mm drop road shoes I wear... but they're awesome! Can't recommend enough!
Amazing ultra running shoe
by Sarah
I purchased these just a week before my Tahoe 200 endurance run and found them ideal out on the trails for a few reasons. First, it was incredibly dusty out there, and these (along with gators) kept the fine dust out. This really helped with blister prevention. Secondly, they feel like they mold to my feet and grip the trails so well. I felt so comfortable in them I actually wore them 40 miles longer than anticipated (I went in with 4 different pairs of Topo's for my 200-miler, but ended up in these nearly double the distance of any others). They look pretty beat up after only a few wears - the upper forefoot area got really creased and pushed down after only the second time wearing them (to be fair, the second time was for nearly 100 miles, but they look and feel fine once on my feet again. I'm a Topo ambassador - but I only leave reviews where I honestly believe in the product and these fit the bill!!
favorite Topos yet
by carrie
I am a big fan of the all my Topo shoes so far, but these are my favorite. They have a nice wide toe box that doesn't aggravate my big toe joint. The vibram sole is a big improvement over some of the other models for preventing spines and other sharp objects from stabbing through the sole. Love them!
Great Alaskan Winter Running Shoe
by Annie
I did have to send them back order a half size up (10), I wear a size 9.5 in all the other Topos I have had.
Spot on!
by MountainLady
Topo really hit the mark with these shoes! They have plenty of cushion and protection for big distance on the most technical trails, but are still fairly light and nimble. Flexible, but a bit of snap for faster paces. The classic wide toe box and secure mid-foot never disappoint. And the material on the upper keeps the dirt out.
:-D Please don't ever change these shoes!!
The ultimate technical trail shoe!
by Bri G
After a few weeks of wearing these shoes I've decided that they'll be my next trail racing shoe (next race coming up in September). I'm a Topo ambassador, but that's not the only reason I love this shoe. They're fantastic for technical trail- power hiking uphill, fast running downhill, scrambling, and anything else in between.
Can I have two favorite trail shoes? YES!!
by Laura Western
I was initially concerned when I put these on as they fit tighter in the toe box than I have become accustomed to with TOPO. I wore them on a shorter run and was pleasantly surprised! They where great. Good grip but not enough to cause me to trip. Super comfortable and the toe box was not a problem. ( I used the TOPO Gaiters too and really liked the ease of attaching them with out having to glue on extra velcro. ) The shoe is lightweight but still has cushion. I liked the vibram sole on the Ultra Venture and it was a great addition here too. I have taken them on several long runs now and am a convert. I have no complaints about rubbing or getting uncomfortable on the longer runs. Full disclosure I am a TOPO Ambassador but I am one because I am so happy with their shoes! I plan on wearing these during my 100 mile run in September.
Your new favorite trail shoe
by Whitney
I absolutely LOVE these shoes! They are super lightweight and incredibly grippy. They're a great, fast shoe for racing, as well as long days in the mountains. Water drains very well from these, as I can attest after submerging my feet in both mud and water. Very grippy on downhill, especially on rock. These have quickly become my favorite trail shoes. My only complaint is that the laces come untied quite a bit, but heel locking the laces took care of that problem. Full disclosure, I am a Topo Ambassador, but I can assure you I would buy these shoes no matter what!
Lighter, faster and incredible in water
by Trailmomma
I've been an Ultraventure fan for the last year or so but the MTN Racer has really opened my eyes. The shoe is significantly lighter than the Ultraventure and while there is no rock plate in the MTN Racer, the Vibram bottoms are super protective over even the pointiest of rocks. The sizing does seem a tad smaller than the Ultraventure (heel to toe) and it seemed to shrink even more when fully engulfed in water but not enough that I would require a larger size. I am a Topo Ambassador but this review is all mine own opinion. These are definitely my new go-to shoe on the trails.