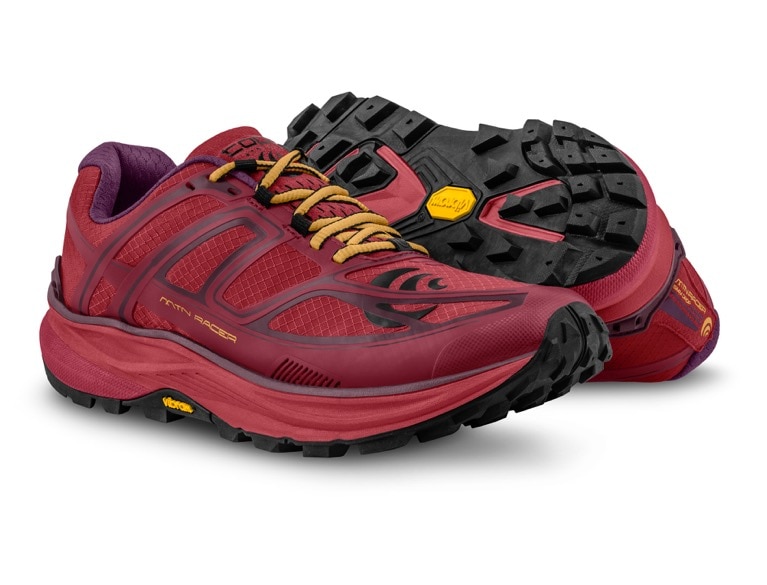 The Best Trail Shoe Ever?
Taylor: "I love it. Simply and whole-heartedly love it. It'll be a great go-to shoe for hours of adventure on technical terrain and may become my choice for my upcoming 100-miler in July. It has enough of everything to make me confident on just about any terrain (except maybe roads)."
Product Overview
These wide toe box trail running shoes are performance tuned for trail racing and speed-hiking. Vibram® Megagrip outsole delivers optimal traction on any surface. Our Vibram® trail running shoes feature a spacious lug design through the sole which offers excellent mud and snow release. Lateral drainage ports enhance water release and quick drying.

Be sure to also check out the new Trailventure, a lightweight boot designed for speed-hiking.
Specs
Stack Height:

30mm (heel) // 25mm (forefoot)

Heel to Toe Drop:

5MM

Weight:

7.7 oz (W7)

Gaiter Compatible:

Yes
Cushion:

Support:

Pliability:
Why We Love It
Roomy Toe Box

Anatomical toe box allows toes to spread naturally and comfortably.

5MM Drop

Our highest available drop allows you to access natural running with more under-heel cushioning.

Vibram Outsole

Unparalleled grip and traction and durability from the leaders in technical outsoles.

Ortholite Footbed

Comfortable, anti-compression footbed with anti-microbial properties.
Stable, nimble, great fit
Rated 5 out of 5 stars
This shoe may be the best trail shoe I've used. So the great topo fit is there. 5 mm drop is perfect as it really gives the Achilles a break compared to 0 drop. I feel like this shoe is more secure with downhills overall when compared to other wide shoes. The traction is very good. I have been on wet limestone and it did much better than other shoes I've used. It's really comfortable at easy paces and when running up/down fast. I have no doubt I would race 10-30 trail miles in this shoe. (I don't go beyond 50k but expect it would work great for longer efforts). Another thought, if you prefer high drop shoes (IE traditional 8-12 mm) but always wanted to try wider fits. This shoe still functions very nicely with 2mm heel lift. So that gives an option of 5-7mm drop.
Wears like a dream!
Rated 5 out of 5 stars
Comments about MTN Racer
The mountain racer is a dream on the road and on the trail. The wide toebox gives me plenty of room, there is just the right amount of cushion, and I could still feel the ground. Great job Topo!
Texas hill country trail running
Rated 5 out of 5 stars
Comments about MTN Racer
Great shoe for trail. 35 mile Average weekly runs. Terrain is rocky, wet areas, grass covered, mud, along with soft silty dirt. Several elevation changes as well. First time topo customer and I'm very impressed with this shoe! Very Comfortable. Now we will see how long they last in this environment.
LOVE this trail running shoe!
Rated 5 out of 5 stars
Comments about MTN Racer
Great combination of light, sturdy, cushion and support.
Perfect trail shoe
Rated 5 out of 5 stars
Comments about MTN Racer
trail running, hiking
Sturdy and comfortable
Rated 5 out of 5 stars
Comments about MTN Racer
This is my third pair of Topos. These shoes are great. They offer plenty of room in the toe box. The Vibram sole is durable for hiking trails as well as pavement. It's better to get fitted but if you order online you might go up a half size.
Finally, the shoe I was looking for!
Rated 5 out of 5 stars
Based on other reviews, I sized up, which was no problem and they fit perfectly. I have troublesome feet, shaped like a duck's foot with a wide forefoot and narrow heel, high arch. I have problems with foot pain and have struggled to find a hiking shoe that fits, gives my forefoot as much room as it needs, and provides cushioning and stability on rough and uneven terrain. I've tried Altras, and while they get the forefoot part right, their shoes are too floppy for me (and they're the worst on off-camber trails and off-trail). I just got back from a 17 mile hike in these Topos and my feet felt, well, not great because they'll never feel great after that many miles, but so much better than they ever have in other shoes. They have excellent traction on loose and slippery surfaces and felt very stable on all sorts of terrain. The only thing I'd change is to make them a little more compatible with a range of gaiter types (both at the heel and at the connection at the front of the foot). But for real you guys, don't change this shoe! It's my unicorn!
Love MTN Racer!
Rated 5 out of 5 stars
No clunky boots required for hiking In Nevada's rocky desert with the MTN Racer! These grippy shoes seem to stick to rocks! They were sturdy, yet comfortable right out of the box. This is my second pair due to sizing. I'm an 8.5 & ordered a 9 the first time and they were a little small. But they are great looking, so I wear just kicking around. Went up to a 9.5, so I could wear good socks to protect my beat up feet. Great job. Topo!
Pleasantly surprised!
Rated 5 out of 5 stars
Wow! Amazing traction, good cushion, perfect support .... and the best part: when you wear these shoes, you never think about them! They're just like extensions of your feet. I was a little worried they would feel too flat compared to the 10mm drop road shoes I wear... but they're awesome! Can't recommend enough!
Amazing ultra running shoe
Rated 5 out of 5 stars
I purchased these just a week before my Tahoe 200 endurance run and found them ideal out on the trails for a few reasons. First, it was incredibly dusty out there, and these (along with gators) kept the fine dust out. This really helped with blister prevention. Secondly, they feel like they mold to my feet and grip the trails so well. I felt so comfortable in them I actually wore them 40 miles longer than anticipated (I went in with 4 different pairs of Topo's for my 200-miler, but ended up in these nearly double the distance of any others). They look pretty beat up after only a few wears - the upper forefoot area got really creased and pushed down after only the second time wearing them (to be fair, the second time was for nearly 100 miles, but they look and feel fine once on my feet again. I'm a Topo ambassador - but I only leave reviews where I honestly believe in the product and these fit the bill!!
Questions about your Topos? We're here to help!