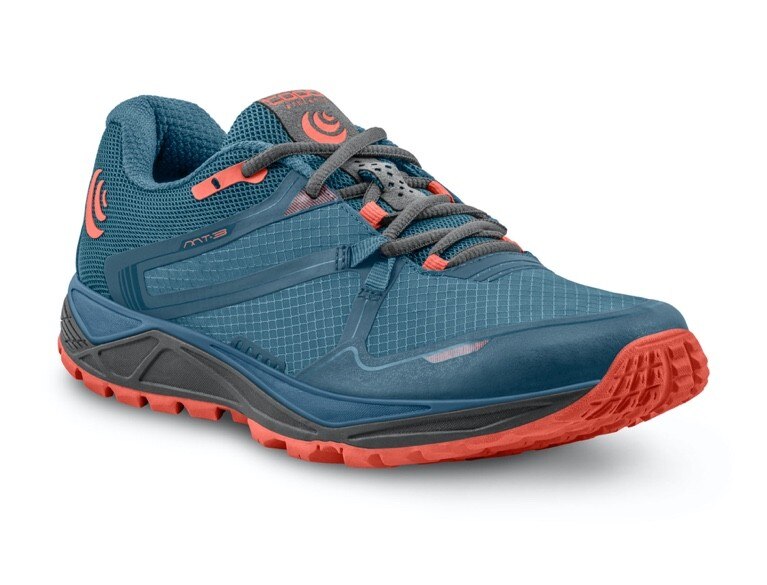 Your Every-Day, Every-Surface Shoe
"Topo Athletic's MT-3 puts comfort and durability above fancy technologies, and delivers a secure, smooth, versatile ride that had our tester reaching for them everyday."
Product Overview
The all-new MT-3 features a lightweight rip-stop mesh upper with printed overlays and midfoot drainage ports for water release and quick drying. The platform on this women's mesh running shoe gets an upgrade, using the same midsole and outsole platform offered on the original Terraventure along with a 5mm anti-microbial Ortholite® footbed. With no rockplate, the MT-3 women's mesh running shoe remains light and versatile, with improved durability and great trail/road hybrid performance. Try out these hybrid trail & road running shoes for yourself today!
Specs
Stack Height:

25mm (heel) // 22mm (forefoot)

Heel to Toe Drop:

3MM

Weight:

8 oz (W7)

Gaiter Compatible:

No
Cushion:

Support:

Pliability:
Why We Love It
Roomy Toe Box

Anatomical toe box allows toes to spread naturally and comfortably.

High Traction Outsole

Combines multidirectional traction, heel braking lugs, and mud/snow release design features.

3MM Drop

Our mid-level drop provides a near neutral platform for a more natural running experience.

Ortholite Footbed

Comfortable, anti-compression footbed with anti-microbial properties.
Most Liked Positive Review
Amazing!
Love, love, love them! As a former MT-2 wearer, I was super excited when these came out. My runs have changed recently to be more gravel based than road so was looking for a more rugged shoe to handle the terrain. These more than fit the bill. So happy with this purchase! As an ambassador in can't t...
Most Liked Negative Review
Sizing smaller compared to MT2
MT2 are my favorite shoe, but I always thought they could use a little more cushion. I went through four pairs. I was excited to see the MT3 has more cushioning. These shoes ended up hurting my feet. Ordered the same size I normal do and they were too small and too tight. I switch between road and t...
Ready to adventure with the Terraventure
Rated 5 out of 5 stars
Comments about MT-3
The Terraventure felt right from the first step. I like the proportions of cushion and firmness. These shoes will work well on moderate trails in the Pacific Northwest, but not sure about hard, rocky trails in the Southwest. I can always look at another Topo for those trails. I'm dedicated to Topo!
Perfect
Rated 5 out of 5 stars
Comments about MT-3
This is my third pair. I only wish there were more colors. I love Topos!!
Great shoe for orthotics
Rated 5 out of 5 stars
Comments about MT-3
I need Birkenstock insoles as I have flat feet and almost all my shoes are Birkenstock, but I haven't found good athletic shoes through them. The combination of their 3/4 athletic insole plus TOPO trail shoes is the perfect solution for me. I have several pair and it's all I'm wearing during the COVID quarantine. Good athletic shoes keep me moving and I'm making my step goal almost every day!
Love these!
Rated 5 out of 5 stars
Comments about MT-3
Was looking for zero drop with controlling rear foot - these are perfect for the control I need! Love the protective material. Excited to try more TOPO shoes!
Love these shoes
Rated 5 out of 5 stars
Comments about MT-3
I run on trails and dirt roads. Love the wide toe box - it allows my toes to spread comfortably especially when running up hills. This is my third pair and will buy them again
Excellent fit. My favorite daily runner
Rated 5 out of 5 stars
Comments about MT-3
Another favorite of mine from Topo. My 6th pairfrom Topo and one of my favorites
Topo is the only shoe I want in my life
Rated 5 out of 5 stars
Comments about MT-3
I love these! My first pair was the hydroventure (loved), then hydroventure 2 (fit nicely but noisy), and now trying these. Right out of the box, they fit perfectly, comfy, flexible yet supportive, they just feel perfect! I do miss the waterproofing from the hydroventures, but I might try a topical application. I use these for everyday use: working inside on tile floors and stairs, playing with my kid on gravel, grass, concrete, anything. I haven't hadbthe opportunity to do any hiking or real running, but I am suspecting a glowing performance.
Great recommendation from the customer service team
Rated 5 out of 5 stars
Typically, my distances are on the shorter side (about 8-10k max), and I usually run on road/asphalt but am trying to prepare for an OCR so needed something that's also great for trails. The customer service team made this recommendation to me after I shared this use case and what shoes I used previously. I'm not sure I would have picked these out myself, but I'm actually so very happy with their recommendation! These shoes are sturdy without feeling bulky. I enjoy the firmer feel to them. I was little worried about adjusting to a lower drop, but I haven't noticed much of a difference at all. I also wasn't a huge fan of the coral color at first as I prefer darker tones, but how it blends with the blue and grey has grown on me. These shoes are also great for neighborhood walks with my dog. Big fan!
I purchased these for my kid! Best shoes!
Rated 5 out of 5 stars
I purchased these for my 8 year old (she has a good size foot). She absolutely loves them as do I because they let her toes splay naturally something I am passionate about for their growing bodies and feet. She's had zero issues with them and she wears them running and walking. A lot of others brands she's had to "break in" to feel comfortable. Not these - she loved these right out of the box! Thank you! (I am Topo Athletic ambassador).
I love my TOPOS 💜
Rated 5 out of 5 stars
Comments about MT-3
I use my TOPOS for road running and my boot camp workouts.
Questions about your Topos? We're here to help!