Product Overview
From the pavement to the gym, Fli-Lyte 4 delivers lightweight versatility, making it your go-to shoe for up-tempo daily miles and your favorite workout. The sleek new upper features a recycled engineered mesh with zero overlays for lightweight security and a breathable, comfortable fit. New lace stays on the tongue keep it locked in place over the foot. The midsole gets an upgrade with ZipFoam™, delivering more response and resisting compression set over time. These lightweight running shoes for women feature a widened 23 x 20 mm platform for an even smoother and more stable ride.
Specs
Stack Height:

23mm (heel) // 20mm (forefoot)

Heel to Toe Drop:

3MM

Weight:

6.9 oz (W9)
Cushion:

Support:

Pliability:
The APMA (American Podiatric Medical Association) Seal of Acceptance and Seal of Approval are granted to products found to promote good foot health. To earn the seal, each product is reviewed by a group of APMA podiatrists to ensure it promotes foot health.
Why We Love It
More Cushioning and Resilience

Proprietary midsole compound which is springier than EVA and offers more rebound over the life of the shoe.

Lightweight Breathable Materials

For a '2nd Skin' fit and feel.

3MM Drop

Our mid-level drop provides a near neutral platform for a more natural running experience.

Ortholite Footbed

Comfortable, anti-compression footbed with anti-microbial properties.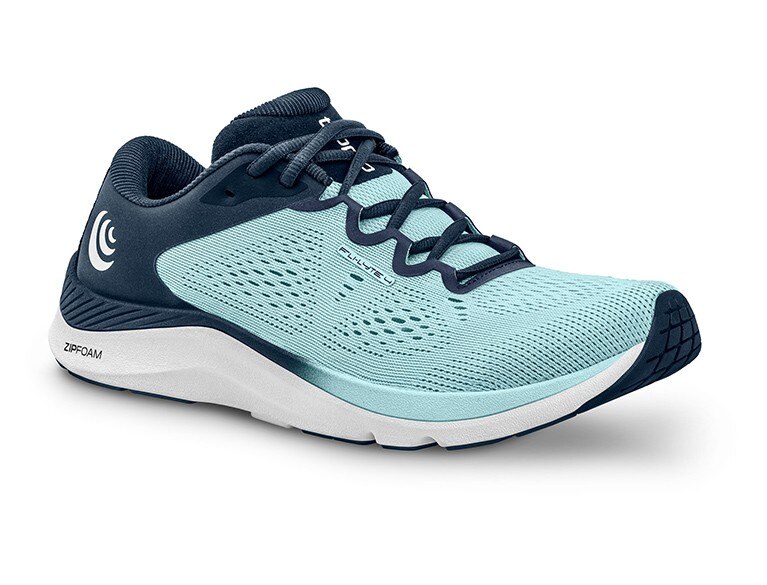 Lightweight Versatility With an Even Roomier Toe Box
"It is very comfortable and has excellent stability, making it very suitable for cross training. It is also very good looking, making it an ideal choice for those days when you go to the gym with just the shoes you're wearing out the door."
4
Rated 4.04 out of 5 stars
Most Liked Positive Review
Wonderful shoes
The heal drop works so well for me and these are the only shoes that let me walk and do not cause pain around my artificial knees. This is my 4th pair of this shoe and I had been super worried when they were discontinued. I purchased a new pair as soon as they were issued. My only complaint is th...e shoe laces. The new ones are really long.
Most Liked Negative Review
Love the shoe, hate the new lacing system
After over a decade of serious running, my Fly-Lite 3s were in my top 3 of favorite shoes, ever. Version 4 has been a let-down so far. The toe-box is slightly narrower and my third and forth toe rub against the shoe fabric (I bought the same size as my 3s). I HATE the new lacing system. It doesn...'t criss-cross over the foot enough for a secure fit, so the shoe is either too tight or too loose. I have yet to complete a run (anywhere from 7-15 miles, on average) where I don't want to rip the shoes off my feet afterwards. In every run so far I have had to stop and adjust the lacing multiple times because my foot was either sliding in my shoe or falling asleep because the lacing was too tight. I can't imagine running a marathon in these, which is SO disappointing because I was hoping to wear Fly-lites forever! In spite of my complaints, I really do fly in these shoes. My Fly-Lite 3s were literally falling apart and unwearable so I had to borrow my daughter's shoes for a couple of weeks until Fly-Lite 4 appeared. As soon as I began running in the Fly-lite 4s, I dropped 10-15 seconds off my average mile time as compared to my runs in my daughter's (brand new) shoes. I loved the Fly-Lite 3s, but am really struggling with the 4s.
Comfy!
Rated 5 out of 5 stars
Comments about Fli-Lyte 4
As someone with bunions, the wide toe box is a lifesaver. This is my second pair of Topos and I'm happy with both. The only slight con is the length of the shoes seems slightly large (my toes are about an inch away from the top of the shoe) but it's not a major issue.
One of the most comfortable shoes I own.
Rated 5 out of 5 stars
Comments about Fli-Lyte 4
I use them to walk 3-5 miles a day on trails. After back surgery, the numbness in my right foot caused significant problems and pain when walking. Topo shoes relieve the pain and make walking easy because of the wide toe box and arch support. Just purchased my third pair of Topo shoes. I highly recommend them for complete comfort.
Love the toe room!!!
Rated 5 out of 5 stars
Comments about Fli-Lyte 4
Love the light blue/black color really wish they offered this color in a 0 heal lift shoe. Have had lots of compliments on the color. I really like how it looks. Would love to get some greens or other colors to with the simple black heel. I use these shoes for coaching as well as taking fitness classes.
Life Saver
Rated 5 out of 5 stars
Comments about Fli-Lyte 4
After injuring my toe and rubbing blisters from wearing shoes that were a bit too narrow, these arrived and made everything better. I wear them with toe socks, and the combination is a game changer. No more foot pain!
The perfect shoe
Rated 5 out of 5 stars
Comments about Fli-Lyte 4
I've trained for multiple marathons in different Topo road shoe. But I just keep coming back to the fli-lute! It's the perfect amount of cushion and comfort.
Great all around shoe, love the wide toe box
Rated 5 out of 5 stars
Comments about Fli-Lyte 4
Great shoes for walking and the gym. They are my go to everyday shopping, gardening, walking, etc.
Best Running Shoes
Rated 5 out of 5 stars
Comments about Fli-Lyte 4
I love these shoes! My toes have space, my shins don't hurt and I can run for miles in comfort without thinking about my feet!
Best show I've found
Rated 5 out of 5 stars
Comments about Fli-Lyte 4
I found these by accident and I'm so glad I did! Roomy toe box, super stable and neutral! I have a pair for work - I walk around 6 miles a day at work and am on my feet for 10 hours a day. I also have a pair I use for running. They fit my orthotics well and my unresolved foot pain is gone with these shoes and my orthotics! Love them!
Love the feel on the pavement.
Rated 5 out of 5 stars
I average 50-62 miles per week city walking pavement, asphalt and concrete. 2nd week using these. Love the fit, even better than the previous Fli-Lite 3. These have sturdier soles that hope will last longer. Would love more color options greens and yellows.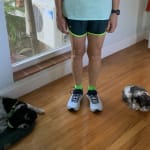 Roomy toe box
Rated 5 out of 5 stars
Comments about Fli-Lyte 4
Super comfortable. Love the wide toe box. Waited 5 months for the fly lyte 4 and worth the weight. Love the color. Would love more colorful options though.
Questions about your Topos? We're here to help!