Product Overview
MTN Racer 2 takes on technical trails, in a lightweight, nimble, and rugged package. The second edition of these women's trail shoes and racers features a new mesh upper with increased breathability. We added an external TPU heel counter to keep the foot locked in over the platform for a stable ride. The updated 3-piece midsole offers light guidance and now features ZipFoam™ for additional response underfoot. The durable Vibram® Megagrip outsole delivers the ultimate grip on any surface, wet or dry.
Specs
Stack Height:

30mm (heel) // 25mm (forefoot)

Heel to Toe Drop:

5MM

Weight:

8 oz (W7)

Gaiter Compatible:

Yes

Rock Plate:

No
Cushion:

Support:

Pliability:
Why We Love It
Gaiter Compatible

Offers additional protection from dirt, rocks, and twigs on the trails
(sold separately).

Roomy Toe Box

Anatomical toe box allows toes to spread naturally and comfortably.

Vibram Outsole

Unparalleled grip and traction and durability from the leaders in technical outsoles.

More Cushioning and Resilience

Proprietary midsole compound which is springier than EVA and offers more rebound over the life of the shoe.
This Will Be Up There As One of the Best Trail Shoes of 2021
"The midsole in the MTN Racer 2 is a new, lighter compound with varying densities. Overall, the ride is more of a moderately soft sensation, and it really rolls through the stride even when the going gets rough."
Most Liked Positive Review
great traction and fit for mountain ultra running
I am a mountain ultra runner and absolutely love these shoes. The material and fit is even better than the first mountain racer. I get great traction on steep rocky mountain trails. I recently wore them for the first half of a 100 miler and they were perfect. I used to be an altra fan but the altras... tend to have a "sloppy" baggy fit. I really appreciate the fitted heal but room in the toe box. This is my second pair of mountain racer. I'd say the durability could be a bit better but I always get a few hundred miles on them. And I run 40 to 60 miles a week and tend to burn through shoes.I also love the ultra adventures.
Most Liked Negative Review
Fantastic feel, underwhelmed with the durability
I switched from Altra to Topo about six months ago. I love the Mountain Racer for trail running and the Zephyr for road. Ive been anxiously awaiting the release of the mountain racer 2, and was recently able to purchase them on a trip to the US. The feel was fantastic and a bit more flexible than th...e original mountain racer. However, after only two 20km runs on a gravel road I was disappointed to see the fabric around the lip starting to rip. I honestly think I got a bad pair because I haven't read any similar reviews of this problem. I tried contacting REÍ where I purchased them, but now that I'm back in the EU, their only suggestion was to send them back and pay for the international shipping. That's not really a solve for me as I'd then be left without the shoes and the added cost to ship them back. I've become a devoted Topo family fan, purchasing 4 pairs of Topos in the last 6 months, and I must say, I'm disappointed to not receive a solution for the quality problem I've faced with this latest pair. It's a great shoe, but it clearly won't last more than 6 months at this rate.
Verified Buyer
Submitted as part of a sweepstakes entry
Comments about MTN Racer 2
I use these for trail running only and run in really wet and muddy conditions. These are stable enough to get you through technical areas and the mud of the PNW trails. Love the color and the gaiter firs perfectly on these!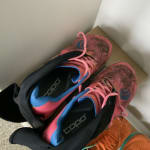 Verified Buyer
Submitted as part of a sweepstakes entry
Comments about MTN Racer 2
This is my second pair. I am a Nordic Walker. The fit is great - I have wide feet. I feel very secure with these shoes.
The MTN Racer 2 is currently my favorite shoe. It's great on flat easy trails and more technical terrain. I've worn these trail running and hiking, a total of 50 miles so far. The Vibram is super sticky and the tread pattern is perfect. I feel very secure on a variety of terrain. The fit is great with a roomy toe box and secure heel. I have bunions and a somewhat narrow heel, so I struggle to find shoes that fit well. Thanks Topo for making shoes that make running more enjoyable!
Wide & cozy & looks good on & w/my regular clothes..
I do it all in my Topos . There not just this good looking for hiking running biking . Love how they feel, grip on rocks & downhills.. Trust me, you will love every step … Life is too short , just enjoy them..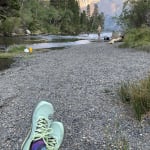 Light and Comfortable Shoe
This shoe can be adjusted to fit snuggly in heel and mid foot while maintaining a roomy toe box which makes my ankle and arch more stable. There is not pinching or rubbing. The shoe feels one with my foot.. Its lightweight and moderately cushioned. It has some traction. It's a very comfortable and great for trail running and trail walking. Keep making this shoe but also make a waterproof version for wet and winter conditions.
Love the roomy toe box, lightweight, and support.
Comments about MTN Racer 2
As soon as l saw a runner friend wearing and raving about his running shoes Topos l bought a pair for hiking w my dogs daily. This is probably my 7th pair. I typically buy two pairs of a trail running shoe a year to hike. First time l didn't buy the gortex version bc it's still summer here. Love them.
Comments about MTN Racer 2
Got these to replace an older pair and I was not disappointed!
offset is sooo much nicer!
Comments about MTN Racer 2
Surprised at how comfy these were straight from the box. Super soft on pavement and hardpacked dirt.
Comments about MTN Racer 2
I began daily walking in May and then progressed to Nordic Walking in July. Found Topo online after I wrecked my feet using ill fitting shoes (not wide enough) that I got at a pro shop (!). The width is fine and my friction blisters have subsided. I feel very secure in these shoes. Would highly recommend.
Great to wear in all situations.
Comments about MTN Racer 2
Very comfortable working out in the gym, as well as, a good lifestyle sho.
Questions about your Topos? We're here to help!