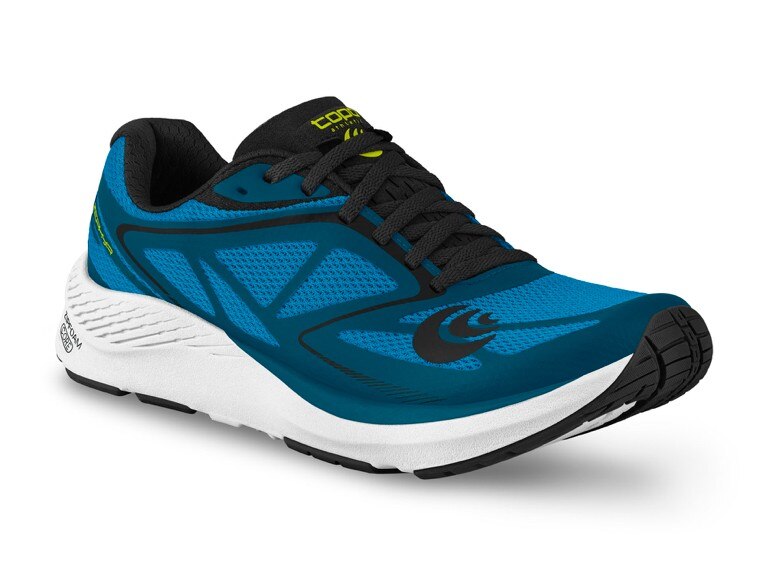 Zip Along In Comfort!
Jeff, Sam & Hope: "Upper is breathable, toe box is top notch, midsole is plush without being mushy, relatively lightweight for how much shoe there is."
Product Overview
Run like the wind with Zephyr. An elastomer stability plate runs inside the midsole of these tempo running shoes, helping stabilize the forefoot and aid propulsion during plantar flexion. A ZipFoam™ core offers more rebound and long-term resilience than traditional EVA. A lightweight, breathable mesh upper with printed overlays secures the foot over the platform.
Specs
Stack Height:

28mm (heel) // 23mm (forefoot)

Heel to Toe Drop:

5MM

Weight:

9 oz (M9)

Cushion:

Support:

Pliability:
Why We Love It
More Cushioning and Resilience

Proprietary midsole compound which is springier than EVA and offers more rebound over the life of the shoe.

5MM Drop

Our highest available drop allows you to access natural running with more under-heel cushioning.

Ortholite Footbed

Comfortable, anti-compression footbed with anti-microbial properties.

Added Stability and Propulsion

Elastomer plate runs inside the midsole, stabilizing the forefoot and aiding in propulsion during plantar flexion.
SUPER FAST
by BRETT
Outstanding shoe. Fits true to size, nice wide toe box and after long runs legs feel fresh. You can really feel the shoe giving you a push off the ground, cant wait til my next IM.
Good shoe!
by mike
I've had 6 runs on the shoe so far, and really like it. They are fairly light, acceptably cushioned. Slightly firmer. The plate does not get in the way, and helps quite a bit on the toe-off. Because your foot sits in the shoe, there is an inherent stability aspect there which I like a lot. My legs feel great after a run, compare to my other shoe. I really like this one. My first topo. Bought it after reading reviews on roadtrailrun.com and their review is spot on.
Great new shoe from Topo!
by BRHollifield
Just got these and took them out for a short run. Have been really excited to try these coming off an injury and needing a little more stability under my foot and hoping that the addition of the Plantar Flexion Stabilizer would help and am happy to say that this shoe has the perfect amount of cushion and firmness under foot that I was looking for. Have run in a couple other styles of Topo and have a feeling this will quickly become my favorite.
Get Ready To Fly!
by Aaron
What even is this shoe? I would say this shoe would fit in the speed day category. It's a racing shoe, tempo trainer, and just all around fast shoe. Why is it fast? Be cause you are, you silly goose. Well, that and the addition of the elastomer plate in the midsole. This shoe runs on the firm side, but with the addition of zip foam you can easily wear it comfortably for a marathon.
For best results, make sure to stride out a bit and have some good hip flexibility to obtain the full potential of the elastomer plate. I ran in them at the NYC Marathon and got a huge PR. I trained well, but I know this shoe helped a bit. Make sure your legs are ready and strong enough for the speed.
Is this the new trend in running shoes? Carbon plate, elastomer plate... what's next? Hopefully more PRs! Let's go!!! 💪🏽

I am a Topo Athletic Ambassador.