Product Overview
Tackle mile after mile in total comfort with Ultraventure 2. The 30 x 25 mm platform of these men's trail runners delivers a plush ride underfoot and features a 3-piece injected EVA midsole for light stability. The aggressive Vibram® XS Trek EVO outsole with generously spaced lugs delivers superior traction and durability on technical trails. The engineered mesh upper with reduced overlays increases breathability and features a molded foam collar for additional comfort. An internal microfiber belt wraps the midfoot and is combined with an external TPU heel counter to secure and lock the foot in over the platform.
Specs
Stack Height:

30mm (heel) // 25mm (forefoot)

Heel to Toe Drop:

5MM

Weight:

10.4 oz (M9)

Gaiter Compatible:

Yes

Rock Plate:

No
Cushion:

Support:

Pliability:
The APMA (American Podiatric Medical Association) Seal of Acceptance and Seal of Approval are granted to products found to promote good foot health. To earn the seal, each product is reviewed by a group of APMA podiatrists to ensure it promotes foot health.
Why We Love It
Gaiter Compatible

Offers additional protection from dirt, rocks, and twigs on the trails
(sold separately).

Multi-Density Midsole

Allows you to access two levels of cushioning: soft against the foot and firmer/more responsive against the ground.

Roomy Toe Box

Anatomical toe box allows toes to spread naturally and comfortably.

Vibram Outsole

Unparalleled grip and traction and durability from the leaders in technical outsoles.
One of the Best Go-Anywhere, Do-Anything Trail Shoes
"The three-piece injected-EVA midsole is firmer in the medial arch and softer in the lateral heel and main body, yielding a supportive ride."
Most Liked Positive Review
So far enjoying this cushioned trail shoe
Got these for a cushioned trail runner for 4+hr trail runs in Colorado mountains with technical terrain. I have had trouble finding a cushioned shoe that works- Hoka Speedgoat 5 didn't work, Saucony Xodus Ultra didn't work.. So far at about 40mi (including a 24mi mountain race) the fit is great and... dialed. The roomy toe box is very comfortable yet I still feel good control on footing on technical stuff. The cushion feels good, my feet felt fairly fresh after 24mi and 9000' of gain and loss. The outsole is generally good, though I could feel a little slipping on damp rocks in the early morning after night moisture. Scrambling ridgeline at 13000' and running down steep trail felt confident. The outsole is not the best out there but it's very usable. Running through streams and wearing Xoskin toe socks, these seemed to drain well and dry out well enough over maybe 15-30min. Overall, these felt fairly nimble and low to the ground for how much cushion and stack they have. I do wish there was a band to retain the laces.. long laces leaves big bunny ears flopping around. Though nonissue with gaiters I'm enjoying these shoes and the real test will be my 50mi race in a month. My final though: I don't exactly know the difference between UV2 and Mtn Racer 2, but I know the have the same stack height. My thought, why not lean a little more into a dedicated ultra distance model for the UV2? Maybe a rock plate and/or .5mm-1.5mm more stack could really make this a standout for full days on your feet moving through a variety of terrain
Most Liked Negative Review
2 different pairs and defects on both!
I really do want Topo to succeeded. I believe in what they are building, the team ( Go Tony P. and the CS team) and I keep on coming back to them. I think while they have good ideas, the quality control is just not there yet and they are not ready for prime time. I picked up a pair of Ultra Ad...venture 2's in late fall, Nov. Where the over lays on the top of the foot came together at the bottom of the tongue, it cut into my foot after a 6 mile trail run. Running my hand inside the shoe, there was a huge buildup of overlays that was pretty huge. I sent the shoes back as a warranty repair. Tried out another pair in feb/march of this year. Different color so a different batch. Still the issue of the overlays, where the tongue meets the shoe body down by the toes. You will see from the photo that after a 5 mile run on the road (still lots of snow on the trails) it was eating through my brand new socks. Not good. To add insult in injury, the right shoe, the arch support was too far aft and gave me discomfort as soon as I put the shoe on. This was not the case on the left shoe nor on the pair I had 4 months earlier, nor on a pair of Ultra flys I have. Something wasn't right here. Sadly, I had to send them back. Maybe I got a bad batch but I'm disappointed with the quality. Fix that and Topo Might have something here.
Very Comfortable to run in.
Verified Buyer
Submitted as part of a sweepstakes entry
Comments about Ultraventure 2
Running on a dirt road in these feels like I'm floating. I switched from Asics GT-2000 and got the same size and they fit perfectly. #sweepstakes
Verified Buyer
Submitted as part of a sweepstakes entry
Comments about Ultraventure 2
Love the big tow=e box and the low stack on the shoe
Comments about Ultraventure 2
Comfortable with a great grip for hiking.
Comments about Ultraventure 2
Hiking
Great fit with plenty of toe room!!
Comments about Ultraventure 2
Love Topo shoes prefer mens fit even though am a female ❤️
Finally found my perfect 100 mi race shoe
These are everything I've ever wanted in a trail shoe for ultra distances. I normally prefer minimalist trail runners, but while training for my first 100 mi race I needed something with a bit more protection and these checked all the boxes. I don't know how they pulled it off -- comfortable, secure fit, low drop, wicked durable and just enough cushioning that doesn't feel like running in platform shoes. I have put somewhere between 800 - 1000 miles on my first pair and they are still going strong! Just starting to break in my second pair for the big race in a few weeks.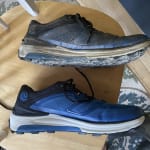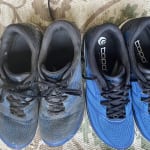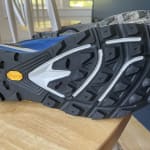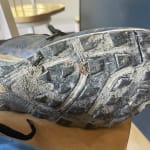 CrossFit to Cross country
Comments about Ultraventure 2
I put about 20 miles of mixed terrain per week. Ultraventure transitions perfectly into kettlebell gym training as well. The ortholite footbed is very stable and shoe geometry is just right.
Comments about Ultraventure 2
I'm currently hiking The Camino Frances in my Topos.They are the best shoe ever for me.I've bought many other shoes so my expierence on the Camino would be great.The tow box and the belt that keeps your toes from hitting the front of the shoe have saved me much pain.I can't begin to tell you how my left fourth toe has caused me ridiculous pain.Not with my Topos Adventure 2.I bought a full size larger and I'm glad I did.
Run, don't walk to buy these shoes. After buying several pairs of other brands that didn't fit, I felt like Cinderella when I put these on. They're simply great for long hikes.
I know the term Toe Box is getting old, but..
Comments about Ultraventure 2
These shoes are comfortable. The Toe Box is larger than most any other brand I have tried. I'm not really a runner, so I cannot comment on that, but at least for walking, these are pretty darn nice. As mentioned, a bit more room for the toes, but a normal size heel area. Good padding. Not hot. I'm having a hard time finding something negative about these shoes.
Questions about your Topos? We're here to help!