Product Overview
Ultrafly 3 delivers a smooth and comfortable ride with light guidance for daily training. The moderately cushioned platform features a 2-density midsole with ZipFoam™ for more long-term resilience and a higher rebound than traditional EVA. The external TPU heel counter and EVA medial post offer rear-foot stability and light pronation resistance. The engineered mesh upper provides a seamless and breathable fit, while the molded foam collar and Ortholite® footbed offer additional comfort.
Specs
Stack Height:

28mm (heel) // 23mm (forefoot)

Heel to Toe Drop:

5MM

Weight:

9.6 oz (M9)
Cushion:

Support:

Pliability:
The APMA (American Podiatric Medical Association) Seal of Acceptance and Seal of Approval are granted to products found to promote good foot health. To earn the seal, each product is reviewed by a group of APMA podiatrists to ensure it promotes foot health.
Why We Love It
More Cushioning and Resilience

Proprietary midsole compound which is springier than EVA and offers more rebound over the life of the shoe.

Multi-Density Midsole

Allows you to access two levels of cushioning: soft against the foot and firmer/more responsive against the ground.

Lightweight Breathable Materials

For a '2nd Skin' fit and feel.

5MM Drop

Our highest available drop allows you to access natural running with more under-heel cushioning.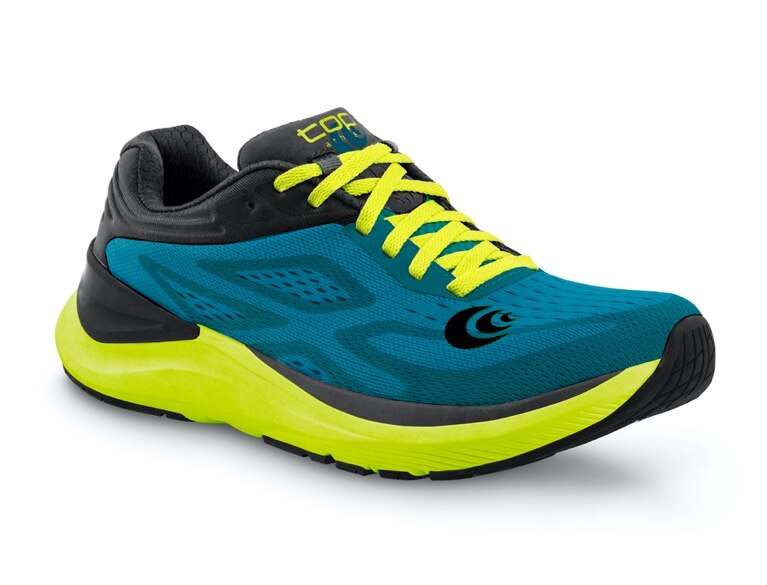 An All New Softer ZipFoam™ With a Slightly Denser Medial Insert
"Feels substantially more cushioned, with an upper that might be the best in the business."
4.4
Rated 4.36 out of 5 stars
Most Liked Positive Review
Ideal daily trainer
I love the fly lyte 3's simplicity and sleekness. I have ran everything from hard intervals to 2 hour plus runs in those shoes with good success. I have a long history of insertional Achilles issues, and intermediate drop shoes seem to be the sweet spot for me. I have found over time that I enjoy a ...bit more cushion and support for easy daily runs, particularly in mornings when I am stiffer and also on somewhat hilly road runs on " easy days". So this shoe ( Ultrafly 3) fits the bill nicely. The fit is great. Comfortable to walk in. I've run 10 flat miles at a general aerobic effort with great comfort, and I've run easy runs and a 4 mile tempo at about 60" slower than 5 k pace. Everything felt natural and smooth. For me, the shoe will work great for long runs, general runs, and steady/ medium runs. (5 k pace is usually 550- 6/ mile: 7 minute- 715 felt good). Lastly, I regularly toy with the drop in my shoes by sometimes using 2-3 mm heel lifts ( and sometimes not) depending on how my heel feels. Shoe fits great either way. I have a large haglunds deformity/ chronic Achilles enlargement, and the heel counter has been fine. ( heel collar is slanted, versus vertical, but it doesn't hook in toward the Achilles as some shoes do, and the padding at the Achilles is a nice amount: a bit, but not overkill). As far as the stability components: I typically run in neutral shoes and am perfectly comfortable so far.
Most Liked Negative Review
Wish Topo would still make a max cushion road shoe with EVA
I previously had the original Utrafly and the Ultrafly 2, both of which I loved. They were the perfect balance of cushioning and support, and the EVA foam had the ideal blend of firmness and springy response. The Ultrafly 3 now uses Topo's Zipfoam cushioning, which I believe is TPU based. It's much ...too soft for my liking, and running in the Ultrafly 3 seems to flare up some Achilles pain for me, which is never an issue in the Ultrafly 1 and 2. I hope Topo considers again making a road shoe with a similar stack height and 5mm drop with EVA cushioning. It's nice that Topo's trail shoes lineup features both the Ultraventure (which continues to have EVA) as well as the MTN Racer, for those who want Zipfoam. I hope they do something similar on the road side, especially since it seems like more of Topo's road shoes are starting to use Zipfoam (Ultrafly 3, Phantom, Zephyr, Cyclone, FlyLite 4). The models with a Zipfoam core along with surrounding EVA (like the Zephyr, Cyclone, and Phantom 2) are a bit better, but they still seem to irritate my Achilles. I hope Topo provides some pure EVA options for road running!
Lightweight with roomy toe space ….GREAT running shoe
Rated 5 out of 5 stars
Just purchased not too long ago and have they are the perfect running shoe for me there lightweight have great cushion that makes it feel like I'm running on clouds, i avg 15-20 miles a week and i love wearing this shoe. Specifically this is my long distance running shoe 5-15 miles
Great shoe, good foot room.
Rated 5 out of 5 stars
Comments about Ultrafly 3
Very well made and comfortable.
Great fit and feel!
Rated 5 out of 5 stars
Comments about Ultrafly 3
.
5 miles feels like 1
Rated 5 out of 5 stars
I use this pair for road running. I've spent nearly 10 years trying to find a shoe that fits my wide toe box, and prevents ankle roll inward, while still having a normal arch. These shoes have been a life saver, 5 miles feels like 1. No pains in my knees or hips anymore. A must try!
Great fit!
Rated 5 out of 5 stars
Comments about Ultrafly 3
These shoes have a great fit for my feet: wide in the toe box and more narrow in the mid-section and heel. They are similar in fit to the original Ultraventure that I loved. I ordered 1/2 size longer than my normal size, like I have with other Topo shoes. Stability and comfort are very good.
I can walk for miles in my Topos
Rated 5 out of 5 stars
Comments about Ultrafly 3
I use them for walking.
Ultrafly
Rated 5 out of 5 stars
Comments about Ultrafly 3
Great running/walking shoes. Extremely comfortable.
Great transition into Topo
Rated 5 out of 5 stars
I come from many years of ASICS, so I was cautious trying a new style of shoe. I tried on a Topo model with 0mm heel-toe offset in the store and was really surprised by the great feel. I was really intrigued by the brand but wanted to ease into the style more gradually. I've been running in my ultrafly 3 for 500 miles in 4 months now, and they have been great! Highly recommend.
The tow box is a great unique shape.
Rated 5 out of 5 stars
Comments about Ultrafly 3
Finally, a toe box that lets my toes enjoy their life!
The best shape shoe ever!
Rated 5 out of 5 stars
Comments about Ultrafly 3
I'm an older female who has been buying men's shoes for a few years because of problems with the metatarsal bones and have been unable to get women's shoes wide enough. The problem with men's shoes is if they're wide in the toe box, they're wide in the heels etc. The shape of the TOPO shoe is incredible. They're roomy in the toe box where needed but they fit in the heels. I have purchased two pair for walking and a pair of the trail shoes for more strenuous trails - just in the last couple of months as I wear sneakers 24/7. My husband bought his first pair and I have recommended them to my daughter. Please don't change the design! They're the best.
Q&A
Showing 1 out of 1 Questions
Q

How light weight are the shoes? Can you buy shoes that are sized wider in the toe box to accommodate a wider foot??

Asked by ?

Verified Reply

-

Melanie

The men's Ultrafly 3 is 9.6 oz (for a men's size 9). We only make shoes in one width (wider in the toe box, medium fit through the midfoot and heel) but we hope to be able to offer "wide" shoes sometime in the future!

Was this answer helpful to you