Product Overview
Trailventure combines the lightness of a running shoe with rugged durability of a hiking boot. The aggressive Vibram® XS Trek EVO outsole offer superior durability and multi-surface traction on all terrain. A rear foot rock plate and hard rubber toe cap offer protection while hiking on technical and rugged terrain. The mid-height fit offers ankle support and feature a molded foam collar for additional comfort. The rip-stop mesh upper is light, durable and secure, featuring medial drainage ports to enhance quick water release. a unique lace lock system offers two lacing tensions to provide a customized and more secure fit through the midfoot on our Vibram® sole hiking boots.
Specs
Stack Height:

30mm (heel) // 25mm (forefoot)

Heel to Toe Drop:

5MM

Weight:

13 oz (M9)

Gaiter Compatible:

No

Rock Plate:

Yes
Cushion:

Support:

Pliability:
The APMA (American Podiatric Medical Association) Seal of Acceptance and Seal of Approval are granted to products found to promote good foot health. To earn the seal, each product is reviewed by a group of APMA podiatrists to ensure it promotes foot health.
Why We Love It
Rock Protection Plate

Flexible ESS rock plate protects against stone bruising caused by sharp rocks and roots.

5MM Drop

Our highest available drop allows you to access natural running with more under-heel cushioning.

Vibram Outsole

Unparalleled grip and traction and durability from the leaders in technical outsoles.

Ortholite Footbed

Comfortable, anti-compression footbed with anti-microbial properties.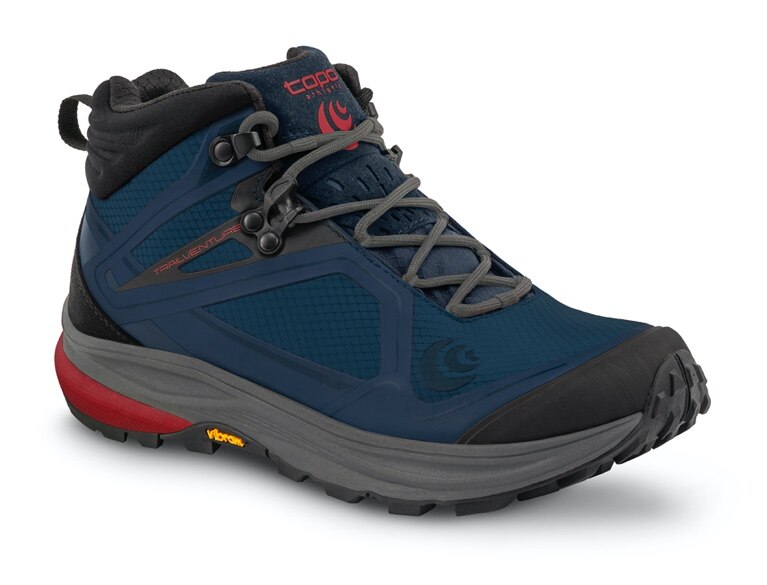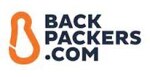 Meet Topo Athletic Trailventure: A Hiking Boot You Can Run In
"The Topo Athletic Trailventure is one of the most rugged minimalist hiking boots you'll find."
4.1
Rated 4.13 out of 5 stars
Most Liked Positive Review
100 miles so far, and no sign of stopping!
So far after 100 miles of rocky muddy PNW trails, I think Topo nailed these. I really enjoy these boots. I bought them to fill the gap between my waterproof Keen hiking boots, and my Altra Lone Peaks. First off; if you're used to Altras, you'll feel right at home in these. It has a wide toe box, w...ith a height that is somewhat low. The toe box height definitely adds some more responsiveness that I don't usually experience in a hiking boot. I bought these a half size larger to accommodate foot swelling, which I think was the right choice. The locking eyelets really help with adjusting the fit. The mesh used on these shoes is very sturdy and the shoes as a whole, offer more support than I expected. When walking through deep puddles, I've found that shoe drains well, and doesn't leave that sloppy puddle feeling inside. However, as others have mentioned, it does have a popping sound in the forefoot area. I really hope it's something Topo addresses down the line, but is far from a deal breaker. The Vibram outsole rocks on this boot. It feels grippy and secure on pretty much every surface I've walked on from slick rain soaked logs to dusty granite boulders. In all, I think this boot is best suited for people looking to put in some serious miles and are looking for a little more support than their trail runners.
Most Liked Negative Review
PAIN AND DISCOMFORT
I'm a trail runner, hiker, and backpacker that had high hopes this boot was the solution for all 3 activities....sadly, it's WAY OFF THE MARK. The FRONT TOP TOE BOX CREASE issue is consistent and true from all the negative reviews online. The front top toe box is a rigid material that crinkles down... into your toes when stepping at an incline. Take a look at my photo, it literally felt like a soda can was on the front of my foot crunching down into my toes with every incline step. I did a 12 mile hike with 4,000ft elevation gain with only a 5lb daypack and my feet were screaming at mile 6. No break-in time can fix this. I'm writing this review 4 days after my hike and my toes are still in pain when I do my daily jogging...GREAT. As I descended, you can see the back of the boot digging into my heel. There is no way I can attempt to hike, run, or backpack in these.....at most, MAYBE walk or smaller activities like gardening now. This is Topo's first boot and the designers really need to go back to the drawing board on this one...
The most comfortable boot I've EVER backpacked in
Rated 5 out of 5 stars
I have transitioned to Topos for trailrunning and they are incredibly comfortable while still providing the support and traction needed for wet, muddy and icy trails. My backpacking boots were becoming more uncomfortable over time compared to my Topos so I took a risk and bought my first pair of Topo boots, the Trailventures. I trained in these and ultimately completed a 54 mile backpacking trip in the Adirondacks. THEY WERE FANTASTIC! I work in the wildlife profession and I now wear these everyday for work. As soon as Topo has my size in stock again I will but another pair. After years of hiking and backpacking in the US ARMY infantry and wildlife profession these are hands down the most comfortable boot I have EVER worn. However they also completely supported me with a 50 pound pack on in challenging terrain and moving through sharp rocks and roots.
Walking on clouds…
Rated 5 out of 5 stars
Comments about Trailventure
Firsrt time I have purchase these and overall they are as good as they look. Love them.
Great toe box
Rated 5 out of 5 stars
Comments about Trailventure
I use them mainly for hiking established trails.
Grand Canyon Rim to Rim Hike, 26Miles. Amazing boots!!
Rated 5 out of 5 stars
I recently hiked the Grand Canyon, Rim 2 Rim, over 26 miles of hiking and used the Trailventure boots. The boots performed extremely well and they were very comfortable. The hike included loose gravel, rocks, mud, puddles, and river crossings and the Topos boots kept my feet dry, sturdy, and comfortable. I highly recommend these boots for any outdoor adventure.
5 day trip out of the box
Rated 5 out of 5 stars
Comments about Trailventure
Used for 5 day backpack with 45 lb at first down to 38 lb pack later straight upon delivery. Moving 7-10 hrs per day. No blisters or other fit issues. Feet stayed remarkably dry and no dust penetration (with gaiters). Mostly cross country in Sierras and experienced good stability and grip on variable surfaces. Not tight for class 3 but still usable. Overall my best boot purchase in a long time. No idea yet about durability.
Sturdy and Comfortable
Rated 5 out of 5 stars
Comments about Trailventure
I've been doing stair drills with about 40lbs ony back in prep for our Amalfi Coast tour group that we run. I use prescription inserts and need a large toe box. The inserts fit great and the topos are very comfortable. When these wear out, I'll buy another.
roomy toe hiking shoe, very light, comfortable
Rated 5 out of 5 stars
7 days Big Bend, TX, thumbs up! perfect for desert washes or trails. They did run a little warm but I wore thick hiking socks too so that contributed & had a 30-40lb pack. Fantastic on flat, pebble, 1-2 inch ground rocks, dirt, trails, & superb traction crawling on big rock climbs & wet. Con: a little mushy sole, hiking on very super jagged rocks 3'-6" for 4-5 hours, feet got a little sore. If you like a very hard sole shoe do not buy these. I would buy again & wear again on same trip.
Most comfortable shoes compared to every type of shoe I own
Rated 5 out of 5 stars
Comments about Trailventure
Woman who answered my call to your main number was the best customer service person ever. I had questions on Trailventure shoes I just received re fit. She covered construction differences between these and my Ultraventures, lacing, best length and material socks to wear. She was professional patient positive pleasant courteous highly knowledgeable. Feel terrible I don't recall her name.
love these !
Rated 5 out of 5 stars
bought these for the numerous trails near my new house. researched first, read the reviews went to my local running store and went back and forth with the very knowledgeable owner. I did see and hear the upper movement and sound that other reviews indicated, but was not put off. then out to the trails--some fairly technical , no issues, no problems---flat turns up or down. also with headphones on--shoe sound is not a factor maybe I scared off a random chipmunk? I've very pleased and plan on rotating in another pair of WP's
Best hiking shoes
Rated 5 out of 5 stars
Best hiking shoes, EVER! Light, snug, broad toe box. Absolutely love em! Anyone wanna buy lightly used non-topi hiking shoes?
Questions about your Topos? We're here to help!