Product Overview
Our men's waterproof hiking boot features a full eVent® inner-bootie construction to keep feet dry and comfortable in every condition. The abrasion-resistant rip-stop mesh upper is lightweight and durable. A 3-piece midsole, featuring ZipFoam™, provides a cushioned experience underfoot, with more long-term resilience than traditional EVA. These Vibram® sole hiking boots feature Megagrip for the ultimate grip and traction on all surfaces, especially wet and slippery terrain. A full-length ESS rock plate offers total protection from rocks and roots, while the over-the-ankle molded foam collar provides additional security and support on rugged trails.
Specs
Stack Height:

30mm (heel) // 25mm (forefoot)

Heel to Toe Drop:

5MM

Weight:

14.5 oz (M9)

Gaiter Compatible:

No

Rock Plate:

Yes
Cushion:

Support:

Pliability:
The APMA (American Podiatric Medical Association) Seal of Acceptance and Seal of Approval are granted to products found to promote good foot health. To earn the seal, each product is reviewed by a group of APMA podiatrists to ensure it promotes foot health.
Why We Love It
More Cushioning and Resilience

Proprietary midsole compound which is springier than EVA and offers more rebound over the life of the shoe.

Breathable and Waterproof

eVent™ DVdryLT one-piece upper provides total waterproof protection while remaining light and breathable.

Vibram Outsole

Unparalleled grip and traction and durability from the leaders in technical outsoles.
3.6
Rated 3.64 out of 5 stars
Most Liked Positive Review
More squared off toe area, rather than the usual pointy.
I primarily bought these for work, as I do a fair amount of walking outside, but also wanted something for some actual hiking. I have a "bad" right knee so I had to give up backpacking and bigger mountain hikes, but still wanted something to help me enjoy the great outdoors. These seemed to alleviat...e a lot of knee pain, and that is just coming off from a 30 day trial on the Hoka Challenger Mid with Gore-Tex! I like the way these fit width wise, like Keen [also Sketcher Extra-Wide] boots. Because these have that same WIDE look, that are better for those of us with wider toe boxes, like EEE. I have tried almost every brand with wide sizes under $200, and these just simply feel better for my foot, but they should still offer a wide option...PLEASE! Not a lot of interior height either, so going to try some lacing techniques to try and free up some room for my higher volume feet, plus to be able to run thicker or cushioned socks, and also to hopefully eliminate heel lifting(getting a little better). But I am not too hopeful, because there is no leather to stretch or even break-in. Length is like Danner and Sketchers for me, in that they are a half to a full size bigger than I wear in every other boot. I am normally a 10w-10.5w, but had to go down to a 9.5 on these. I have had these for a couple of weeks now and appreciate the waterproof [and breathable] booties, because I also work in the rain, and walk across dew covered drenched lawns in the mornings. However we will see how long they stay waterproof, as I don't have much luck with waterproof/breathable membranes, besides Gore-Tex, and that only last a year for me. Most others brand versions start leaking on me within two weeks to about 3-4 months. My better half says I should be a boot tester for all the brands of boots I have owned and failed. They still do make my feet sweat, even with eVent, especially compared to the apparently very breathable Hoka boots I just tried. I also prefer leather, so this will be the first full nylon boot I have ever tried, and so far I don't mind them. One less boot to Sno-Seal. However, just like the waterproofness, we will see how the outside holds up long term. Likes: wider toe box and squared off toe design(like Keen), stable transition through the gate cycle, Vibram outsole :), speed lacing with a 'lace-lock' feature, isolation from rocks and roots from the full-length ESS rock plate, waterproof [so far]. Annoyances: Slightly heavier than the Hoka boot I just had, sweaty despite the eVent™ DVdryLT one-piece upper that is supposed to be breathable, stiff sole(so unfortunately lots of heel lift) probably due to that full-length ESS rock plate, no wide sizes(even though they are wider than most other boots "wide" sizes), low volume(so need to wear thin socks), and thin/too flexible removable insole which make insertion after drying difficult.
Most Liked Negative Review
Need a minimalist-friendly version of these boots!
I love my Runventures for warmer weather hiking and trail running, and really wanted these boots to work as a winter/shoulder season option. The Megagrip outsole is awesome and the toe box is a perfect fit (wouldn't mind if it was a bit wider, honestly, to accommodate thicker/double socks). I was a ...little bit disappointed by the tongue; there's no gusset and it gaps a bit on the sides, so I wouldn't expect these to provide much waterproof protection for anything but the shallowest puddles and stream crossings. The real turn-off, for me, is the prominent, rigid arch support. Topo's zero-drop models don't have this much of an arch so I wasn't expecting it, and I found it really interferes with my gait. I hope Topo will consider offering a neutral, zero-drop option that still features the eVent lining and Megagrip outsole. That would be my dream shoe!
More of a hiker than a running shoe and I really like them.
Rated 5 out of 5 stars
Comments about Trailventure WP
They're stiff and weather proof so far. I've hiked in 2 inches of show and didn't get my feet wet. I was expecting they'd lean more towards a stiff running shoe but I doubt I'll run in them. I'll will abandon my other light hikers for these.
My favorite hiking shoes
Rated 5 out of 5 stars
I love these shoes. These are the best hiking shoes that I've owned for several years now. The fit and comfort is perfect on the trail. From glacier crossings in Alaska to creek crossings in N. Georgia, these shoes do the job. The cushioning level is just right. I can tighten them up as much as I want on the fly with the lacing system. I'm starting to look for my second pair. Hey, Topo: don't change a thing!
Totally great boot
Rated 5 out of 5 stars
I have owned at least a dozen pair of topos and my wife and daughter have owned many more. We love them for the fit, comfort and durability and I will wear no other athletic shoes. I was wary about the boot. I like Topo's with 3mm drop and these have 5mm drop. Most of my Topos have had flexible soles. The boots are stiff. They feel clunky at first. I never have to break in Topo running shoes. The boots needed a little breaking in. After a couple of weeks I now love them. They are incredibly comfortable and protective. They no longer feel clunky but light and part of my foot. They are warm in winter and so far have remained dry. I walk, hike and snowshoe in these. They are super stable on all sorts of difficult terrain. And the lugs grip like crazy. I even like the 5mm drop. this is by far the best trail boot I've ever had. Don't give up on it if they feel stiff and clunky at first. That will miraculously change. I wear size 11.5 in all Topos including these which is .5 bigger than my normal size.
Great boot, Unfortunately did not fit my feet.
Rated 5 out of 5 stars
Comments about Trailventure WP
Very nice light weight boot. Had been wearing Altra shoes and had not been happy with sizing changes they were making. I am used to a more substantial boot from companies like Zamberlan and wanted a light weight water proof boot with a wide toe box. Boot came highly recommended by our local store. Boot was very comfortable unfortunately for me the heel of the boot was very large and my heel moved around. Tried multiple fixes to correct issue as the toe box was very comfortable. Ultimately I ended up returning. Sad to see them go as they appeared to be very well built for a lightweight boot.
Alleviated knee pain
Rated 5 out of 5 stars
I have used these boots for many miles. I was curious how a lighter weight hiking boot would perform on the Colorado trails. I was pleasantly surprised by the comfort and durability. Most surprising was the reduced pain in my knees. I reduced the amount of time I used my my hiking sticks. I have not tested the knees carrying a backpack. But theses boots have become my go-to choice for day hikes.
Great first outing on snowy and icy hills !!
Rated 5 out of 5 stars
Comments about Trailventure WP
The toe spread is great for my aging feet -- especially going down a steep hill on ice. No runner's toe problems. My foot held steady inside the shoe. No sliding or wiggling. The cushion between the Vibram sole and the upper gives an adequate amount of flex. Hiking shoes shouldn't have stiff soles, and this one doesn't. I accidentally tested the waterproofing by stepping through ice into a deep puddle, but I stayed dry. Only had them one week but I can tell the difference from standard boots.
i am buying again for myself and guift
Rated 5 out of 5 stars
I'm a Bicycle mechanic. Ordered a pair the waterproof boots a few months ago and have worn them everyday. still look and feel like new. Buying red ones now and pair as a gift because of how satisfied I am
Great fit and comfy as all get out.
Rated 5 out of 5 stars
Comments about Trailventure WP
I have a slightly wide foot and normally need a wide shoe, these fit great with plenty of toe room. Super comfy right out of the box. The lacing system is cool with the second from the top holding the laces snug while you do the last two hooks. Highly recommend.
Loving my Trailventures
Rated 5 out of 5 stars
I'm 5'3" and 170lbs doing a lot of day hiking. I am not a runner. I only have about 60 miles on my Trailventure boots but so far so good. Love the fit & comfort. They are a fairly stiff shoe so I wasn't sure how I would like that but I really have not noticed the stiffness except that on rocky terrain that they are very stable. I enjoy the wide toe box and the room both width and above the toes. I have had no issues with the waterproofness and I had a 10 mile hike in the rain. I do notice that the sweat from my feet "bleeds though" the fabric and I have a couple darker spots from that. The Vibram outsole is amazingly grippy and I have had no problem with break-down yet. I met a person who had 300 miles on his and they were still going strong. I typically find that light fabric shoes/boots wear-out at the flex point at the front of the shoe. Maybe it is the stiffness of these boots that there is less of a flex point, but again no problems yet.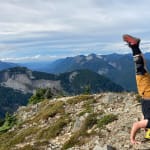 Colors WAY off
Rated 4 out of 5 stars
I have 4 pair and love them but the sizing between style varies a half size up or down. Some I'm a 10 some I'm a 9.5. The toe box in the boot is not the same as the rest of the shoes, I may send the last one back. And the color shows a nice gray on the web sight and what I received is all dark back. Can' t stand black. If you can find them in a retail store try them on before you buy. I've sent a couple back here and there.
Questions about your Topos? We're here to help!