Product Overview
Terraventure 2 features a low drop and moderate cushioning with a 2-density injected EVA midsole for a comfortable, yet responsive ride underfoot. The Ortholite® footbed offers even more comfort right below the feet. The Vibram® XS Trek EVO outsole delivers superior durability, while the generously spaced lug pattern offers excellent mud release. The flexible forefoot rock plate provides protection from rocks and roots on technical, rugged trails. Terraventure 2 features our uniquely fitted gaiter attachments and is compatible with our Performance Gaiters.
Specs
Stack Height:

25mm (heel) // 22mm (forefoot)

Heel to Toe Drop:

3MM

Weight:

10.8 oz (M9)

Gaiter Compatible:

Yes

Rock Plate:

Yes
Cushion:

Support:

Pliability:
Why We Love It
Roomy Toe Box

Anatomical toe box allows toes to spread naturally and comfortably.

Lightweight Breathable Materials

For a '2nd Skin' fit and feel.

Rock Protection Plate

Flexible ESS rock plate protects against stone bruising caused by sharp rocks and roots.

3MM Drop

Our mid-level drop provides a near neutral platform for a more natural running experience.

Vibram Outsole

Unparalleled grip and traction and durability from the leaders in technical outsoles.

Ortholite Footbed

Comfortable, anti-compression footbed with anti-microbial properties.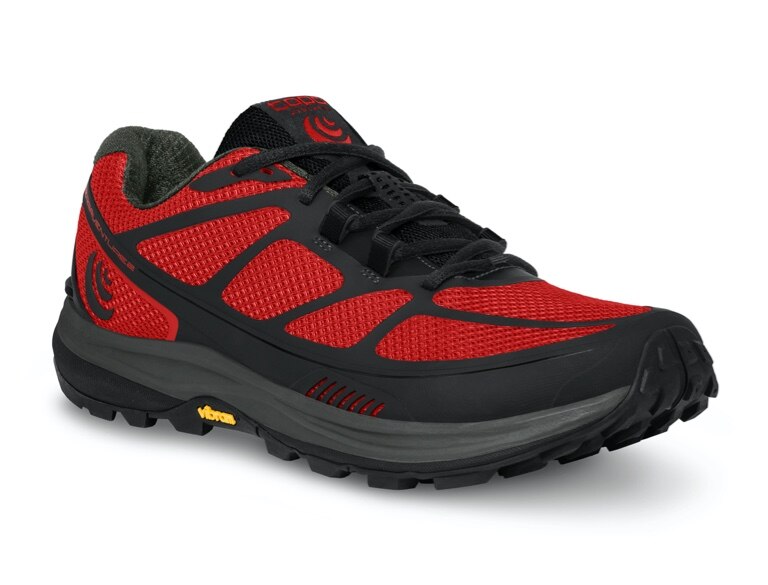 Take a Bite into the Muddiest of Trails
"2nd edition Features newly added lugs and a grippy XS Trek Vibram outsole."
4.6
Rated 4.59 out of 5 stars
Most Liked Positive Review
Rocky, Technical, Fast Trail Running? Terraventure 2 is your
Over 200 trail miles here in the rocky and technical trails of Tucson, I am loving these shoes! Durability of the outsole continues to impress after tearing up LaSportiva Mutants under 100mi and Altra Lone Peaks in 200mi. Our trails are rocky, spiky, technical, steep, and loose and this time of year...
Most Liked Negative Review
Good Trail Shoe But Not Good For Technical
Good all around trail sneaker but.... Definitely not for technical running!!! I run in Magniflys daily on road and totally love them, but this does not translate well to rocky, technical trail running. This might pass for hiking or just regular trail runs, but beware, it's way too loose a f...
Great all around shoe
Rated 5 out of 5 stars
Comments about Terraventure 2
Great shoe for anything trail. Comfortable and nice feeling toe box. Great for mellow trail runs and day hike. Definitely feel protected with the rock plate without being overly stiff. Not snug for super technical runs but perfect for daily trainers. Topo has a great feel that I will be using for future shoes.
It is great pair of shoes and very comfortable
Rated 5 out of 5 stars
Comments about Terraventure 2
Best shoes i ever had. I got complements because the color is very attracive. Costemer services advised me to get extra 1/2 size.
Literally my most comfortable shoes!
Rated 5 out of 5 stars
Comments about Terraventure 2
I hike about 8-15 miles per week. Before when I came back from a hike I would be fairly desperate to take off my ankle-high boots (K**n Targhees). I do love those waterproof boots because of the ample toe box. Well, Topo has done things one better. The Terraventure2 is so comfy I just keep walking around in them even when I really should just take them off. I tried the Trailventure WP boots but found them a bit stiff. Regardless, the Terraventures dry out pretty fast after a dip during a stream crossing so I don't feel the need for waterproof-ness unless there is a considerable amount of ice/snow. Actually, recently I took the Terraventures into icy conditions with microspikes and they performed admirably. I am looking forward to trying some of the other shoes (Ultraventures, Hydraventures) in the future.
This is my third pair. I love every one of them
Rated 5 out of 5 stars
Comments about Terraventure 2
I use them for every day walking and weekend hikes. I love the wide toe box. The colors are great too. A very comfortable durable shoe over all.
Very comfortable
Rated 5 out of 5 stars
Comments about Terraventure 2
Cushioning is really good and the shoes are very stable. Good arch support. All around high quality walking shoes.
Durable, stable, and stiff - Keep it up Topo!
Rated 5 out of 5 stars
Comments about Terraventure 2
I originally ran the Altra Timp series and decided to change things up because of their lack of durability and stiffness - my feet consistently sloshed over the sole due to the flexibility of the upper material, esp on technical trails with quick changes in direction. After learning that Topo had similar design features that were important to me - namely the large toe box and zero/low drop, I purchased my first pair of Topos. I purchased the Runventure 2 series and they were exactly what I was looking for! I got well over 400 miles out of them before the upper finally gave way. They were light as a feather, had amazing ground feel, and were stiff enough to keep my feet centered over the sole. To this day, they're still probably my favorite trail shoe. My second and most recent pair are the Terraventure 2's. They still need to be broken in some more but after 3 runs of steep, muddy, and rocky terrain (about 20mi), I have to say, they're stiffer than my last pair, and man do they grip! I feel incredibly stable and locked in, even when I'm flying downhill on very slick trails. There's a bit less ground feel than my previous pair but that's to be expected with the higher stack that offers some much-needed protection from sharp rocks that I used to feel quite noticeably through the soles of the Runventures. To mention another upgrade, the Runventure 2's had some unfortunately skinny laces that didn't disperse pressure evenly enough, often causing some upper foot pain (for me). I'm glad to see that the Terraventure 2's laces are thicker and more cushioned. That being said, I think they're a tad too short. And that truly is my only complaint. The rest of the shoe is dialed in and I'm excited to see how long they'll last me. All in all, I'm very grateful for the products that Topo has designed and I'm stoked to see what they have to offer in the future. Also no blisters or uncomfy rubbing spots (and I couldn't read the size of my last pair because the ink wore off so I just bought the same size that I wear in Altra's)!
Good shoe. Sorry to see this model leave Topo's line line
Rated 5 out of 5 stars
Comments about Terraventure 2
A last such as TOPO's with broad toe & minimal vertical drop is hard to find elsewhere.
I would buy again
Rated 5 out of 5 stars
Comments about Terraventure 2
Most comfortable Hiking / Trailrunning shoes, perfect fit though heel and mid foot. Light weight, breathable and excellent cushion for long days on your feet.
Bye Altra hello Topo
Rated 5 out of 5 stars
I am a 47 years old trailrunner, flat foot and I was looking for years for a perfect shoe for my training sessions in the rainy, muddy and cold days. I used to wear Altra since a couple of years I've tried Asics, Brooks, Salomon, Hoka...and I thiink that the Topo TA 2 is by far the best for me. No ankle pain, no fatigue in long distance trainings, not as heavy as my Cascadia. I loved it since the first time I ran on it. The only complainment is there´s no place for buy it here in Chile and the cost with the shipping make my cry but ... i love it.
I would buy Terraventures again and again
Rated 5 out of 5 stars
Easily my favorite hiking shoe of all time. Heel is locked in, midfoot is comfortably snug, toes can splay to their heart's content. After about six months they still look brand new. The Vibram soles grip like hiking shoes, not trail runners and are excellent in both wet and lose conditions. Doubt I will ever buy another pair of Lone Peaks; the only thing I prefer about them is the 0 drop. I also own a pair of Topo Trail Ventures. While they are a good shoe they fit entirely differently, and not well at all for me. There is way more volume in the mid-foot also more volume in the heel, and even after adding two insoles in the middle and rear of the boots I am still slipping around in them way more than I would like. The vaunted lace locks do not seem to work that well and the laces themselves are skinny and slippery and drastically lower quality than the Terraventure 2's.
Questions about your Topos? We're here to help!