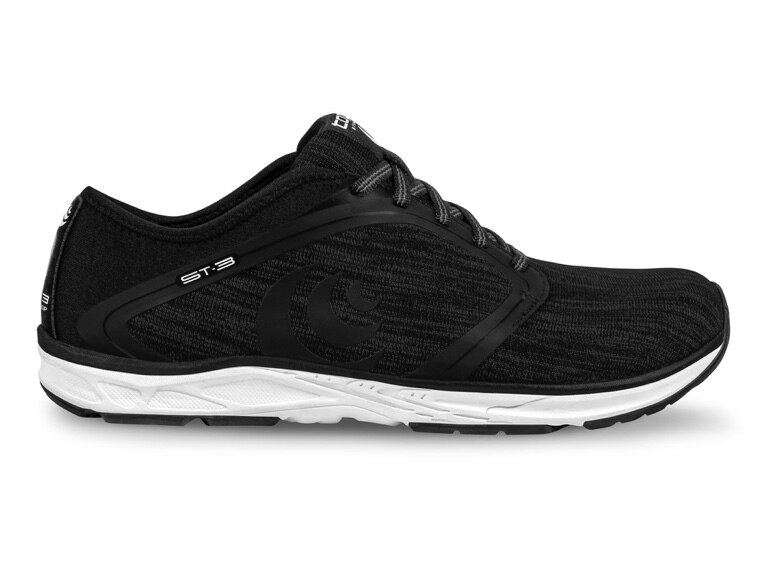 Topo Athletic's minimalist shoe is lightweight and ultra-flex
"All others who love that barefoot feel without having pebbles embedded into your foot will appreciate how the ST-3 mimics shoeless freedom."
Product Overview
ST-3 features a new knit upper mesh pattern with fewer printed overlays. The new blucher style upper offers a snug and secure fit through the midfoot. A 16mm, 0-drop platform is perfect for speedwork, tempo runs, and gym work. The rubber outsole pods are strategically placed to enhance traction and durability where it matters. The ST-3's collapsible heel allows the shoe to pack flat, making it a versatile run/workout shoe for travel.
Specs
Stack Height:

16mm (0 drop)

Heel to Toe Drop:

0MM

Weight:

7.3 oz (M9)

Cushion:

Support:

Pliability:
Why We Love It
Roomy Toe Box

Anatomical toe box allows toes to spread naturally and comfortably.

Lightweight Breathable Materials

For a '2nd Skin' fit and feel.

0MM Drop

Completely neutral drop for the most natural running experience.
My favorite daily trainer
by Cory Allen
I am have been running in the ST-2 for 2 marathon training cycles and races. The durability of those shoes is amazing and my only gripe is they are hard to lockdown the heel and midfoot just right. Which brings me to the ST-3. This is an amazing upgrade! The padding is increased ever so slightly while maintaining the ground feel. The arch was cut down just right. The heel and midfoot lockdown is spot on. No more slight heel slipping! The simple upper is so comfortable and breathable. I know some reviewers say they don't have the lateral support of the ST-2 but I feel it is great.These are perfect for us that alternate with true barefoot shoes and need a little something more for long runs and trails. I also run in the Topo Runventure 2. Thank you Topo for making versatile shoes shaped like our feet, just the right amount of padding and rubber, and durability!
For my feet, these are far and away my favorite athletic shoe.
by Steve A.
Everyone's feet are different, so I can't say these will be great for everyone. But for my feet, these are far and away my favorite athletic shoe. I have tried many other barefoot/minimalist shoes - Altra, New Balance, Merrell, ViVo Active and more. None come close to these in terms of comfort. The ST-3's are just the perfect blend of roomy toe box, short stack height, great lateral stability, flexibility, and just enough cushioning to wear all day walking on concrete. I've worn these traveling through Europe and Africa and my feet always feel ready for more. I only wish they came in a greater variety of colors. Please, Topo Athletic, never stop making these.
Love it
by James
This shoe is exactly what I was looking for in a trainer: lightweight, minimal cushion, flexible, zero drop, and the Topo fit that works so well for me. Don't mistake this shoe for a cushy structured shoe - it's not. It's a perfect compromise between minimalism and protection.
A wonderful shoe that doesn't get in your way.
by Shawn
The ST-3 is a shoe that does a wonderful thing: it gets out of the way of the runner and allows them to move unencumbered. It doesn't try to pad a heel striker or insulate the runner from any other ill advised habits. Rather it is lightweight, gives generous room in the toe box, is stable, and stiff enough to give the runner the feedback as to how their foot is contacting the ground. I used a pair of zero drop Altra Escalate 1.5's before and found these shoes to be a superior alternative. Where the Escalantes were too loose when changing direction these provide good directional stability while providing the same freedom in the toe box. The ST-3s are 8 mm less in stack height and slightly less in weight so they are not necessarily in the same category. If you have good running form and are comfortable running either barefoot or in a minimalist shoe this shoe is a great option to add to the arsenal of footwear options.
A Good Upgrade
by Bill
The ST-3 is so far my favorite pair of running shoes. I have two pair of the ST-2s and they were my go-to shoes. However, they have been replaced. The ST-3s are secure in the heel and mid-foot, while letting the forefoot splay and do what it is intended to do. I have not had any issues with the lacing, but if you do, then use some creative lacing options. In my opinion, these are not gym shoes for anything requiring lateral movement and stability. They are running shoes. The durability is still to be determined, but so far they are great.
A nice upgrade from the ST-2
by John
In some ways I like this better than the ST-2, in fact I like it more in most ways. I still have 3 pairs of the ST-2, and use them for my shorter distance runs (5 miles and under). I use the Magnifly 2's on my longer runs and Runventure 2's on my trail or snow runs. The ST-2 feels much more minimalist than all of those. The ST-3 feels more "there" than the ST-2's, but not in a bad way. It is also much less "there" than the Runventure's and Magnifly's. I really like the way the upper feels. My only real gripe is I had quite a bit of rubbing on my heel which gave me a blister the first time out of the box. Never had that in the ST-2; but it has since resolved. Just be aware you may need a bit more "break-in" time with these. Overall a nice improvement, but not a huge improvement; as the ST-2's were already great. Hard to improve on those!
Not comfortable
by Jed
Not very comfortable, they twist to much when you walk. Feels like they are made cheaply.
Versatile 0 drop shoe
by Jonathan Guffain
This shoe is my all around shoe. From traveling and daily chilling, to hitting the CrossFit gym for my speed workouts (kettlebells, box jumps, 400m run, assault bike and more). These have a "sock" like fit. Flexible with a 0 drop platform. Lucky as topo ambassador I'm able to try their shoes and give them honest feedback.
Very comfortable running shoe
by Leo
Compared to the ST-2, the ST-3 is less secure around the forefoot because of the knit upper. Other than that, it's an extremely comfortable running shoe with a much improved midfoot fit. It's excellent for basically any activity, from speed workouts to long runs. The ST-3 strikes a perfect balance between lightness and durability.
Good nearly great minimalist shoe
by Patrick Dawes
The ST-3 wraps your foot like a glove providing a secure feel that does not over heat. The low stack height, zero drop and minimal cushion provides a true ground feeling for those wanting to be closer to barefoot. The only negative is the graphic detail/eyelets at the front corners of the lacing. They rub when striking at the forefoot, right at the crease and due to the minimal design can be a nuisance. Overall a good minimalist shoe, with only a slight design flaw.
Gym shoe
by Andrew
Great gym shoe
Firm cushion, travel friendly but not much structure
by RMOO
I never had the ST-2, but I have the Magnifly2 and ST-3. The cushion is firmer than the Magnifly2 but the ST-3 shoe is much more flimsy. My foot did not feel secure in the shoe and was not confident doing a gym workout in them.
ST-3 is definetely very breathable and travel friendly, but there's not much structure.
I would use this more like a water shoe and take it when i do water sports.
The ST-3 is a great long haul zero drop option.
by Aaron
If you liked the ST-2, you'll probably like the ST-3. They feel super similar, but with the addition of the plusher midsole makes it feel a little more cushioned. Standing and walking in them reminded me of a very popular competitor model, but running still had the same zero drop, ST-2 feel. And know I'll be able to spend a lot of time in them without any issues. The new upper feels great. They don't feel too restrictive with the socklike material, but also, not too loose. The heel is still collapsible, but feels like a slightly "beefed up" neoprene. The lacing felt just right. They are super light, and very breathable. All in all, super happy with the update. I really like the new color way.

I am a Topo Athletic Ambassador, but have been a huge fan of the ST series since day one.
No improvements over the ST-2 but a change for the worse
by Felix
Hi!
I am a big fan of the ST-2 and so a little bit disappointed of the ST-3.
At my size (US 10) it's almost 10% heavier. The new upper sucks quicker and more water when it rains. Also the distribution of forces feels uneven due to the small side lashes. The whole upper feels more insecure to me and is getting dirty much faster.
As a successor it lacks real improvements, for example a more durable insole.
Please bring the ST-4 as quickly as possible, thank you. :)
Felix