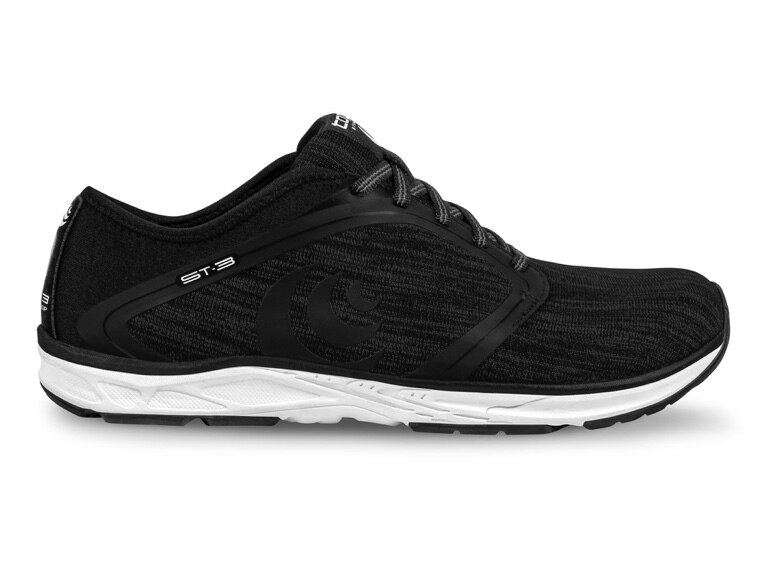 Topo Athletic's minimalist shoe is lightweight and ultra-flex
"All others who love that barefoot feel without having pebbles embedded into your foot will appreciate how the ST-3 mimics shoeless freedom."
Product Overview
ST-3 features a new knit upper mesh pattern with fewer printed overlays. The new blucher style upper offers a snug and secure fit through the midfoot. A 16mm, 0-drop platform is perfect for speedwork, tempo runs, and gym work. The rubber outsole pods are strategically placed to enhance traction and durability where it matters. The ST-3's collapsible heel allows the shoe to pack flat, making it a versatile run/workout shoe for travel.
Specs
Stack Height:

16mm (0 drop)

Heel to Toe Drop:

0MM

Weight:

7.3 oz (M9)

Gaiter Compatible:

No
Cushion:

Support:

Pliability:
Why We Love It
Roomy Toe Box

Anatomical toe box allows toes to spread naturally and comfortably.

Lightweight Breathable Materials

For a '2nd Skin' fit and feel.

0MM Drop

Completely neutral drop for the most natural running experience.
Sizing
Feels full size too small
Feels full size too big
Great shoe - Very comfortable!
Rated 5 out of 5 stars
Comments about ST-3
This shoe is sharp-looking and very comfortable. I High quality also. I would buy again.
Lightweight, quick, and comfy
Rated 5 out of 5 stars
I got into the semi-minimalist/wide toe box/zero drop platform many years ago with another brand. Unfortunately, their "improvements" seem to keep bringing them closer in line to the pack of traditional running shoes. In steps Topo. The ST-3 has a super comfortable upper, roomy toe box, a responsive sole allowing you to feel the road but comfy enough to avoid pokey rocks, and a very lightweight, quick feel. Highly recommend giving them a try if you're in this genre of shoe.
I would buy this product again
Rated 5 out of 5 stars
I would buy the ST-3 again.
Rated 5 out of 5 stars
Comments about ST-3
The ST-3s are the same size as my ST-2s but feel slightly smaller with a little less toe box width also. The variation is really slight though and the shoes have stretched some with use. The ST-3s are flexible and seem to cushion impact a little more so than the ST-2s. I switched to topo mainly for the zero drop characteristic and have been surprised at how great both the ST-2 and ST-3s feel overall. Really great running shoes!!
8 pairs and counting!
Rated 5 out of 5 stars
I love these shoes! I had ran through 5 pairs of the ST-2 and just bought 3 pair of ST-3. The most important thing to me is that once you find a shoe you like with a normal large brand; they go and make a major change the next year and you are back to the shoe dating game again! I have been able to consistently buy the ST series and am a lifer at this point. The shoes are light and give a nice low to the ground feel. I really like that the heal cup is just fabric so that they pack up pretty small in my bag for travel or going to the gym.
Great shoe
Rated 5 out of 5 stars
I'll begin by saying I'm always between 11 and 11.5 shoes so I'm not sure if this shoes is true to size or not, but the 11.5 works well for me. Now, I got this to transition into more natural and barefoot running, however as I'm barefoot all the time at my house and when Im outside (I'm 17), running in the ST-3 wasn't quite what I wanted in a running shoe as my cadence was still lower than I wanted so I just went straight to being completely barefoot. However, for casual wear I love it as it looks like a normal black and white athletic shoe and the fit is great. I have C width feet and the I step and mid foot fit is perfect when I tighten it down with the laces. Also, the laces are great and stay right where you put them and tight, no loosening. For the toe box, the room is perfect, not too wide or too thin. As my toes are still kinda cramped from conventional shoes, there is plenty of width for my toes to splay out in as they spread out over time, and for now my toes don't feel like they are swimming around in too much room so eaithwr way the shoe fits great for me. Now as for durability I don't know because I've only put about 20 miles on them, but if you get this I'm sure you won't be disappointed with the room, 0 drop, and low stack height!
Absolutely incredible shoe! (from a picky shoe person)
Rated 5 out of 5 stars
I've tried probably 15 different brands of running shoes over the past few years and never once written a review. Brands ranging from Hoka to Nike to Altra to Xeroshoes/Vivobarefoot and everything in between. I can't recommend them enough after putting probably 100 miles on them in the past month ish. If you're worried about trying them, the customer service is incredible. Basically I can't say enough good things. PS, girls with wide feet, order the men's version, the women's was too narrow (but I also have ridiculously wide feet). I also put a thinner pair of insoles in to help the width but that's more of a me problem not anything to do with the shoes. Best shoes ever!
800+ miles
Rated 5 out of 5 stars
I used this shoe when I'm out running on the road, and has some very good durability that for me I important. I have used this shoe through most of my running life. I usually chew through these shoes in 3 months but I do think Topo did a very good job making a good shoe.
My favorite shoe in years!
Rated 5 out of 5 stars
Comments about ST-3
This is my first "low" drop shoe after running for years and most recently on a Hoka Clifton. I would get random injuries and itbs from time to time over the years. I finally did some research on minimalist shoes and ended up on the ST-3 as a "compromise." The build and material quality are top notch. Fit is amazing and yes the toe box is roomy and I was worried about blisters but nope, none, perfect design. The shoe is lightweight and there is much more cushioning then I thought there would be.. but don't get lazy and heel strike on your run as you'll be sorry. I had to ease into running with these. I had zero ankle, foot or knee pain but I realized how under utilized my calves were on previous higher drop shoes. About 2 weeks in and calves are happy and I'm running with better form then ever.
Great multi-functional shoe for road warriors!
Rated 5 out of 5 stars
The ST-3 is a great shoe for the gym and an even better shoe for travel. Being on the road for more than 50% of the time, I really needed a shoe that packed flat but would provide structure for whatever I could do to exercise. I looked all over, and there really is not another shoe on the market as good for fitness and minimalist travel. Running, lifting, CrossFit, these shoes are great. The zero drop allow for more natural running for me, and it provides enough structure in the neoprene helps to keep my foot locked in place. The roomy toe box, common across Topo's kept my toes from the numbness and soreness I had in other brands. Compared to my ST-2s (which I had two pairs of) these have held up better. Missing the color options though. Looking forward to the ST-4s. P.S. Being stuck at home now, I broke down and bought the Magnifly 3, which is a great running shoe for longer distances. If you like the feel of the ST-3s, but would like more energy return and comfort on longer runs, these are great.
Q&A
Showing 1 out of 1 Questions
Q

Hi do you have any shoes that are free of real leather? Vegan, in other words. Thank you!

Asked by Sebastien

Verified Reply

-

Melanie

Hi Sebastien, All but one of our current in-line models are made with vegan materials (i.e. no leather). The only one that would be non-vegan is the Rekovr model, made with a wool blend upper. I hope this helps!