Product Overview
Meet the Topo Specter - our first-ever high-cushion performance trainer, featuring Topo's distinctive fit and feel. The single-layer engineered mesh upper features recycled materials for a lightweight, secure, and sustainable fit. The 35 x 30 mm platform features a Pebax Powered® core wrapped in an EVA frame to deliver soft cushioning and high energy return with a stable and responsive ride. The aggressive heel and forefoot rocker design aids in a fast transition, propelling you forward with each stride, while the lightweight die cut rubber outsole provides traction and durability.
Specs
Stack Height:

35mm (heel) // 30mm (forefoot)

Heel to Toe Drop:

5MM

Weight:

8.1 OZ (M9)
Cushion:

Support:

Pliability:
Why We Love It
Lightweight Breathable Materials

For a '2nd Skin' fit and feel.

Performance Insoles

Comfortable insoles with long-term resilience and anti-microbial properties.

World Leading High Tech Polymers

Delivering lightweight high performance and superior energy return.

Roomy Toe Box

Anatomical toe box allows toes to spread naturally and comfortably.
Topo delivers a totally modern, lightweight, fun to run trainer long racer that is true to their heritage of lower drops and anatomical uppers.
"As of now, this is my highest scored running shoe. Light, fast, and smooth, the Specter is the do-it-all natural running companion you've been waiting for! I do not make such a statement lightly."
Most Liked Positive Review
Amazing fit, midsole too firm
Perfection in some areas, horrible in others. Upper: Almost perfect. the midsole (reviewed below) finally lightened up and felt more comfortable around 200mi, but then the upper tore. The fit was perfect and almost not comparable to anything else. I just with the medial and outer midfoot sections ...wouldn't have torn open. Lockdown and sizing was absolute perfection though. Lasting closer to 300-400 would be adequate, it doesn't need to be beefed up to outlast the midsole, but at least slightly more support to last 300+ would be nice. Midsole: This is the biggest gripe... out of the box, was ultra stiff and felt like no compression. Let a teammate try (borderline elite runner) and he felt the same like there was no return in energy. After breaking them in for about 80 miles they lightened up and felt better, but once the upper finally tore, I did a test and cut open the midsole. The *Pebax core* and not the EVA is what was rough with next to no compression. I was surprised.... pressing my thumbs into the EVA gave way, the pebax felt closer to wood than to foam. Unless the pebax is taken back to formula, I'd say this shoe is better off just EVA without the rock hard pebax core. Outsole: Seth Demoor would have smiled and given his top rating to the tread. Sticky, and just enough, while being minimalistic and durable! I love Topo's in-house tread.
Most Liked Negative Review
Expected greatness, pretty dissappointed for several reasons
I'm 6', 190 lbs, I only run 3x per week, about 3 to 4 miles each time. I need cushy shoes since I'm not skinny and I'm near 60 years old. I cross train with weights. So, honestly, I've been running Topos for years.... MT-2 (awesome), the Magnafly (sent back when it was uncomfortable and the upper ...ripped in short order, Topo gave me 50% discount any new pair), Ultrafly (pretty good shoe, liked it), and original Phantom (pretty awesome, my favorite of the bunch). Now the Specter, I love the Topo story, shape, and fit, BUT... That said, here's the deal. 1) Sheesh, you'll freeze in cold weather - running in 40 degree weather and my toes were numb/freezing - The Specter's fabric is too shear for me - you can see right through the fabric and feel the breeze way too much - maybe fine in summer, but at least say that this shoe is warm weather only in the literature please. 2) Wear - come on! the souls of these shows have like 1mm or less of rubber covering the foam in only sparse spots, they will wear out in VERY SHORT order. Other topos a bit weak here too, but at least have 3 to 4x the rubber. 3) cushion - honestly - VERY disappointed here - my 2 year old Phantoms still feel just as good as these Specters do new. 4) Look - ridiculous logo ad on the side - I felt like a billboard 4) Rebound - so so. Not that impressed. 5) Fit - as expected - pretty good. 6) Weight - quite light and very good - I kind of like the tongue too, laces good. I'd put up with the bulkiness and look if they delivered, but they do not. And frankly I expected more cushion. I will try the latest Phantom and see what happens, I have just ordered and the Phantom 2 has 5mm more stack I see, so that is probably my shoe. Really bummed I wanted to like these and have more cushion for my old bones. So far 40% of Topos I've tried are not good, and 60% were pretty awesome. It's a love/hate relationship I guess.
I love this shoe. It is definitely not perfect, but it's pretty close. First, I'll lay out the negatives. The first thing is that the shoelaces cone untied and that seems like something that wouldn't have made it through quality control. The second thing is that for the stack height the foam is pretty hard especially at the heal. But that is actually a positive too. I have been working on correcting my heal striking, and since this shoe is uncomfortable to heal strike in, it gives a little reminder that I am falling back into my old ways. It the upper is very breathable, which is good for hot climates. The toe box is always awesome in Topo's. As far as energy return, it's not felt like with my alphaflys but it is definitely there because I seem to run at a similar pace as I do with my alphaflys without really paying attention to pace. I would say this shoe reminds me of the Hoka Rincon with a Topo toe box. I just really love this shoe, and I think everyone should give it a try.
Roomy tobox great for bunion .
Verified Buyer
Submitted as part of a sweepstakes entry
Comments about Specter
Very comfortable even without socks.
Verified Buyer
Submitted as part of a sweepstakes entry
Comments about Specter
Might be my new favorite model. Probably on my 15th pair of Topos. Only one model i didn't care as the sizing was off and I got horrible hotspots after one run, therefore I always stuck with the same model. This model is light weight but has great cushion. Really enjoying so far.
I have never reviewed an item before, but I had to for this shoe. This shoe is an amazing one because it helped me with my arch (I have an extra bone in both of my feet), and now my back pain/flat foot cramps have gone away. I have also danced with these shoes and they have worked really well due to the lightness of them. I check every day online for restock in the whites so I can buy a couple more pairs because putting them on in the morning makes my day a little more better. Thank you TOPO!!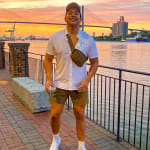 Classic Topo fit with some "pep in your step"
Verified Buyer
Submitted as part of a sweepstakes entry
Comments about Specter
The Specter offers a classic Topo fit, with a secure & comfortable ride. The combination of a rockered design with the Pebax core makes for a quick ride with some pop! Excellent for my workouts, quicker efforts, and road racing!
Comments about Specter
The soles are amazing. They don't get hard and crack like their brands. Super comfy so far! I wouldn't hesitate buying these if you are on the fence. Fast shipping as well!
Roomy and light. I like them.
Comments about Specter
The wide toe box is ideal for my foot issues
Comments about Specter
Comfortable road running shoe. As another review said, they airy with the mesh letting a lot of air through. The laces seem to come untied too frequently so I need to double knot them.
Comments about Specter
I've been enjoying Topo trail shoes for a few years now. I needed a good pair of road shoes for an upcoming road marathon. These don't disappoint. I really like the extra cushion and the responsiveness of these shoes. Not too firm, not too squishy. They've been really nice on long training runs.
I am Topo "fan boy" and have run through multiple pair of just about every model (2 UtraFlys; 3 MagniFlys; 2 Zephyrs; 2 Mtn Racers; 1 Cyclone). I was gifted these shoes for Christmas and was very excited to try 'em. I was not disappointed. The cushioning was a little harsh out of the box. Not sure if this was a break-in period or a result of running in really cold New England temperatures. This went away very quickly. I have ~150 miles on them and couldn't be more impressed. Great combination of cushion and rebound, equally good on road or treadmill at any speed or distance (5K up to 1/2 marathon), and sufficient stability for a mild pronator. My only question about these is the tread wear. I typically get 350-400 on other models. I am hoping these will not disappoint. My only request would be to have one or two conservative color options. I'm too old to be wearing creamsicle orange.
Questions about your Topos? We're here to help!