Product Overview
Our minimal trail running shoe delivers a zero-drop and light cushioning, made for the runner who wants a light, nimble and natural feel on the trails. Featuring the aggressive Vibram® XS Trek EVO outsole for optimal durability and multi-surface traction on technical terrain. A forefoot rock plate provides additional protection where needed. The durable mesh upper is paired with drainage ports to enhance quick water release.
Specs
Stack Height:

20mm (0 drop)

Heel to Toe Drop:

0MM

Weight:

9.5 oz (M9)

Gaiter Compatible:

No

Rock Plate:

Yes
Cushion:

Support:

Pliability:
Why We Love It
Rock Protection Plate

Flexible ESS rock plate protects against stone bruising caused by sharp rocks and roots.

Vibram Outsole

Unparalleled grip and traction and durability from the leaders in technical outsoles.

Ortholite Footbed

Comfortable, anti-compression footbed with anti-microbial properties.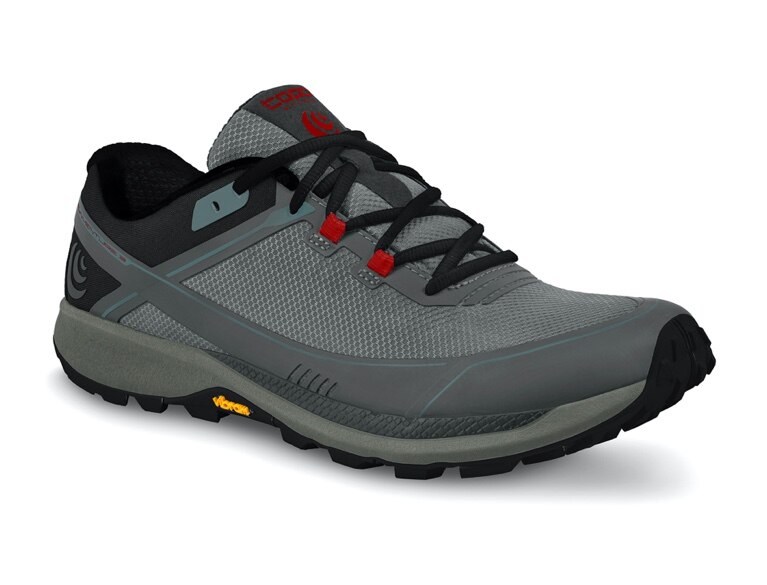 Don't Be Afraid to Get Dirty
"With grippy treads, a rock plate, and a durable upper, Topo's shoe provides the bare minimal for proficient trail trekking."
4.6
Rated 4.62 out of 5 stars
Most Liked Positive Review
Fast, grippy, secure, and fun
I normally run 50-70 miles per week, split between road and trail, and my main races are trail 100 milers, generally finishing in the middle. I've done trail runs ranging from 5 miles to 20 in the Runventure 3 (RV3), totaling 50 so far. I really like the RV3; it is the fast and fun shoe with a wide ...
Most Liked Negative Review
Missed the mark
I really wanted to like these shoes. I wore them for exactly two hours and, sadly, they are going back. First, the shoes are really shiny...like noticeably shiny. The gray ones looked like they are coated in something. I suppose that's to promote moisture wicking, though I can be sure. But that i...
The best
Rated 5 out of 5 stars
Comments about Runventure 3
Being a barefoot guy there wide toe box is the most comfortable. Ten ⭐️
Very good athletic shoes
Rated 5 out of 5 stars
Comments about Runventure 3
This shoe is very good for the gym also but you have to wear it some time in order to make the sole really non-slippery
Topo Beats Altra
Rated 5 out of 5 stars
Comments about Runventure 3
I'm really impressed with these shoes. Altra has been my go to for zero drop trail shoes, but the quality has really gone down recently. I tried these out and am very impressed. They are great for disc golf and trail running. I also did a 40 mile backpacking loop in the Utah desert right after buying them and there is very minimal wear and tear. It was a lot of redrock and slot canyon travel and the grip was amazing. I will never buy Altra's again. I hope Topo makes some more zero drop models that have an even lower stack height, but for now, these work great!! They are definitely a bit stiffer than a prefer, but again, the durable is my biggest priority and these things are rock solid.
Good trail shoes
Rated 5 out of 5 stars
I switched from Altra to this because both offer roomy toe box. The Altra I owned had a higher stack and softer cushion. However, the Topo Runventure 3 offers the right amount of cushion without the height, which surprisingly works very well for me. The rock protection plate is not rigid but offers enough protection on my gravel trail run. The Vibram outsole is definitely more durable than my Altra non-Vibram outsole. The upper mesh material is less breathable than my Altra's. Since I don't have sweaty feet problem, this is just fine. The shoes feel light and the traction is excellent. I think I might be a convert from Altra to Topo.
Best fit of any open toe-box shoe.
Rated 5 out of 5 stars
Comments about Runventure 3
I have tried several "open toe-box" shoes, and this one has the best fit and feel. Others are either too loose or angled too sharply and it my smaller toes. Secure midfoot and heel, and an improvement over last years model. Highly recommended!
Roomy Toe is Perfect
Rated 5 out of 5 stars
Comments about Runventure 3
My favorite shoes.
I forget I'm wearing shoes
Rated 5 out of 5 stars
This is my second Topo Athletic shoe after running in the Terraventure 2 which blew out on me after 50 miles. So far, the Runventures feel light and nimble on the trails. I also love the overall shape of the toe box and midfoot, as it fits my wider than normal foot really well. Out of the box, the upper seemed to be not very breathable and uncomfortable and some pesky creases were starting to form. After the first few runs though, the upper material seems to have relaxed and fits like a glove. I would probably give this shoe closer to a 4.5 rating, as the overall design could be improved. The top of the shoe rides quite close to the top of my feet, which happen to be pretty flat. Additionally, the heel pocket is just a bit loose and could probably fit tighter for more stability. The outsole has slipped a couple times as well on rocks, but the traction on mud and dirt is quite good. Overall, I recommend this shoe for people looks for a 0 drop wide toe box shoe for primarily mud and dirt trails up to 50km distances.
I feel this is a great shoe for me.
Rated 5 out of 5 stars
Comments about Runventure 3
This is my 5th pair of Topos and I love them. Plenty of toe box room and narrow heels so they don't slide out. I use the RV3' s to walk and hike. On mountains and sand dunes regular hiking shoes were klunky. With RV3's you can actually feel the path without the sharp objects hurting your feet. On steep slopes you feel in control. Great shoe.
They run hot but still my go to trail shoes
Rated 5 out of 5 stars
Coming over from a pair of Runventure 2. Had to do a last minute order as the mesh tore away from the sole One my Runventure 2s a week before a long run. Took them out on a quick 4 mile dirt bike trail run to see how they felt then off the next day to Rae Lakes Loop (40 miles & 8,000 elevation gain). Shoes did great and I love them but there are some noticeable differences from my Runventure 2s. These shoes run hot! The mesh is not as breathable as their predecessors which will hopefully make them last more than the 225 miles my Runventure 2s lasted but my feet felt noticeably hotter. The lugs are bigger and spread more apart which was great on dirt sections but I was slipping around more on slick granite surfaces than I did in their predecessors which caught me off guard several times. No more built in gator clips which I really liked. The change in the back of the shoes is an improvement as my Runventute 2s dug into my achilles for several runs while they were breaking in, these ones felt great out of the box. Overall would recommend them and as of now will continue to buy Runventures.
Fantastic Trail Running Shoe
Rated 5 out of 5 stars
Excellent trail shoe for speedy, technical terrain. Lightweight shoe with a nice & wide toe box but dialled in midfoot & heel, I've run in this over really technical, root, rocky terrain with great success as well as climbed mountains with some scrambling & climbing & the grip has been awesome. I've done 220kms in mine so far, longest run being around 32kms & didn't have any foot fatigue by the end despite being the lowest stack shoe in my rotation.
Questions about your Topos? We're here to help!