Product Overview
Our slip-on recovery shoe delivers ultimate relief and comfort with every step. Designed to be worn without socks, the repeated ridges of the Ortholite® 3D Wave Sense footbed lightly stimulate and massage the nerves along the bottom of the foot. The antimicrobial blended wool upper naturally resists odor and provides a warm, comfortable fit. The Vibram® XS Trek EVO outsole offers multi-surface traction and durability for a variety of activities and daily wear year-round.
Specs
Stack Height:

23mm (heel) // 20mm (forefoot)

Heel to Toe Drop:

3MM

Weight:

8 oz (M9)
Cushion:

Support:

Pliability:
Why We Love It
High Traction Outsole

Combines multidirectional traction, heel braking lugs, and mud/snow release design features.

Vibram Outsole

Unparalleled grip and traction and durability from the leaders in technical outsoles.

Ortholite Footbed

Comfortable, anti-compression footbed with anti-microbial properties.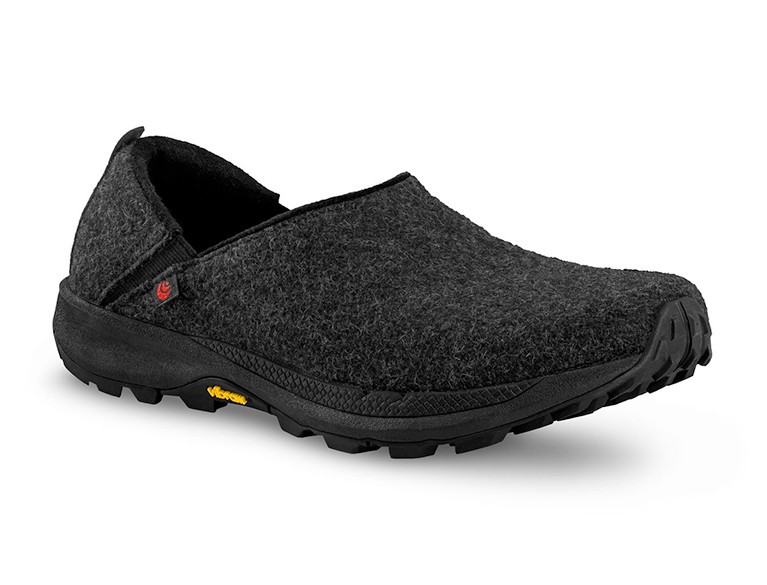 Rekovr 2 Named Best Recovery Shoe
"Everyone needs to feel good, especially after a hard trail run. Leave it to Topo Athletic, a brand that clearly cares about your feet, to make our favorite recovery shoe."
4.4
Rated 4.43 out of 5 stars
I liked them so much I bought them for my wife.
Rated 5 out of 5 stars
Comments about Rekovr 2
Ease of slipping on, traction and comfort.
Warm, comfy and lightweight with excellent sole.
Rated 5 out of 5 stars
Comments about Rekovr 2
Make great camp site shoes or emergency backpacking shoes. Very comfortable. I love the wool.
Most comfortable "House Shoe" I've ever been in
Rated 5 out of 5 stars
I have plantar fasciitis in my right foot, and the discomfort literally disappears as soon as I slip into my Recovr shoes. I got them to wear around the house, and now I can hardly wait to get home to put them on again after a long day of work. I recently spent four days in Jackson Hole, and wore the Recovr's everywhere the whole time. They were great for strolling around town as well as lounging in the hotel room. At home I cleaned the soles and just wear them in the house, but it's sure tempting to run outside with them still on. I highly recommend this shoe. About the most comfortable thing I've ever had on my feet.
Awesome
Rated 5 out of 5 stars
Comments about Rekovr 2
I am recovering from planters fasciitis and have ha tremendous problems finding a show with the right fit. These shows are perfect. I love them and wear them everywhere, for everything. Please get more colors!??
Sure will
Rated 4 out of 5 stars
Comments about Rekovr 2
I have trail, road, and recovery now. I love trail running and hope to hit some good distance races soon.
Good with socks
Rated 4 out of 5 stars
Comments about Rekovr 2
They are a bit loose bare foot.
I feel in love with the original Rekover. It was comfortable and exactly what I needed. I am partially disabled and get frequent swelling in my lower legs, the Rekover 1 was able to accommodate me when this happened, but they are getting old so purchased the new design of Rekover 2. It did not have the soft edge of Rekover 1 and cut into the top of my foot as the day progressed. I do like the style of Rekover 2 but not the edging around the foot, it is stiff and not forgiving as Rekover1.
Q&A
Showing 1 out of 1 Questions
Q

Hello to You! Inquiring when the Men's Rekovr 2 will be available in a size 13 again? The question doesn't match the heading, but none seems quite right. Thank you!

Asked by Steven

Verified Reply

-

Jessica

Hi Steven, We are expecting the Rekovr 2 size 13 to be available in mid-January.