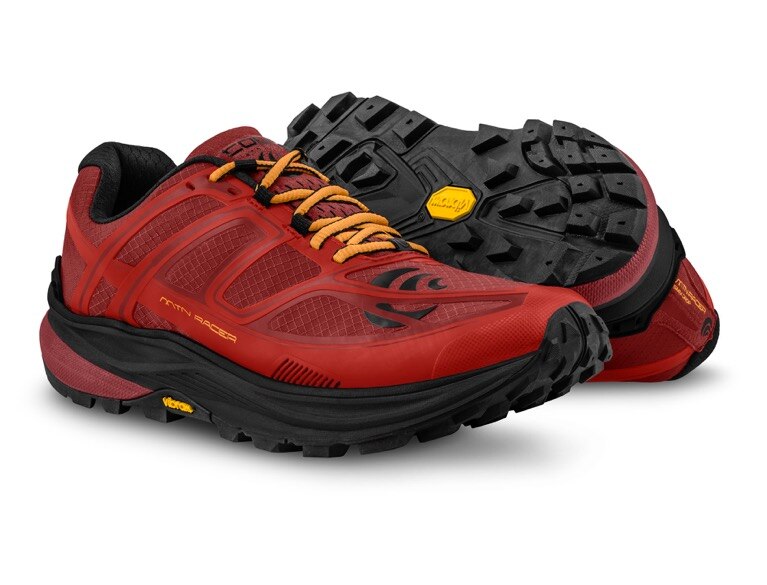 The Best Trail Shoe Ever?
Taylor: "I love it. Simply and whole-heartedly love it. It'll be a great go-to shoe for hours of adventure on technical terrain and may become my choice for my upcoming 100-miler in July. It has enough of everything to make me confident on just about any terrain (except maybe roads)."
Product Overview
These wide toe box trail running shoes are performance tuned for trail racing and speed-hiking. Vibram® Megagrip outsole delivers optimal traction on any surface. Our Vibram® trail running shoes feature a spacious lug design through the sole which offers excellent mud and snow release. Lateral drainage ports enhance water release and quick drying.
Specs
Stack Height:

30mm (heel) // 25mm (forefoot)

Heel to Toe Drop:

5MM

Weight:

9.8 oz (M9)

Gaiter Compatible:

Yes
Cushion:

Support:

Pliability:
Why We Love It
Roomy Toe Box

Anatomical toe box allows toes to spread naturally and comfortably.

5MM Drop

Our highest available drop allows you to access natural running with more under-heel cushioning.

Vibram Outsole

Unparalleled grip and traction and durability from the leaders in technical outsoles.

Ortholite Footbed

Comfortable, anti-compression footbed with anti-microbial properties.
4.1
Rated 4.09 out of 5 stars
The best shoe I ever had
Rated 5 out of 5 stars
Mountain Racer are very light shoes. The Vibram holds on rocks and dirt very well and protects your feet when jumping on sharp rocks. The front of the shoe is wider than on Salomon, which I like. Performance gators also work very well. I am buying another pair and I will ship it to my friend in Europe who runs ultramarathons and I sponsor him.
Best in class
Rated 5 out of 5 stars
Comments about MTN Racer
Definitely an order of magnitude better than the last Topo I ordered. If you're looking at competitors to this shoe (Hoka torrent, Altra Lone Peak, Altra Timp, etc) try the Topo first. It has all the features the best competitors have plus some (super grippy vibram outsole, gusseted tongue, the right amount of cushion). I've run about 60 miles and they look like they will be very durable as well. Highly recommend!
As Advertised
Rated 5 out of 5 stars
Comments about MTN Racer
First impression was these were exactly what I expected. The sole was firm yet flexible and the fit was perfect. I have run in the Topo running shoes for years and I'm pleased to finally try the trail runners. I can't wait to put on some more miles.
Most comfortable shoe
Rated 5 out of 5 stars
Comments about MTN Racer
I own the phantom and the mountain racer and love both shoes. I would definitely buy them again
Fantastic Trail Runner!
Rated 5 out of 5 stars
Comments about MTN Racer
Fantastic! This is my favorite trail runner I've ever owned! This shoe is super responsive so I feel like I have loads of control. I used to be prone to rolling my ankle, that has completely changed and I think it's because of the wider toe box on the MTN Racer, my toes are splaying better, again giving me more control. The other great thing about this shoe is it's so light, yet it feels super tough! The Vibram mega grip sole is front and center. You feel what your foot is striking, but it doesn't hurt and it's uber sticky - Control x 100! These shoes feel plenty comfy and springy. I've put about 30 miles on them, and I can tell they will still be comfortable after 300. I normally wear a size 10.5 in most brands, but I had to exchange for a 10.0 in the MTN Racer, so be advised they run small. If I had a complaint, it's the color options are horrible, I dislike the color red in general, and the teal and lime is just garish. How about some new colors by next year Topo!? Sincerely, A new costumer for life - Kyle
Exceptional Quality
Rated 5 out of 5 stars
I like trail runners that are neutral, responsive, low drop, lightweight, and have a roomy toebox. I usually run in Lone Peak/Torrent type stuff. Not sure if I'll go back after this shoe. i love the ripstop upper, lightly cushioned tongue, toe room, and responsive midsole.. These shoes seem bombproof. Clearly a lot of thought and effort went into the design. Thank you Topo for giving me something that Altra and Hoka haven't been able to deliver.
This is a wonderful shoe
Rated 5 out of 5 stars
Comments about MTN Racer
Now that the Pandemic is here and I'm not going out to fancy places, I wear this shoe every day. It's got a perfect feel to it even if it is a little big. I take a walk every day and go to the grocery store. I feel dressed up with its bright red color and I get a lot of compliments. The previous pair, red like these, weren't very worn out, so I gave them to my daughter. She's very pleased with them. She especially likes the roomy toe box.
Feel like a younger, less injured me
Rated 5 out of 5 stars
I average 30-40 miles a week, most of it running the trails here in Crete, Greece. The biggest issue has been finding shoes that can handle the type of terrain you find here. The trails aren't always nicely manicured. That means durable shoes are hard to find, but, it seems like this shoe holds up very well! From the first run, it felt very comfortable. No pain in a foot that had been bothering me. There was even some surprisingly added stability in the ankle region that I wasn't expecting. I was parkouring off rocks, jumping to & fro. I tested it on a trail near my home that I love because it has a variety of terrain: forested path, treacherous rocks, &some road. I've added the photos because I think reviewers for mountain shoes should let us know the type of terrain they're testing them on. I think we can all agree that certain trails are shoe-eaters. With that knowledge, I had to put them through the ringer on their first run. It's been about 3 weeks that I've had them & I know I've found the shoe for me. The outersole sticks to the rocks here like a magnet. It's nice to know that they won't slip. I attribute that confidence to my improved performance on these trails. There's just enough cushion to make landing on a jagged rock not painful, but still able to feel connected to the trail underneath. The only thing I know will be an issue is more attributed to me having a right foot that's a bit bigger than my left. I would love to have the option to have one shoe bigger than the other. I have this size in US 10.5, but my right foot is better suited for a US 11. I usually won't know until I have some serious downhill. The end result if the shoe is the wrong size is the dreaded black toenail. But, I am still very happy with these shoes and will continue to purchase it. One other recommendation would be to have more options when it comes to colors. But that's just a personal preference.
TOPO lifer here...they won me over
Rated 5 out of 5 stars
Comments about MTN Racer
I heard of Topo about 4 years ago and gave them a try. The wide foot box and minimum drop pulled me over. Once I used them I became sold out. Ran marathons and some races in them and had nothing but good things to say. I will probably always use Topo's. Bought my most recent pair for a several hundred mile walk and know these will be fantastic!
All-Time Favorite Trail Running Shoe
Rated 5 out of 5 stars
This is my perfect all-around trail running shoe for the widest range of trail conditions. I love the anatomically-shaped last. I love the firm, stable ride. I love the upper material: durable, mud-resistant, and wraps the midfoot securely. Traction is excellent with the Vibram Megagrip outsole. I feel more locked-in and stable when bombing down steep, technical terrain in these than any of your previous offerings I've owned. The durability of both the tread and the upper have also surpassed your previous offerings that I've owned: Ultraventure and Terraventure 1 -- both of which had issues with the uppers blowing out before the tread was done. These have been my go-to backpacking footwear as well, with just the right amount of cushion vs. firmness. I look forward to trying out the Trailventure too. **Topo Athletic shoe designers: I would love to see a winter trail shoe offering built for running on snowy trails: an eVent upper with integrated ankle-high gaiter, outsole with both Vibram Megagrip and Vibram ArcticGrip, and an overall stable, firm and locked-in platform. I find too many winter running shoes with an integrated gaiter have uppers that are too unstructured so they are too soft and floppy on slushy/powdery snow. Either that, or they have a drop height of 8mm or more, creating an unstable platform not well-suited to riding the inherent instability of powder/slush. A shoe with a 3mm drop, firm midsole cushion, and a structured, locked-in upper would provide a secure ride to cut through the wobble and instability of powder and slush. The upper should also be able to withstand the abrasion from running with trail-crampons attached. That is the shoe I need that no company currently offers.
Questions about your Topos? We're here to help!