Product Overview
From the pavement to the gym, Fli-Lyte 4 delivers lightweight versatility, making it your go-to shoe for up-tempo daily miles and your favorite workout. The sleek new upper features a recycled engineered mesh with zero overlays for lightweight security and a breathable, comfortable fit. New lace stays on the tongue keep it locked in place over the foot. The midsole gets an upgrade with ZipFoam™, delivering more response and resisting compression set over time. These lightweight road shoes features a widened 23 x 20 mm platform for an even smoother and more stable ride.
Specs
Stack Height:

23mm (heel) // 20mm (forefoot)

Heel to Toe Drop:

3MM

Weight:

8.3 oz (M9)
Cushion:

Support:

Pliability:
The APMA (American Podiatric Medical Association) Seal of Acceptance and Seal of Approval are granted to products found to promote good foot health. To earn the seal, each product is reviewed by a group of APMA podiatrists to ensure it promotes foot health.
Why We Love It
More Cushioning and Resilience

Proprietary midsole compound which is springier than EVA and offers more rebound over the life of the shoe.

Lightweight Breathable Materials

For a '2nd Skin' fit and feel.

3MM Drop

Our mid-level drop provides a near neutral platform for a more natural running experience.

Ortholite Footbed

Comfortable, anti-compression footbed with anti-microbial properties.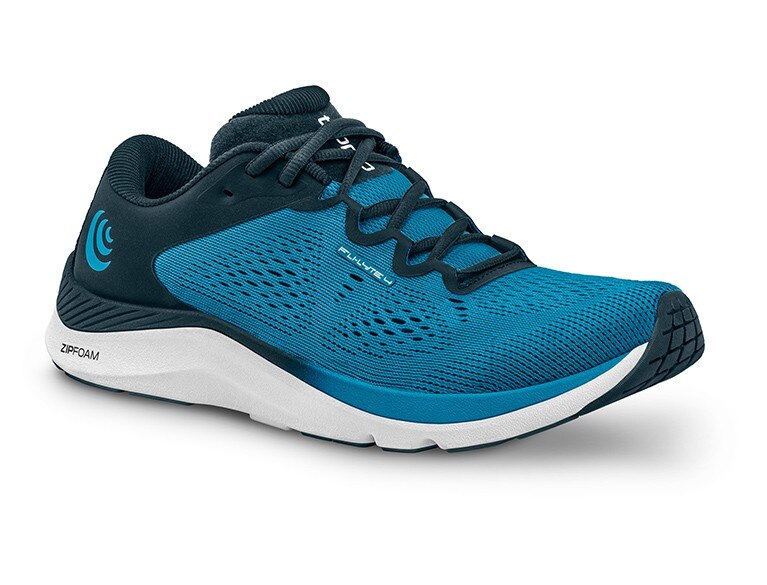 Lightweight Versatility With an Even Roomier Toe Box
"It is very comfortable and has excellent stability, making it very suitable for cross training. It is also very good looking, making it an ideal choice for those days when you go to the gym with just the shoes you're wearing out the door."
3.7
Rated 3.74 out of 5 stars
Most Liked Positive Review
Questionable Changes
I have been eagerly awaiting the release of the Fli-Lyte 4 after owning two pairs of the Fli-Lyte 3 and running a combined 500+ miles in them. Similar to my other Topos, the Fli-Lyte 4 run a half size small, so I wear 9.5 instead of size 9. I really like the redesigned upper and better lacing stru...cture. One of my few complaints about the Fli-Lyte 3 was how often the laces would come undone. That said, I fully agree with the other reviewer and question the utilization of Zipfoam. The shoe is very responsive with a lot of ground feel at 3mm drop, but it also produces a harsher and less flexible ride. Further, I worry about the durability of Zipfoam given my experience with the Topo Zephyr. I like that shoe, but it was not particularly durable and degraded in comfort on runs over eight miles or so. I would have recommended Topo add this new upper to the previous sole from the Fli-Lyte 3 while adding some wear resistant material to the forefoot and heel. On the Fli-Lyte 3s (black/white) the midsole material was exposed and wore quickly in high contact areas. In summary, the upper on the Fli-Lyte 4 is a solid update but the lower seems like a downgrade from the previous version. More runs are needed.
Most Liked Negative Review
This is a stiff support shoe
Out of the box, this version may share the same name as previous versions, but unfortunately it is categorically not a Fli-Lyte based on previous versions. The website may claim identical specs to previous versions like the 3mm drop, neutral, and balanced but make no mistake this is a significantly ...stiffer shoe with unnecessarily robust arch support. I have trained and raced in Fli-Lyte shoes for eight consecutive pairs, starting with the 2's, and that number would have been higher but for a significant back injury in 2020 that kept me out for most of the year. Bottom line, I am a big fan of the Fli-Lyte models for both training and racing … until now, that is. Like a previous reviewer, I'm not looking forward to "making do" with the Magnifly 3 (which is likely slated for execution next) until I can find a suitable replacement for the Fli-Lyte. With all fairness, this might be a good shoe, but not if you're expecting an upgrade to the previous Fli-Lyte! Cons (if your looking for an upgraded Fli-Lyte): As mentioned above, the shoe feels significantly stiffer. The zip foam has a harsh ride, and the energy return they claim it has is not distinct. In fact, the harsher ride across all pace ranges causes more fatigue, not less. I don't seek out excessive or even moderate cushioning in my shoes, I like the minimal feel of previous versions of the shoe because it allows me to feel more of the surface below, but this shoe is downright hard even on dirt and gravel, when compared to previous versions of the same name. The nonsensical arch support is exaggerated with the added stiffness, making it impossible to ignore the fact that the neutral feel of previous versions is completely gone. As with the inaccurate specs on neutrality, balance, etc.… I am also questioning the authenticity of the 3mm drop. Out of the box and through the totality of each training run thus far, the shoe feels elevated in the heel compared to the forefoot. Walking or running, there is no escaping the sensation that this shoe has an elevated heel compared to previous versions, or at least that's how they feel. I would not be surprised to learn that they are also a 5mm drop like all the other updated shoe models. Pros: I like the new lacing system; it is easier to work with and fine tune. I will give the benefit of the doubt on the upper, but only a full training cycle can determine the quality and it's unlikely that I will continue to train through a full cycle wearing a stiff support shoe that feels nothing like a 3mm drop shoe.
The Best Running Shoes
Rated 5 out of 5 stars
Comments about Fli-Lyte 4
Use them for running and walking, love the low heel height and overall feel. The wide toe box prevents foot cramps.
Light shoe with great stability
Rated 5 out of 5 stars
Comments about Fli-Lyte 4
Great breathability and comfort, and the shoe is light.
Reviewing Should Always be This Easy
Rated 5 out of 5 stars
Simple winner by Topo. You could sink your money into style, gimmicks, and luxury. OR Pick up your first pair, commit to improving your own lower leg health, and then once again pay below the industry standard for a lightweight trainer. Trendy logo? Nope Carbon Plate? No Energy Return? It's not a credit card, don't expect 4% watts back One day the heel counter was rubbing wrong, and that just didn't seem like Topo's problem. So I ripped that sucker out (no tools required), and my heel pain went away. That's it. The end. This shoe will not win you any beauty contests. It cannot, as the name would suggest, fly. But it is light, and 1/2 ain't bad. The toe box is pretty wide, and so is your foot. You're sole mates. This shoe is for The People. Do you have: Shin splints, bursitis, tendinopathy, Morton's neuroma, Haglund's, plantar fasciitis, four toes, webbed feet, or a gluten intolerance? Awesome! See a doctor; buy this shoe. The Toyota Corolla of the running industry. The world's most okay shoe. The Topo Fli-Lite 4
Great toe box and comfortable
Rated 5 out of 5 stars
Comments about Fli-Lyte 4
I walk 30-40 miles a week and they are so comfortable
Good fit
Rated 5 out of 5 stars
Comments about Fli-Lyte 4
Good fit
Great new version of Fli-Lyte
Rated 5 out of 5 stars
Great new version of Fli-Lyte
Got it Right
Rated 5 out of 5 stars
Comments about Fli-Lyte 4
The uppers are snug and feel secure. So many road shoes nowadays feel like one hard stop will send your foot right through the uppers - not these. The 3mm drop is just right for people like me who have Morton's neuroma. The platform has good stiffness and cushion balance. Don't change anything!!
Rooney toe box
Rated 5 out of 5 stars
Comments about Fli-Lyte 4
I love my flilite and magnifly shoes!
Just right
Rated 5 out of 5 stars
Comments about Fli-Lyte 4
I wear the Fli-lytes for my quicker road running sessions. I find they offer enough cushion without the weight to help me push the pace.
The only shoes that don't leave my feet sore
Rated 5 out of 5 stars
I work a job where I'm on my feet moving all day. For years I would experience soreness in my metatarsals. The wide toe box is a lifesaver. This is my fourth pair of Topo shoes and they're just as lightweight and comfortable as the others. Of course they work great when I run too, but protection from the foot pain during work is the best. Also appreciate that they have neutral color options so I can wear them with nicer clothes.
Questions about your Topos? We're here to help!