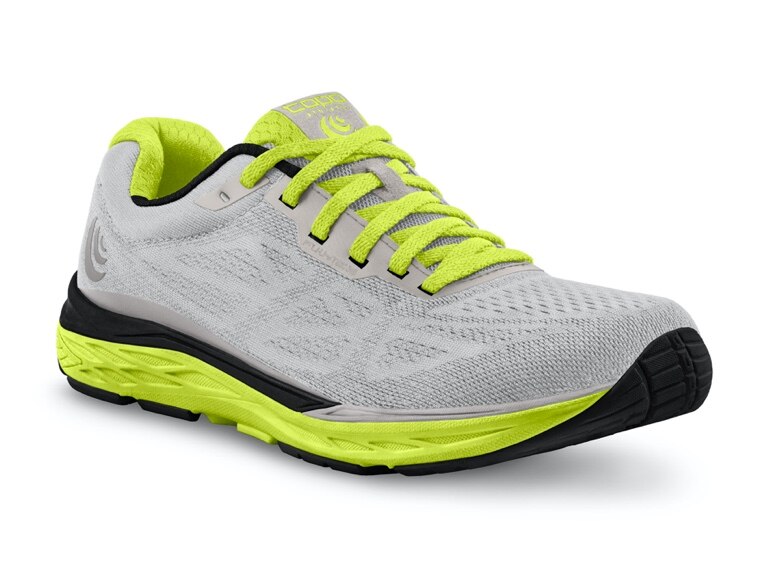 The Fli-Lyte 3 Proves It's Okay to Be a Lightweight
"This version of Topo Athletic's road shoe is even lighter than the previous."
Product Overview
In the new Fli-Lyte 3, we eliminated almost all printed overlays to make it lighter and more breathable using a new engineered mesh upper to secure the foot over the platform. The addition of our 5mm anti-microbial Ortholite® footbed gives the shoe a softer ride without sacrificing midsole response. A 23mm X 20mm stack height offers cushioning without losing flexibility and ground feel for a more natural running experience.
Specs
Stack Height:

23mm (heel) // 20mm (forefoot)

Heel to Toe Drop:

3MM

Weight:

8.4 oz (M9)

Gaiter Compatible:

No
Cushion:

Support:

Pliability:
Why We Love It
Roomy Toe Box

Anatomical toe box allows toes to spread naturally and comfortably.

Lightweight Breathable Materials

For a '2nd Skin' fit and feel.

Ortholite Footbed

Comfortable, anti-compression footbed with anti-microbial properties.
4.2
Rated 4.19 out of 5 stars
I'm very happy that I found Topos - Goodbye Altra
Rated 5 out of 5 stars
Comments about Fli-Lyte 3
I ran in Altra's for years but was disappointed in the new versions of their shoes. My new Topos are aresome and I'm glad I made the switch.
Great fit and look!
Rated 5 out of 5 stars
Comments about Fli-Lyte 3
Good fit. Breathable new material that also looks good.
Great fit.
Rated 5 out of 5 stars
Comments about Fli-Lyte 3
The shoe fabric is highly breathable and good looking!
First Pair of Topo's
Rated 5 out of 5 stars
Comments about Fli-Lyte 3
I have narrow feet so I was nervous about the bigger toe box. It wasn't a problem at all! The shoes fit snug and the extra toe room is great. I use them for the gym and short runs. They provide great stability and cushioning for weight training, HIIT workouts and everyday use. Getting back into running and wanted to try a more natural approach so I tried them in a couple short runs, 3 miles. They work well but I noticed I need more cushioning. Gonna try the phantoms for running.
Outstanding product- no nonsense. Fits great. Comfortable.
Rated 5 out of 5 stars
I have enjoyed the fly lyte in all three iterations, and this is the best version yet. Comfortable fit, secure heel and mid foot, very good toe splay. Important to note: I have a large haglunds deformity at the left heel, and the heel counter does not bother it at all. I have run easy runs, fartlek, tempo runs, and long runs to 19 miles. Performance is great. I'm just over 100 miles so far and durability good so far. I like the amount of cushion; it is enough for the ride to be pleasant but not overwhelming and still easy to get good feedback from ground. It is easy to pick up speed in or to cruise in. Overall super pleased. As far as drop goes: I enjoy low and medium drop shoes, but don't love zero drop for regular training (at least for now), so this fits the bill. I sometimes like more drop for long runs generally, and a simple tweak for a few long runs has been to add a 2-3mm heel lift. Of course most people wont need this, but it definitely adds to the versatility for me personally as the fit is still excellent with this slight modification. So big thumbs up. I hope the shoe stays pretty much as is in the future.
I love them.
Rated 5 out of 5 stars
Comments about Fli-Lyte 3
I'm a toe runner with flat, wide feet and these shoes feel great. I didn't even need to add an insert to the toe box to prevent my flat foot from swimming in the shoe.
Model 3 is an improvement!
Rated 5 out of 5 stars
Not a runner but a long distance competitive walker. This version of the Fly-lyre is an improvement over the 2. While the heel is a little different, I personally was not affected by any affect on sizing. The toe box is more comfortable with the modified fabric upper. I use this shoe for medium distance (10-20K) races on mostly paved and compact gravel. Good protection without the bulky feel of a heavy sole. Good flexibility. Lightweight yet good support. An improvement.
Old guy getting back into running
Rated 5 out of 5 stars
I used to be an avid runner and gave it up because - life. So I'm getting back into it and needed some good shoes and these were the pair at the run/walk shop that actually fit my wide, square feet. I'm a forefoot striker and these were the only pair (out of the 5-6 I tried) that didn't have some funky support structure in the sole. They really fit the bill: near zero drop, wide toe box, and enough cushion without being too squishy. I've put ~60 miles on them so far and I have to say I like them a lot. Fantastic shoes.
After running 150 miles, I prefer them to the Altra Torin 3.
Rated 5 out of 5 stars
I have now run about 150 miles in these shoes. Good shoe. Great heel, good padding, comfortable, light-weight. I would also qualify all this by saying these shoes are for running and not because I have foot or joint problems. Running shoes. When choosing a running shoe obscure things become important. The weight. The size of the toe box so your toes don't rub and blister. The amount of drop and stability so it doesn't tweak your joints when running long distances (over 8). I would say again, if you have a large, wide foot (I am size 15 D), and want a zero or low drop running shoe with little or no stability built into it - these shoes are your only choice anymore as near as I can tell and I have looked. Altra ruined the toe box, Hoka wide shoes have too much stability (angled insole) and everyone else has at least 5mm of drop (more commonly 10 or 12mm).
Great Midsole
Rated 5 out of 5 stars
A very impressive shoe. I thought this was only going to be for shorter runs but the midsole is fantastic and find myself using it for longer runs too. I really enjoy the feel of the midsole and find it to be very soft, but still allowing for good feel. The upper is very nice and breathable. I haven't found many faults with this shoe and always look forward to putting it on. I'm not associated with Topo in any way.
Questions about your Topos? We're here to help!