Product Overview
The 23 x 20 mm platform offers the perfect balance of cushioning, flexibility and ground feel. The seamless, engineered mesh upper offers a breathable and secure fit. The Ortholite® footbed provides a softer ride underfoot and maintaining midsole response. Fli-Lyte 3 delivers a lightweight, natural running experience, without sacrificing comfort.
Specs
Stack Height:

23mm (heel) // 20mm (forefoot)

Heel to Toe Drop:

3MM

Weight:

8.4 oz (M9)
Cushion:

Support:

Pliability:
Why We Love It
Roomy Toe Box

Anatomical toe box allows toes to spread naturally and comfortably.

Lightweight Breathable Materials

For a '2nd Skin' fit and feel.

Ortholite Footbed

Comfortable, anti-compression footbed with anti-microbial properties.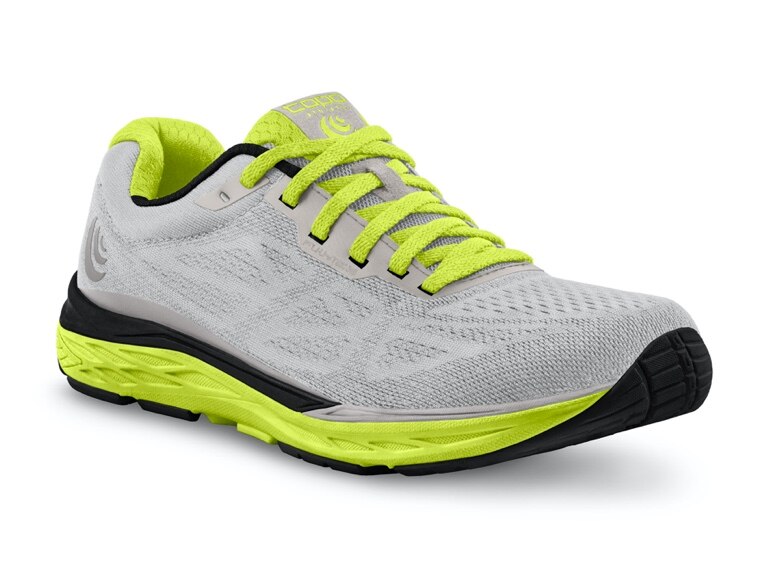 The Fli-Lyte 3 Proves It's Okay to Be a Lightweight
"This version of Topo Athletic's road shoe is even lighter than the previous."
4.3
Rated 4.32 out of 5 stars
Most Liked Positive Review
Good shoe - poor insole!
I'm a PT and have been recommending Topos for quite some time due to the low drops and ample toe box, but this is my first pair of my own. Pros - Sufficient cushion without getting marshmallow-y - Moderate toe box width - is an easier transition for those who would like a more foot-...
Most Liked Negative Review
Too Short
To start with, this is my 7th pair of Topo shoes. I'm a big fan and have logged hundreds of miles in my Topo trail running shoes. These were my 3rd pair of Topo road shoes. The first thing I noticed out of the box was how much the toe was squared off across the front compared to my other Topo's. ...
My Regular Daily Runners!
Rated 5 out of 5 stars
This is my 2nd pair of Fli-Lytes and love them. I usually use these for anything runs under 12 miles and I never get blisters, foot pain, etc. With the wider toe box, lightweight and breathable material, and no drop, I do not deal with as much recovery pain or discomfort. Hope this shoe continues to be available.
My favorite running shoe for the road
Rated 5 out of 5 stars
Comments about Fli-Lyte 3
I love this shoe. I have bunions and Topo shoes feel amazing. I don't run more than 20 miles per week and usually no more than 6 miles at a time though. I think for longer distances I might like a thinker sole.
Sold!
Rated 5 out of 5 stars
As a runner with lower back issues I have been struggling to find a brand with fit and comfort that would reduce the "next day" discomfort of lower back and knee issues (I played contact sports for 25 years). I reduced my miles as a result because I struggled to find road shoes that fit the bill. I was reluctant to switch from other brands-suffice to say the FL-3 is THE best running shoe I have ever purchased. Enough support, stability, room (nice toebox!), and comfort to make my knee and back issues all but disappear (I have 20+ on them so far). I have purchased many "running" brands (Brooks, Mizuno, ASICS, to name a few) and Topo is tops! I am sold! Next up, Trail shoes!
FINALLY!
Rated 5 out of 5 stars
Comments about Fli-Lyte 3
FINALLY! Shoes with a large enough toe box for my feet! I LOVE these shoes!!!
Great fit and feel.
Rated 5 out of 5 stars
Comments about Fli-Lyte 3
Super comfortable. Only ran in them twice so far, but they feels really good.
Amazing shoes. I'm addicted. Now have 7 pairs!
Rated 5 out of 5 stars
Comments about Fli-Lyte 3
Not sure about miles but, Topos are all I ever wear 24/7. I also golf in them daily. I really love the extra room in the toe. Feels like I'm going barefoot. A dear friend turned me on to these and I am so happy. Love the colors. Please keep adding extra Men's vibrant colors! Maybe even purple someday? I have bright yellow/red, orange red, green, yellow/teal, etc. My friends always ask me where I got them?
The perfect shoe
Rated 5 out of 5 stars
Perfect lightweight shoe. I used to get various typical running injuries a couple of times a year, but they've pretty much stopped once I started wearing FlyLites. I'm on my fourth or fifth pair. Recurring injuries stopped once I started wearing these. I noticed that Topo appears to be discontinuing the FliLyte 3 and my size is no longer available. Really hoping you are just doing that because FliLyte 4 is coming shortly!
Very comfortable
Rated 5 out of 5 stars
I use them for (Nordic) Walking. I love the roomy toe box (where my toes can splay naturally), the low drop en breathability. Walking becomes very natural with Fli-Lyte 3.
Super great shoe - don't discontinue it!
Rated 5 out of 5 stars
I have used many shoes in many brands - Saucony, New Balance, Hoka, Brooks, Atra. This Topo is one of the best fitting, best contoured shoes I've owned. No hot spots (a big goal of mine). It's under-rated and underestimated. I hope Topo isn't phasing it out because I plan to keep using it for a long time
Love these!!!
Rated 5 out of 5 stars
Comments about Fli-Lyte 3
Great feeling and looking shoe. The wider toe box is a game changer, especially if you have wider feet. I will definitely be getting more. Thanks
Questions about your Topos? We're here to help!