Product Overview
Built to take on your long runs, daily training, and recovery runs, Phantom 2 delivers the comfort of its predecessor, now with even more cushioning and response. The overlay-free engineered mesh upper made of 30% recycled materials keeps the foot cool and comfortable, with reinforced security through the midfoot. With a 3 mm higher stack height, the updated midsole features a ZipFoam™ core for a snappy, yet soft feel underfoot. The external TPU heel counter integrates with the midsole to keep the foot seated over the platform for a secure and stable ride.
Specs
Stack Height:

33mm (heel) // 28mm (forefoot)

Heel to Toe Drop:

5MM

Weight:

10.3 oz (M9)
Cushion:

Support:

Pliability:
The APMA (American Podiatric Medical Association) Seal of Acceptance and Seal of Approval are granted to products found to promote good foot health. To earn the seal, each product is reviewed by a group of APMA podiatrists to ensure it promotes foot health.
Why We Love It
More Cushioning and Resilience

Proprietary midsole compound which is springier than EVA and offers more rebound over the life of the shoe.

Lightweight Breathable Materials

For a '2nd Skin' fit and feel.

5MM Drop

Our highest available drop allows you to access natural running with more under-heel cushioning.

Ortholite Footbed

Comfortable, anti-compression footbed with anti-microbial properties.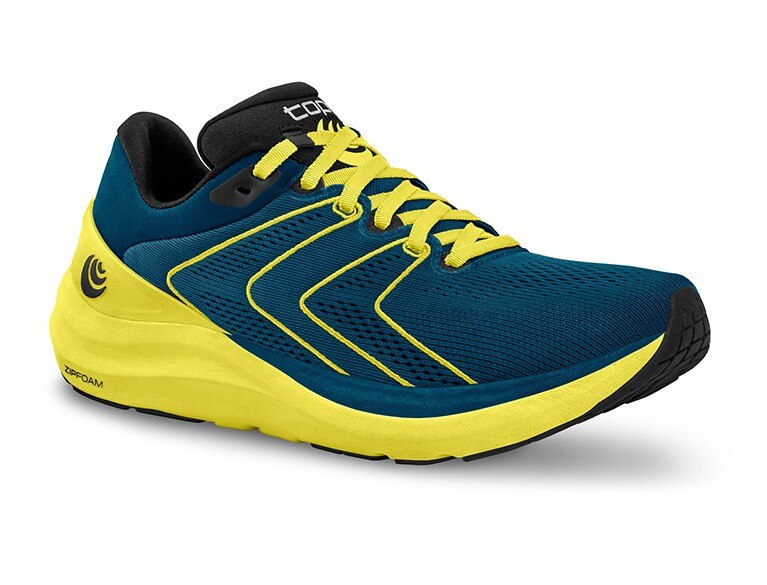 More responsive, more cushioned and a faster shoe
"A supremely comfortable walking and all day wear shoe."
Most Liked Positive Review
Roomy toe box, good cushioning, snug mid foot & heel fit.
I am 73 and do over 20 miles per week speed walking. Due to "old knees" and past plantar fasciitis issues, shoe fit and design is critical to me. I had been wearing various Altra shoes for a number of years, but have abandoned the brand due to constant changes that compromised fit and reduced qual...ity and reliability. I only have about 30 miles on my Phantom 2s, but they are awesome: - Fit was good. They may even be a bit large, and I may try a 10.5 next time. Plenty of room in the toe box, good midfoot and heel capture. - The stitched upper is so much better than many shoes with all kinds of glued on overlays, etc. - The tongue stays in place and absolutely does not rotate during a long walk. - The laces and lacing system is stable and does not loosen during a walk. - The cushion and return feels just right. I have experienced zero pain or stiffness after a walk. Incredible! - The shoes seem to breathe exceptionally well, even in Arizona heat. My feet were way less damp after a walk than in any other shoe. - The slight rake in the heel and toe eliminates any toe/heel drag. - The overall workmanship quality appears to be very good. Time will tell as to how well the shoes will wear. My wife just received a pair of Phantom 2s, and her words coming in the door after her first walk were "I want fifteen pairs!". That says it all. These are the best shoes I have ever had. Please don't make unneeded changes like other manufacturers.
Most Liked Negative Review
Stepping on the harder outside of the midsole
Almost the perfect shoe. Unfortunately the new outsole design is hurting the outside of my foot. Where the softer part sist in the middle this creates a hard outer part that I'm stepping on. No point of having a wider toebox if the sole is buildt in like that. Should be the same platform overall tha...t you step on. Also for a maximum cushioning it should be softer.
Must comfortable shoes I've ever owned
Rated 5 out of 5 stars
Comments about Phantom 2
I have been using this pair for every day use... Like the pair I purchased for hiking... decided I needed a pair for anytime... My feet feel better with the use of these shoes
A big fan
Rated 5 out of 5 stars
Comments about Phantom 2
Comfortable, cushioned shoe to log those road miles. I've had several pair before this one and rely on them for most of my miles.
Confortable shoe
Rated 5 out of 5 stars
Comments about Phantom 2
Good looking and confortable shoe, very smooth, love it. May want to introduce new colors,,,
My favorite distance running shoe
Rated 5 out of 5 stars
I race long course triathlons. This is the most comfortable distance running shoe I've tried. Love it.
Nice road shoe
Rated 5 out of 5 stars
Comments about Phantom 2
Like this shoe. It's light and comfortable. Would recommend this to my friends.
Best running shoe to date
Rated 5 out of 5 stars
Comments about Phantom 2
I'm not a distance warrior usually run a 5k or less with an occasional 10k. I've been looking for a wider toe box shoe for what seems like forever and was pointed to Topo by a friend, and I'm thrilled I bought these without ever trying them on in-store. I read tons of reviews, and as others stated, they seem to run a half-size small.
Great fitting shoe
Rated 5 out of 5 stars
Comments about Phantom 2
Wear them for everything. Walking, work, etc.
need a size 13 please
Rated 5 out of 5 stars
best sneaker i have ever worn
clouds under your feet
Rated 5 out of 5 stars
Comments about Phantom 2
Mostly walk in mine, but do the occasional charity 5k. Very comfortable, but feel a little too soft/squishy after a long walk. Might need a little more firmness for my 250lb frame. Love the natural foot shape and my feet thank me everyday!
Topo does it again!
Rated 5 out of 5 stars
Wow! Each new pair of Topo shoes I try, they just get better and better. First the Ultrafly, then the Ultraventure and now this. These are the plushest of the three, and are perfect for fast walking in the city. Wide enough to wear with my perfect toe spacers!
Questions about your Topos? We're here to help!